Fears of a global double-dip recession have led to a nearly 50% peak-to-trough correction in the average coal stock, with many falling even more severely. Meanwhile, the long-term demand for coal has an upward trajectory, driven by the growing economies of China and India, as well as the rest of the developing world. Just recently, the United States Energy Departments Energy Information Agency projected that world coal consumption will increase by 50% between 2008 and 2035, at an average compounded annual growth rate of just over 1.5%, with all of the growth coming from non-OECD or developing countries.
Over 90% of the coal used in the U.S. is thermal coal, used by utilities for electricity generation, with the rest being coke or metallurgical coal that is used for global steel production. We suspect that on a global basis, the percentage of coal used for steel production is probably higher than 10%, due to a greater emphasis on infrastructure projects in developing countries. Overall, the coal industry is cyclical, since thermal coal, being the dominant share of the usage, inherently cyclical as its demand depends on the relative prices of competing fuels. However, metallurgical coal demand and prices have been mostly in a secular uptrend since at least 15 years ago, rising from the $40s in the 1990s to over $170 in 2011.
Coal stocks are now generally trading at low P/Es that are a discount to their earnings growth rates based on consensus analyst estimates. However, the group continues to remain weak with prices cascading lower, despite consensus on the long-term bullishness based on exploding global demand. Since what's keeping a majority of investors away is the fear of a double-dip recession, we tested to see which coal stocks would out-perform on a relative basis in the event of a double-dip recession. We based on our analysis on not just forward P/E, but also price-to-book (P/B) ratio and the Enterprise Value to EBITDA ratio. The EV/EBITDA ratio is capital structure-neutral, and is often used as an alternative and in addition to standard valuation measures such as P/E and P/B to compare across companies that have varying levels of debt leverage.
We determined, based on our analysis of the major coal stocks, that at the depths of the 2008-'09 recession, specifically at the end of 2008, the average coal stock traded at a forward P/E of 8.9; the average was 17.4, but we eliminated outliers on the high side for this analysis. Also, the average coal stock at the end of 2008 traded at a median P/B ratio of 1.5, and at an EV/EBITDA ratio of 5.5. Based on that (see table), we determined that the best values in the coal sector, even after factoring in the worst case of a double-dip recession, are :
Arch Coal Inc. (ACI), engaged in the production of steam and metallurgical coal from surface and underground mines;

Alpha Natural Resources (ANR), engaged in the production, sale, and processing of coal from 66 mines and preparation plants in VA, WY, KY, and PA; and

Teck Resources (TCK), a Canadian miner of coal, copper, zinc, molybdenum, gold and lead, mainly in Canada, the U.S., Chile and Peru.
All three companies trade below the target price, determined based on either and all of the above three measures of P/E, P/B and EV/EBITDA. Of these, ANR is the best value, as the analysis suggests that there may be at least a 25% upside to current prices, even factoring in current fears of a double-dip recession. Of course, one has to keep in mind that in the case of an actual double-dip (not just fears), analyst earnings estimates would also be revised significantly downwards, and hence even if we held the target ratios at the 2008-'09 recession levels, the price targets would still drop for all companies in the group. What this analysis suggests, rather, is which coal stocks would outperform the group and would be relatively safer, even if the market's worst fears of a double-dip come to bear.
Other companies that would do well, and possibly outperform the group on a relative basis, include the following:
Patriot Coal Corp. (PCX), engaged in the exploration and production of coal in the Appalachia and Illinois basins in the U.S.;

Peabody Energy Corp. (BTU), engaged in coal production and sale through 28 operations in the U.S. and Australia; and

Walter Energy Inc. (NYSE:WLT), a producer of hard coking coal from underground mines for use by the steel industry.
The other four companies each have specific risks that make them less attractive on a relative basis.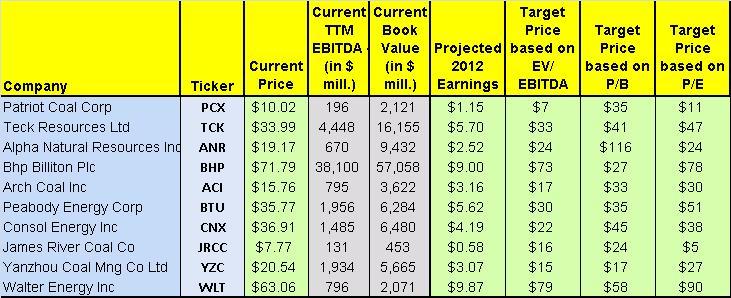 Disclosure: I have no positions in any stocks mentioned, and no plans to initiate any positions within the next 72 hours.
Disclaimer: Material presented here is for informational purposes only. Nothing in this article should be taken as a solicitation to purchase or sell securities. Before buying or selling any stock, you should do your own research and reach your own conclusion. Further, these are our opinions, and we may be wrong. We may have positions in securities mentioned in this article. You should take this into consideration before acting on any advice given in this article. If this makes you uncomfortable, then do not listen to our thoughts and opinions. The contents of this article do not take into consideration your individual investment objectives, so consult with your own financial adviser before making an investment decision. Investing includes certain risks, including loss of principal.