With the coming of October and Q3, the markets are quickly approaching 2010 support levels. Looking at the last 12 months, equities both here and in Europe have seen declines that suggest a bear market.
With regards to the Europe 350 index, it has seen declines of 30.6% off of its 2011 highs. This is due in part to the poor response by their policy makers of handling the sovereign debt situation, as well as the uncertainty that holds much of the world captive at this point. The S&P 500, on the other hand, has seen a less pronounced loss compared to its European counterparts. The 18.6% decline witnessed earlier this month borders the 20% bear market threshold; however, it has not yet been breached.
The domestic situation concerning political dissonance and further dollar devaluation seems to have subsided somewhat, yet the global problems still remain. Regardless, over the past few days, the markets have spiked higher. The rationalization is not quite there, except that technical levels have rejected bear territory at this point, and there is still hope for a eurozone solution. We look to a longer-term comparison chart of the US and Europe to project future movement.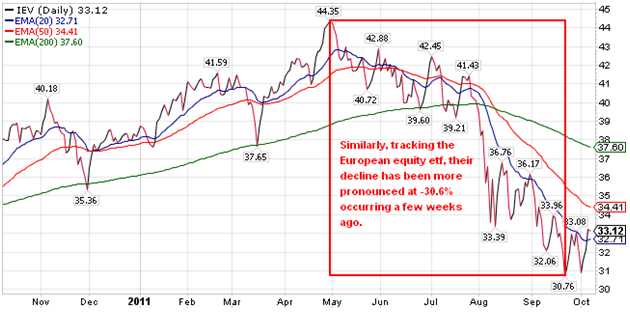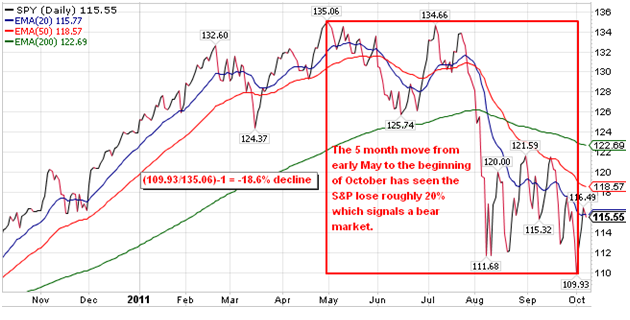 European equities have declined to the point that they now border their 2010 lows. US markets are not quite there, but they're close. Further economic and confidence deterioration should transition our current support levels to those of the 2010 lows. This would in essence mean we had, without question, entered a bear market.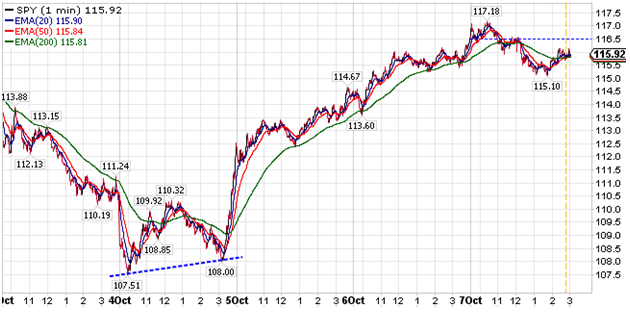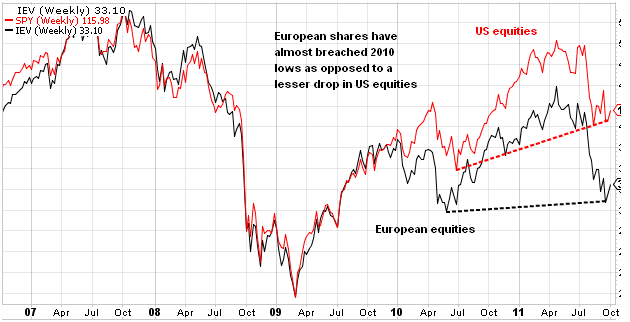 The chart of the VIX above is a way of conveying the lack of confidence that still exists in markets today. Over the past few months the situations in question have had the veil pulled off to reveal the magnitude of their problems. Until structural change occurs, the markets should remain in this volatile state.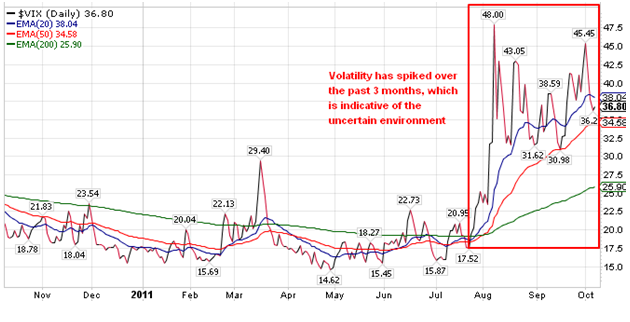 Lastly, an indicator that will in fact let us know that the markets have calmed is seen in the S&P 500/US Treasuries relationship. When the two can reverse direction together, and with conviction, more confidence should arise and volatility should decline.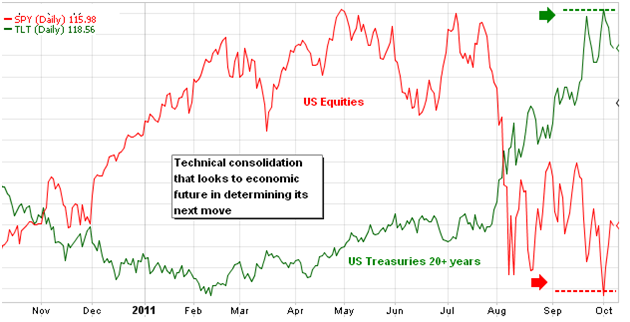 Disclosure: I have no positions in any stocks mentioned, and no plans to initiate any positions within the next 72 hours.