Are Wall Street strategists living in a bubble? According to our work, credit market, demographic, and leading economic indicators are all pointing to a level of between 800 and 1,000 for the S&P 500 between now and 2012-2013.
However, a recent Bloomberg article reports that:
Wall Street strategists say the Standard & Poor's 500 Index, after falling within 1 percent of a bear market this week, will post the biggest fourth-quarter rally in 13 years even after they cut forecasts at a rate exceeded only during the credit crisis. The benchmark index for U.S. stocks will climb 14 percent from yesterday to end 2011 at 1,300, according to the average estimate of 12 strategists surveyed by Bloomberg.
A relief rally is certainly not out of the question—in fact, it's more apt to say that one was not out of the question, as yesterday, the S&P 500 closed 8.4% above Tuesday morning's intraday low of 1,074 (which was its lowest level since August 2010).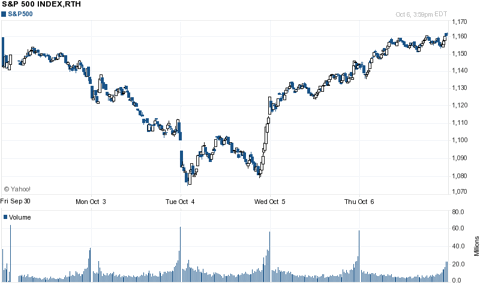 And it looks like the current optimism still has some room to run, as the investing herd learns to love risk once again, and not entirely without reason:
It appears that European policymakers, as messy as things may look from the outside, are not going to allow a Lehman-like contagion to grip the global financial system.
Things have come off the boil slightly as far as systemic financial risk in China, and problems there may not pose as much of a global systemic risk as European and North American banks would.
The austerity pendulum seems to be peaking, or at least slowing, in Europe, the U.K., and the U.S., although political wrangling is sure to keep things interesting and volatile.
As a result, fears of repeating the Lehman and AIG wildfires of 2008 have subsided dramatically in recent days, to the benefit of risky assets. However:
Credit markets continue to imply that S&P 500 earnings estimates could still be 20-40% too high.
Demographic trends imply that an expected multiple on those earnings might be eight to 10, rather than the 15 or so that the world has become used to.
Although recent economic data has been mildly positive of late, leading economic indicators continue to argue for widespread recession in 2012-2013.
In other words, we've escaped fears of the bottom falling out due to systemic implosion, but stock markets have only partially discounted a recession, lower earnings, and lower earnings multiples. We continue to view 1,000 as a reasonable enough value for the S&P 500, with prices getting interesting at 800-900, and back-up-the-truck levels in the 600-800 neighborhood, as long as policymakers are not threatening to commit serious pro-cyclical errors, such as dramatic tax hikes and/or spending cuts, tighter monetary policy, trade wars, or overzealous regulation.
Finally, the Bloomberg article notes that "The last time [Wall Street strategists] were this bullish in October was 2008, when the group predicted a 27 percent gain and the index lost 18 percent."
We'll see if things unfold any differently this time around. With fear easing, markets are likely to begin trading on technicals again, so their behavior as they approach their 50-day moving averages from below might tell us if investors are tipping back into an optimistic state of mind.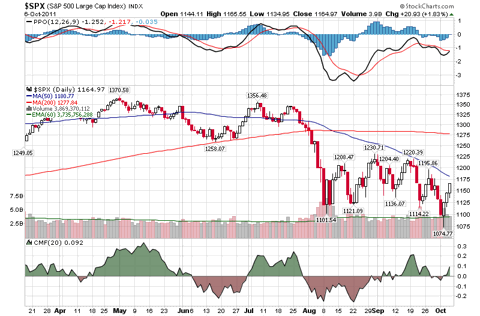 If they are, the strategists could be right about a fourth-quarter rally. If not, the downtrend should remain intact. And either way, we're still betting on negative market conditions well into 2012.
Disclosure: I have no positions in any stocks mentioned, and no plans to initiate any positions within the next 72 hours. The firm and some of its clients hold positions that are expected to benefit from a decline in stock prices.
Disclaimer: Symmetry Capital Management, LLC (NYSE:SCM) is a Pennsylvania registered investment advisor that offers discretionary investment management to individuals and institutions. This publication is for informational, educational, and entertainment purposes only. It is not an offer to sell or a solicitation to buy securities, or to engage in any investment strategy. Past performance is not indicative of future results. This material does not take into account your personal investment objectives, your personal financial situation and needs, or your personal tolerance for risk. Thus, any investment strategies or securities discussed may not be suitable for you. You should be aware of the real risk of loss that accompanies any investment strategy or security. It is strongly recommended that you consider seeking advice from your own investment advisor(s) when considering any particular strategy or investment. We do not guarantee any specific outcome or profit from any strategy or security discussed herein. The opinions expressed are based on information believed to be reliable, but SCM does not warrant its completeness or accuracy, and you should not rely on it as such. All views and positions are subject to change without notice. Neither the firm, nor its principals, nor its clients own securities issued by or directly related to Lehman Brothers or AIG.