In the late 1940s, merchant Maxwell Kohl launched Kohl's Corporation (NYSE:KSS), a traditional grocery platform which would eventually become an 65 year old retail giant. By 1962, Kohl's namesake chain had evolved into supermarkets and discount stores. Mr. Kohl's strategy was to position his discount store chain between the higher-end department stores and the discounters, selling everything from candy to engine oil to sporting equipment (source: Wikipedia).
Mr. Kohl's family remained active in the business until around 1979, when the grocery chains were sold to A&P, leaving around 20 department stores. By the mid 1980s, BATUS, Inc. had acquired a controlling interest in Kohl's (department store group) as the BATUS conglomerate (owned by American Tobacco legend James Buchanan Duke) became the 19th largest retail holding company in the U.S. (including Kohl's and other retailers such as Gimbels, Saks, and Marshall Field).
Ultimately, around 40 BATUS-controlled Kohl's stores (in Wisconsin and Indiana) were sold to a management-led group of investors who began fine-tuning the concept that has remained a focused company strategy today – moderately priced, quality apparel and accessories for middle-income families.
Kohl's went public in 1992 with the issuance of around 2.8 million shares of stock enabling the chain to expand by acquiring the bankrupt Caldor franchise (33 stores) and growing (quadrupling) revenues from $1.1 billion (1992) to $4.56 billion (in 1999).
Today Kohl's Corporation operates around 1,127 stores (Q2-11) in 49 states (all but Hawaii) and the value-based brand intends to open another 31 stores this year (after opening 9 in the latest quarter). In addition, Kohl's has been renovating many of its older facilities with around 100 remodels being completed this year with a capital initiative of maintaining fresh new colors and appealing design features to compliment the innovative product lines (more on that later).
Here is a snapshot of the company's store expansion history (click to enlarge images):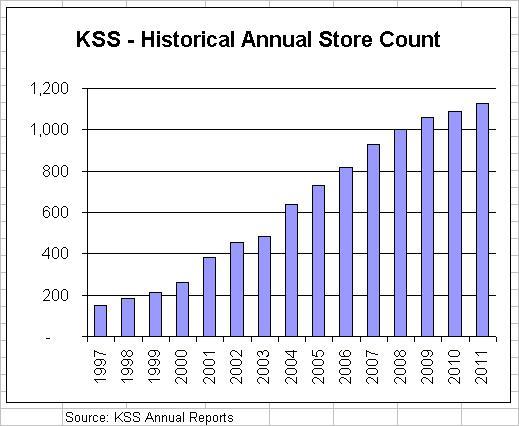 Make Sure To Suit Up With E-Commerce Sales
As a frequent Seeking Alpha author, I intend to include e-commerce research in most of my future publications. It has become increasingly apparent that e-commerce is a must for any retailer and without a technologically advanced growth strategy, many retailers will become victims in the battle of the "bricks vs. clicks".
On March 30th (2011), Kohl's announced that it had acquired an e-commerce distribution facility in Edgewood, MD. This 602,000 square foot facility (currently expanding to 1 million square feet) is the 12th distribution center utilized by Kohl's (3 of the 12 serve as e-commerce facilities). Kohl's also announced that it expects to achieve $1 billion in e-commerce sales in 2011 (increasing from $717 million in 2010 and $473 million in 2009).
According to the Kohl's announcement, the business to consumer e-commerce industry is expected to reach $170 billion in 2011 (Amazon.com (NASDAQ:AMZN) revenues were $24 billion, followed by Apple.com (NASDAQ:AAPL) - including iTunes at $18.064 billion).
A Trendy Sales Model
With $4.2 billion in Q2-11 sales (3.6% over Q2-10), Kohl's is clearly on track to provide some exceptional year-end results. Because of the company's organic growth (40 stores in 2011), e-commerce growth ($1 billion in 2011 sales projected) and increasing customer base, Kohl's is clearly becoming a household (and stock trader) name for its well-positioned retail strategies. The company has been able to keep its designer label prices low by providing efficient inventory levels while also anticipating consumer trends and behaviors.
In addition, the product offerings are becoming increasingly innovative with promotions aimed at recognizable celebrity designer brands such as the recently launched Marc Anthony and Jennifer Lopez collections. Kohl's has also increased other exclusive celebrity brands in recent years, featuring lines from Britney Spears, Lauren Conrad, and Vera Wang. The Lopez and Anthony brands signify two of the biggest celebrities that the company has attracted to date.
Earlier this year, Kohl's was ranked 20th in the National Retail Federation's "2011 Top 100 Retailers" list with annual sales of $18.391 billion (2010). Here is a snapshot of the company's annual sales history: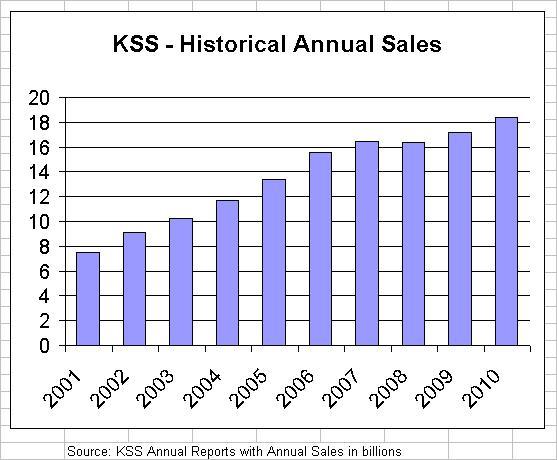 Also notable in the latest results was a 1.9% comp. store sales increase, driven by a 1.6% increase in average transaction value. In addition, the company has reported increased sales in the newly renovated store program. Kohl's has been able to provide consistent sales and profits as evidenced by the most recent quarterly sales snapshot: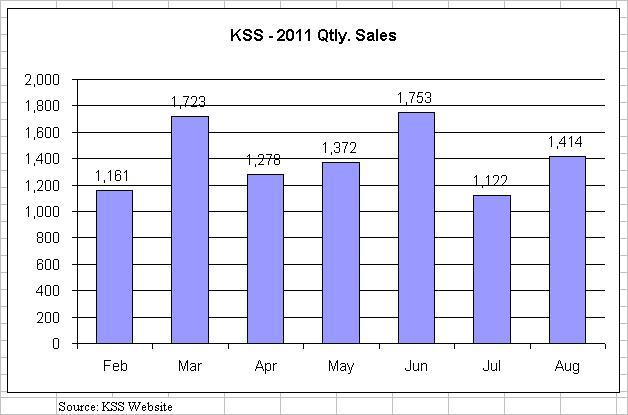 In addition, Kohl's has demonstrated brand strength by maintaining consistent revenue growth both during and after the historic recession period: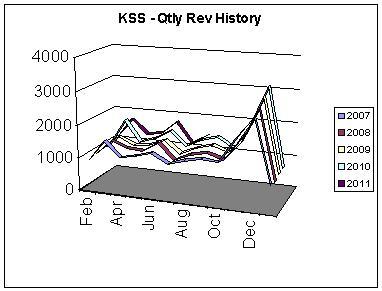 As explained by fellow Seeking Alpha writer Vince Martin,
[Kohl's] stands out with its ability to grow revenue and same-store sales, which competitors such as The Gap (NYSE:GPS), Dillard's (NYSE:DDS), and JC Penny (NYSE:JCP)have not been able to do. The top-line growth gives it higher margin potential, and better growth in earnings than its competitors.
Based upon the graphic provided below, Kohl's appears to be improving its Return on Equity (ROE) trends as its focused value-oriented customer model gains momentum.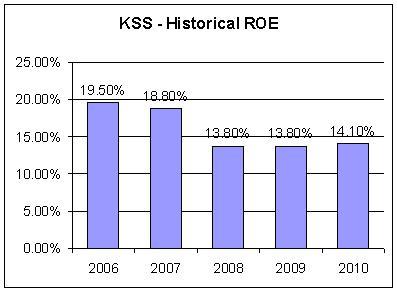 Keeping Some Cash in Your Wallet
Although not as visible as the neck tie, the wallet is one of the most attractive features to the investment model. Upon examination, Kohl's balance sheet has been a contributing force to the company's attractive "wide moat" investment strategy. Kohl's ended the last quarter (Q2-11) with around $1.2 billion in cash equivalents, a decrease of $1.3 billion from the prior year quarter end; however, the reduction was primarily due to the retirement of $300 million in debt and share repurchases.
With around $3.481 billion in BBB+ (S&P) rated debt, Kohl's has consistently provided its investor base with compelling "margin of safety" characteristics within the durably attractive platform.
As explained on the company's recent earnings call by Kevin Mansell, (Chairman, Chief Executive Officer, President and Member of Executive Committee of Kohl's),
We're committed to being good stewards of capital, and we'll continue to prioritize profitable growth and reinvestment in our stores while returning and excess cash to our shareholders.
(KSS paid $140 million in cash dividends so far this year).
The investment prospective for Kohl's remains bullish as the company continues to outperform its peer group. The company competes in a niche market between the department stores and the discounters and because of the strategic low cost structure, Kohl's should continue to outperform its peer group. The stock is currently priced at $ 50.17 per share (10-7-11) and the stock was at a 52-week low of $44.58 in August.
The $13.34 billion (market cap) retailer is currently paying a 2.01% dividend and I have provided additional fundamentals here: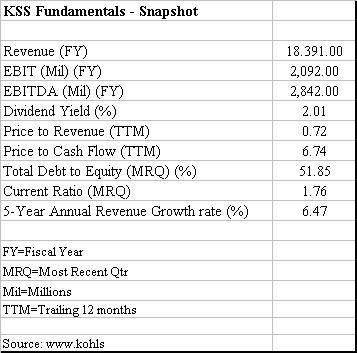 Try This On For Size
As referenced in the above-mentioned article, Kohl's operates around 1,127 facilities (most leased) and the investment prospectus is attractively safe; however, as a fixed-income investment, I do not see the attraction with Kohl's modest dividend structure (2.01% for KSS).
However, I do see the opportunity with an equity-based income structure that includes a proportionally balanced allocation of Kohl's investment grade credit revenue. And conversely, both of these investment platforms (retail and fixed-income) enjoy similar "margin of safety" attributes and this fixed income alternative has a very similarly pronounced name.
Cole Real Estate Investments is the sponsor of several publicly-registered non-traded REITs and because the funds are not publicly-traded the investment fundamentals are driven more by the real estate than market volatility. Conversely, a non-traded REIT is designed to operate more like a fixed income fund than an alternatively designed publicly-traded REIT (with fluctuating trading characteristics).
Like most REITs, Cole also provides a diverse revenue stream with historically attractive dividend performance. Since the REIT's founding in 1979, Cole has acquired more than $9 billion in total assets. Cole is currently offering two (2) distinct products consisting of Cole Corporate Income Trust, a larger box corporate "necessity" based platform and Cole Credit Property Trust III, a "brand name" mix of assets consisting of many well-located "necessity" based retail and restaurant sites (and the subject of this article).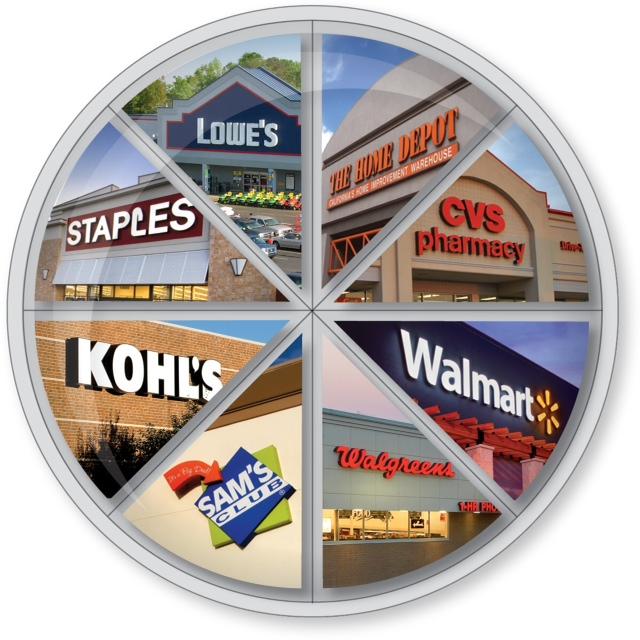 Cole Credit Property Trust III (CCPT III) is one of Cole's flagship non-traded REIT products with over 560 properties (across 43 states), this highly popular fixed income alternative has evolved into a 25.271 million square foot "dividend machine". The well-balanced fixed income fund has around 326 tenant concepts and 46 industry sectors and this broad based platform functions more like a "bond replacement" alternative than a real estate partnership. Most of the leases (like Kohl's) have long-term expirations with an average industry portfolio expiration date of 14.5 years.
In addition, the risk-adjusted portfolio has a substantial number of quality investment-grade tenants (making the likelihood of a tenant default less remote). CCPT III has an extremely well-balanced risk-adjusted income strategy with a diverse cross-section of brand-name credit income, long-term leases, and high profile sites functioning as billboards. As you can see below, Kohl's ranks 7th in rental revenue (for CCPT III) with around 3.2% of the REIT's rental proceeds (based on income as a percentage) included in the broadly-diversified 560 property portfolio (as of July 19, 2011).
Here is a snapshot of the top 10 CCPT III tenants (all data obtained from colecapital website):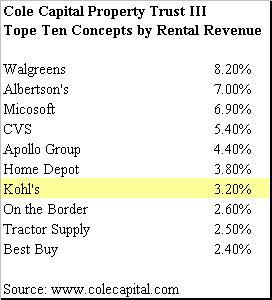 CCPT III recently acquired several free-standing Kohl's stores (Monroe, MI and Brownsville, TX) and a Kohl's anchored shopping center in Napa, CA. By investing in CCPT III's fund, you gain the advantage of being an investor in a secured income producing asset fund (as prioritized over stock ownership) with returns that are consistently sustainable.
Kohl's stock could increase or decrease its dividend payout; however, the CCPT III rent-derived portfolio (and other Cole products) is well hedged for inflation and deflation, making the funds "weather resistant" against volatile market conditions. Most Kohl's leases are twenty years (with options) and CCPT III's portfolio of contractually long-term credit leases (average 14.5 years) provide investors with an attractively balanced investment model.
As explained by Brett Sheets, Cole's Senior Vice President for Leasing,
Cole Real Estate has a great relationship with Kohl's. With a strong credit rating and quality retail assets in strong markets, we are pleased to have this exciting retailer in our growing portfolio.
The retail niche-focused operating model and strong financial fundamentals make Kohl's an exceptional investment alternative and the "best in class" retailer should continue to outperform its closest peer group. As a fixed income real estate option, CCPT III provides an attractive risk-adjusted yield of 6.5% (vs. the 2.01% dividend with Kohl's stock) with a durable track record for sustainable dividends and safety. Both of the investment alternatives (growth with KSS and income with CCPT III) provide similar "margins of safety" attributes with a strong emphasis on principal preservation.
A strategically-aligned portfolio should include hedged growth and income positions and I strongly recommend both alternatives as the fundamentals are strong and the correlated diversification strategies (of both) should provide sustainable safety and income. Consider both Kohl's and Cole in your investment allocation strategies and you are certain to "sleep well at night".
Disclosure: I have no positions in any stocks mentioned, and no plans to initiate any positions within the next 72 hours.