Leggett & Platt, Incorporated (NYSE:LEG) is a 128-year old manufacturer of engineered products based in Carthage, Missouri. The company's stock currently yields 5.3% and provides a welcome dividend stream to conservative investors. In this article, I'll examine a few aspects of Leggett & Platt's business model.
Leggett & Platt is an industry leader in designing, testing, manufacturing, and marketing bedding components, residential and office furniture, store fixtures, displays, die castings, custom tooling, machining, drawn wire, welded steel tubing, specialty wire products, auto seating suspension, lumbar support, and control cable systems. The company has 18,000 worldwide employees and 140-manufacturing facilities spread out among 18 countries. A breakdown of 2010 sales can be viewed in the following pie chart: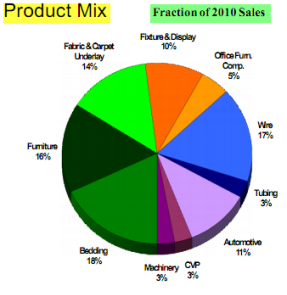 Leggett & Platt is a leading manufacturer in the following markets:
Components for bedding and home furniture,
Carpet underlay,
Power-based foundations,
Components for business office at home, and office furniture,
Drawn steel wire,
Automotive seat lumbar systems
10-Year Stock Price and Dividend Growth
Leggett & Platt have had a wild ride over the past 10 years. Although the stock hasn't moved materially through present date, the 2008-2009 financial crisis did dampen revenues and earnings. The dividend did increase each year, however. The below chart (click to enlarge) highlights the 10 year price movement of Leggett & Platt common stock: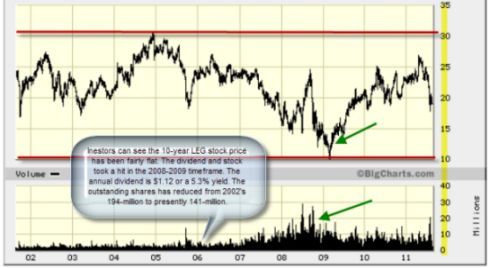 Ownership:
Current Dividend and Fiscal Guidance
Leggett & Platt's dividends have increased for the past 40 years. Dividends have compounded at a 15% annual rate. On August 2nd, Leggett & Platt's management stated they would increase the quarterly dividend by 3.7% to 28 cents per quarter. The yield currently offers a 5.3% annual yield. This return, in terms of yield equivalents, is significantly higher than the alternatives. As of October 7th, a 5-year Treasury Bond yielded 50 basis points or 1/2 of one percent.
Leggett & Platt's financial goals are threefold:
finish in the top 1/3 of the Standard & Poor's 500 for total return
increase annual sales growth by 4-5%
maintain the net debt ratio between 30% - 40% of net capitalization.
Capital Structure
Leggett & Platt's capital structure currently has 37% in long-term debt, with the remaining percentage in stock. The company does not have any preferred shares. Management has stated their short-term and long-term goals to maintain long-term debt between 30-40% of the capital structure.
Summary
Leggett & Platt have an extensive list of financial accomplishments. The company is one of Standard & Poor's "Dividend Aristocrats"; the company is recognized by Fortune's magazine as one of the "World's Most Admired Companies"; and is ranked in Mergent's Dividend Achievers as #34 in terms of the number of years of consecutive dividend growth.
The company is well diversified with its largest customer maintaining a 6% position of total sales. The number one raw material is steel. If steel increases in wholesale price, then costs will have to be passed down to customers.
The stock remains stable and offers a competitive dividend. The company is willing to engage in acquisitions but only if the deal makes fiscal sense and is accretive to earnings per share. The company is a market leader in many segments. Leggett & Platt should continue to offer a blue chip dividend and focus upon maintaining a conservative balance sheet.
Leggett & Platt Peer-Group Analysis:
click to enlarge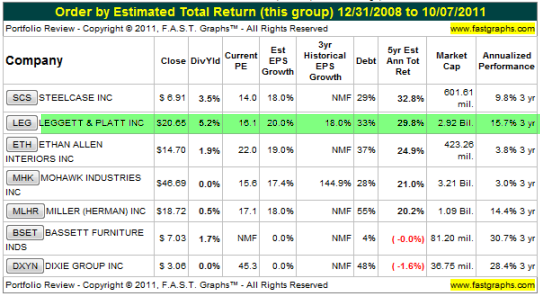 Bassett Furniture (NASDAQ:BSET)
Bassett Furniture manufactures, sells, and imports a wide range of bedroom, dining room, household furniture, and living room furniture. Bassett Furniture produces a wide range of occasional chairs, tables, wall units, and upholstered furniture. Bassett Furniture sells its products at both the wholesale and retail level. The company has 68 licensee owned stores and 36 company owned stores.
Steelcase, Inc. 'A' (NYSE:SCS)
Steelcase is the world's leading manufacturer of office furniture and furniture systems. Its furniture systems portfolio consists of panel-based and freestanding furniture systems. The company, and its subsidiaries on a global basis, maintain over 50 manufacturing facilities. Products, such as storage, tables, and ergonomic work tools, are distributed through 800 independent dealers.
Herman Miller (NASDAQ:MLHR)
Herman Miller researches, designs, manufactures, and promotes furniture systems, and products for offices. Herman Miller offers modular systems under the Action Office, Canvas Office Landscape, Ethospace, Resolve, My Studio Environments, and Vivo Interiors brand name. Herman Miller has 10 core facilities in the U.S., one facility in Mexico, and one facility in the United Kingdom.
Dixie Group (NASDAQ:DXYN)
Dixie Group sells high-end carpet floor coverings for both the commercial and residential end markets. The core focus is the United States market. Dixie Group sells its products under the Fabrica International, Masland Carpets, and the Dixie Home brands.
Ethan Allen Interiors (NYSE:ETH)
Ethan Allen Interiors operates a network of approximately 300 design centers in the U.S. and internationally. Ethan Allen Interiors is a leading manufacturer and retailer of home furnishings, offering a full range of furniture products and accessories. Ethan Allen Interiors core three product lines are case goods, upholstered products, and home furnishing accessories.
Ethan Allen Interiors merchandise includes a wide variety of household furniture: beds, dressers, armoires, tables, chairs, buffets, entertainment units, home office furniture, recliners, chairs, sofas, and wooden accents. upholstery home furnishing items comprising sleepers, love seats, cut fabrics, and leather; and home accessory and other items consisting of window treatments, wall decor, lighting, clocks, bedding and bedspreads, decorative accessories, area rugs, and home and garden furnishings.
Mohawk Inds. (NYSE:MHK)
Mohawk Industries engages in the production and sale of floor covering products for residential and commercial applications. Sales are focused upon the United States and Europe market. Mohawk Industries has 3 segments Mohawk, Dal-Tile, and Unilin.
Brand names include Mohawk, Aladdin, Mohawk Floorscapes, Portico, Mohawk Home, Bigelow, Durkan, Horizon, Karastan, Lees, and Merit. Mohawk Industries sells merchandise through retailers, mass merchandisers, department stores, and commercial dealers.
SEC Form 4 Updates
Here is the listing of the recent SEC Form 4 "Statement Of Changes In Beneficial Ownership." Click to enlarge: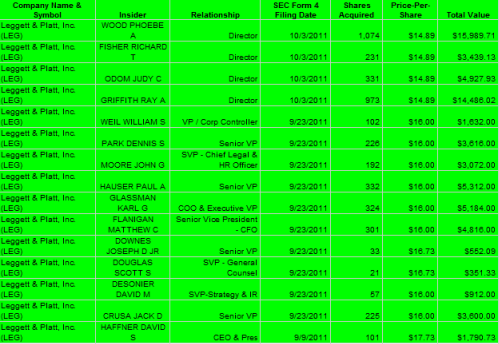 Disclosure: I have no positions in any stocks mentioned, and no plans to initiate any positions within the next 72 hours.