VST: Value, Safety, Timing
In recent articles, we looked at the 10 stocks ranked highly according to "Relative Safety" (RS), "Relative Timing" (RT), and "Relative Value" (RV) by VectorVest. In this one, will look at the 10 stocks ranked highest according to VectorVest's master ranking, "VST", which consistes of a weighted average of RS, RT, and RV, with RT overweighted and RV underweighted. The stocks listed in the table below had VST scores ranging from 1.33 to 1.41 on Friday, and were the highest-ranked stocks in the VectorVest-US universe.
Hedging Costs of High VST Stocks
I also looked at the hedging costs for these stocks using optimal puts, and found them to be fairly high, for the most part, but not as high as the high RV stocks. You can see those costs in the table below. First, a reminder about what optimal puts are, and why I've used 20% as a decline threshold; then, a screen capture shows the current optimal puts to hedge one of the stocks listed below, Dollar Tree, Inc. (NASDAQ:DLTR).
About Optimal Puts
Optimal puts are the ones that will give you the level of protection you want at the lowest possible cost. Portfolio Armor uses an algorithm developed by a finance Ph.D. to sort through and analyze all of the available puts for your position, scanning for the optimal ones.
Decline Thresholds
In this context, "threshold" refers to the maximum decline you are willing to risk in the value of your position in a security. You can enter any percentage you like for a decline threshold when scanning for optimal puts (the higher the percentage though, the greater the chance you will find optimal puts for your position). I have used 20% thresholds for each of the securities below. Essentially, 20% is a large enough threshold that it reduces the cost of hedging, but not so large that it precludes a recovery.
The Optimal Puts for DLTR
Below is a screen capture showing the optimal put option contract to buy to hedge 100 shares of DLTR against a greater-than-20% drop between now and May 18, 2012. A note about these optimal put options and their cost: to be conservative, Portfolio Armor calculated the cost based on the ask price of the optimal puts. In practice an investor can often purchase puts for a lower price, i.e., some price between the bid and the ask.
[Click to enlarge]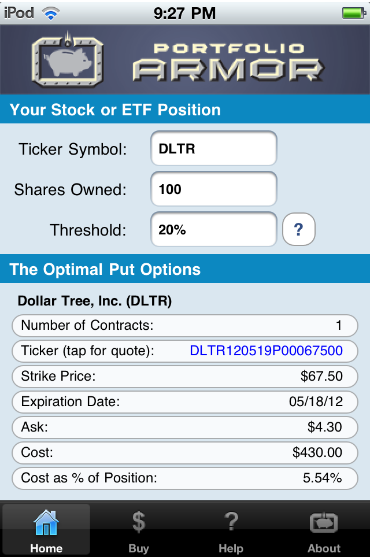 Why There Were No Optimal Contracts for 3 of These Stocks
In some cases, the cost of protection may be greater than the loss you are looking to hedge against. That was the case with 3 of the stocks on this list. As of Friday, the cost of protecting them against a greater-than-20% declines over the next several months was itself greater than 20%. Because of that, Portfolio Armor indicated that no optimal contracts were found for them.
Hedging Costs as of Friday
The data in the table below are as of Friday. The stocks are listed in order of VST, ranging from a VST of 1.41 for NUAN to a VST of 1.33 for TSO. These were the highest-rated stocks in VectorVest's universe of US stocks on Friday, and were all rated "buy".
| | | |
| --- | --- | --- |
| Symbol | Name | Cost of Protection (as % of position value) |
| | Nuance Communications, Inc. | 11.6%** |
| DECK | Investco Mortgage Capital, Inc. | 12.7%* |
| | Genesco, Inc. | 10.4%* |
| | Stamps.com Inc. | No Optimal Contracts |
| HCSG | Healthcare Services Group, Inc. | 8.76%* |
| VFC | VF Corporation | 8.50%*** |
| BKE | Buckle Inc. | 10.3%* |
| DLTR | Dollar Tree, Inc. | 5.54%*** |
| QCOR | Questcor Pharmaceuticals, Inc. | No Optimal Contracts |
| TSO | Tesoro Corporation | No Optimal Contracts |
*Based on optimal puts expiring in March, 2012
Disclosure: I have no positions in any stocks mentioned, and no plans to initiate any positions within the next 72 hours.