In more ways than one, Wynn Resorts (NASDAQ:WYNN), in my view, will prove to be a "winning" long-term bet. Although the stock is currently trading at high multiples of 43x and 21x past and forward earnings, respectively, and faces the risk of underperforming bullish expectations, Wynn Resorts provides a lucrative gamble on the Chinese economy. It operates two major casino segments: one in Las Vegas and another in Asia.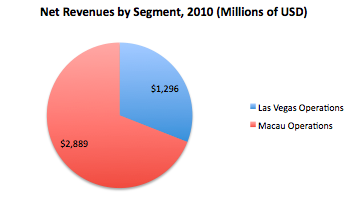 Wynn Macau made up more than three-quarters of 2010 EBITDA and still has strong growth potential. I anticipate revenue growing by 39.8% in this resort in 2011 and then by 21% for each of the next two years. When assessing the intrinsic value of this region, it is important to keep in mind the political and economic environment. Yes, bullish reports on China are nothing new. However, in my belief, not enough attention has been directed toward Hong Kong and Macau, the two special administrative regions of the People's Republic of China. To be clear "special administrative regions" allows for an entirely different regulatory, legal, and monetary system than China. At the same time, China provides its strong military support to both Hong Kong and Macau. The two special administration regions have strong free market systems that foster strong value creation for domestic companies.
Macau also has a viable gambling market with an impressive GDP per capita of more than $59K, one of the few nations to be higher than the United States in this economic indicator. It is thus not like most of Asia insofar as it has a strong middle class with an impressive Human Development Index rating and the second highest life expectancy in the world. With the market's attention being placed mainly on China, I find Macau developments to be comparatively undervalued given its strong economy. Wynn's Macau operations control more than 256K square feet and provide more than 1K hotel rooms and suites. The company receives royalty fees from operating the real estate and has just reached a billion dollar plus agreement with the Macau Government for 51 acres worth of land rights.
The casino developer is thus not only well exposed to emerging markets, it is predominately operating in emerging markets currently. Macro concerns over a slowdown in China recently were exaggerated in my opinion and will, moreover, not significantly impact Macau. What these concerns did create, however, was an attractive entry valuation for investors. Competition from Sands China, Melco Crown, and Galaxy have already been largely factored into the price.
Strong free cash flow generation in the Wynn Resorts is also driving expansion. The company is developing in the Cotai Strip and plans to offer 2K hotel rooms and suites and 400 gaming tables. The project will cost slightly above HK$ 20B and could be completed by the end of 2015. A strong balance sheet further supports continued expansion and strong dividend yields. The dividend yield is currently at 1.6% and I anticipate this growing with improved cash flow generation.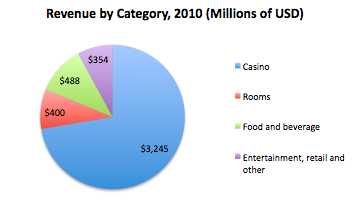 On the operational side, offering more rooms is a profitable course as the category offers high margins while contributing a heavy amount to casino sales. The Encore at Wynn Las Vegas currently provides more than 2K rooms and is adjacent to the casino, a well-known strategy that almost will assuredly be continued in subsequent projects. Gaming revenues are expected to rise and, as a whole, performed well in September with 39% market growth to $2.6B.
Overall, while analysts rate the company slightly better than a "hold", I view Wynn as a "buy". Consensus estimates for EPS are that it will grow by 163% to $5.55 in 2011 and then by 15% and 14.4% in the following two years. With high growth expectations, Wynn is a risky bet to make. For those bullish on Macau and Cotai, however, the winnings could be large.
Disclosure: I have no positions in any stocks mentioned, and no plans to initiate any positions within the next 72 hours.