In a recent SA article, titled "Digging Through the Dow for Yield and Value," Plan B Economics wrote:
Investment managers worldwide are overweighting US large cap stocks within the equity components of their portfolios (even if they are underweighting stocks in general). This is because US large cap stocks are seen to be relative 'safe havens' when compared to the dogs in Europe and the unknowns in emerging markets. (Of course, US stocks could lose money just like any other stocks around the world.)

Portfolio managers are also turning to US large caps for their relative value compared to the pitiful yield on US Treasuries (the 10yr US Treasury currently yields 1.78%). Even investment grade corporate bonds only yield about 150bps more than the dividend yields on many similar equities (compared to earnings yield, the spread is even less). For 150bps in yield give-up, you get potential dividend growth and potential capital appreciation. In fact, many long-term investors simply buy dividend-paying stocks for an indefinite, growing income stream, ignoring the fluctuations of their initial capital.
The article goes on to present a chart which lists the stocks in the Dow 30 and shows the PE ratios for those stocks as well as the current dividend yield. The discussion centers around the apparent value represented by the companies in the Dow 30 at this present time.
As a dividend growth investor, I enjoy reading articles on SA in order to learn more about investing and to get ideas for my portfolio. As a Schwab customer, I have used the company's different "investment services" in order to research my investments, along with a screening tool available at Schwab.
What I like about the reports available for different companies is the depth of the analysis given. I am able to capture a lot of information which helps me to make an informed decision as to my next investment. But the referenced article got me thinking about the companies that make up the Dow 30 and what the different investment services at Schwab had to say about each of the 30 stocks. What I found was surprising to me and that is what I will be presenting here, for your review.
The investment services at Schwab are: The Schwab Equity Rating, Credit Suisse, Ned Davis Research, the Standard and Poors Star Rating, Argus Research, and Reuters Research. Here is how each of those rating companies view the Dow 30 stocks.
click to enlarge image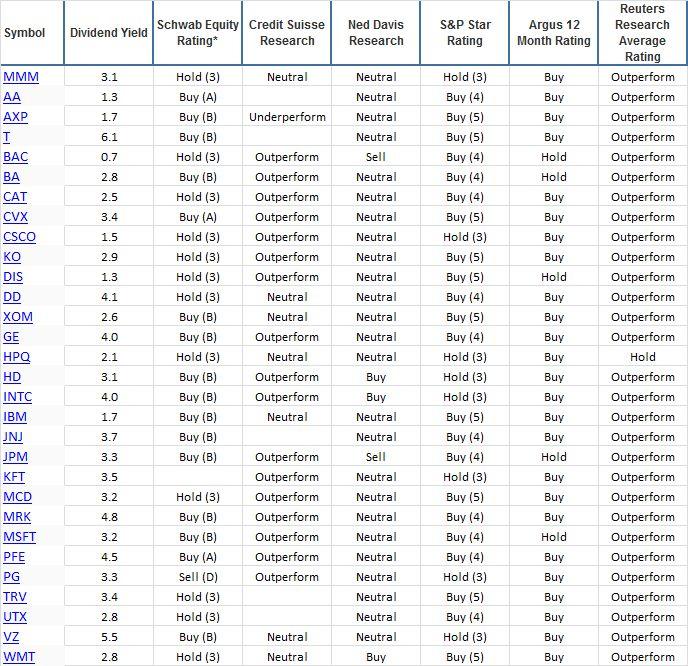 Click to enlarge
Schwab Equity Index has 4 companies rated "A", 13 companies rated "B". 12 companies rated "C", and 1 company that is "not rated." That company is KFT. Schwab rates 17 companies as either a "strong buy" or a "buy."
Credit Suisse rates 17 companies "outperform." They rate 7 companies as "neutral." One company, AXP is rated "underperform" and 5 companies are not even analyzed. Those are AA, JNJ, T, TRV and UTX. Credit Suisse then rates 17 companies as "buy."
Ned Davis Research rates only two companies in the 30 stocks that make up the Dow as a "buy." Those companies are INTC and WMT. Every other company is rated "neutral" with the exception of BAC and JPM, which Ned Davis Research rates as "sell."
Standard & Poor's rates the Dow stocks this way. There are 10 "5 Star" selections. These are "strong buys." AMX, CVX, DIS, IBM, KO, MCD, T, TVR, WMT, XOM. There are 12 "4 Star" selections--"buys". And there are 8 "3 Star" companies--which are "holds." There are no "2 Star" or "1 Star" companies on their list. So Standard & Poor's rates a total of 14 companies a "buy."
Argus Research rates every company (25) a "buy" with the exception of BAC, BA, DIS, JPM, and MSFT.
Reuters Research rates every company "outperform" (29) with the exception of GE which they call a "hold."
Looking for Consensus
With 6 different ratining companies, you would think that there might be some consensus in regard to stocks being recommended. However, the results may suprise you.
Companies with 5 buy recommendations:
Chevron (NYSE:CVX), General Electric (NYSE:GE), Home Depot (NYSE:HD), Intel (NASDAQ:INTC), Merck (NYSE:MRK) and Pfizer (NYSE:PFE).
Companies with 4 buy recommendations:
Alcoa (NYSE:AA), American Express (NYSE:AXP), AT&T (NYSE:T), Boeing (NYSE:BA), Caterpillar (NYSE:CAT).
Coca Cola (NYSE:KO), Exxon Mobil (NYSE:XOM), Int'l Business Machines (NYSE:IBM), Johnson and Johnson (NYSE:JNJ), JP Morgan (NYSE:JPM), McDonald's (NYSE:MCD), Microsoft (NASDAQ:MSFT), and Walmart (NYSE:WMT)
Companies with 3 buy recommendations:
Bank of America (NYSE:BAC), Cisco Systems (NASDAQ:CSCO), Disney (NYSE:DIS), Dupont (NYSE:DD), Kraft (KFT), Procter & Gamble (NYSE:PG), Travelers (NYSE:TRV), United Technologies (NYSE:UTX), and Verizon (NYSE:VZ).
Remaining companies:
3M (NYSE:MMM) with 2 buys; Hewlett Packard (NYSE:HPQ) with 1 buy recommendation.
Conclusion
There are 8 stocks in the Dow 30 that are Dividend Champions. Those are JNJ, KO, MCD, MMM, PG, T, XOM, and WMT.
There are 4 stocks in the Dow 30 that are Dividend Contenders. Those are CAT, CVX, IBM, and UTX.
There are 4 stocks in the Dow 30 that are Dividend Challengers. Those are INTC, TRV, VZ, and MSFT.
I have marked the CCC stocks that were recommended with bold print. These companies represent an interesting 16 picks for a dividend portfolio. In my opinion, having 16 companies in the Dow 30 that are CCC companies is pretty impressive. More than half of the stocks that make up the Dow 30 are CCC stocks. There are other large cap companies that are not in the Dow, but are in the CCC lists. These other companies can be selected by investors to round out their investment portfolios and at the same time provide more diversification.
Disclosure: I am long CVX, INTC, T, KO, XOM, JNJ, MCD, MSFT, WMT, PG, VZ.