Shares of Inhibitex (Nasdaq:INHX) led gainers in healthcare % price change on Friday as shares have continued to climb quietly during the last four sessions. Late last month, there was a big insider sale totaling over 233K shares sold at an average price of $2.99 that may have helped spook some investors. Now, as the stock has battled back, there are 2,782,200 shares short and pressure to cover is mounting as bulls continue to push the stock price higher.
Smart money likes the company. Currently, institutions own over 63% of the firm's 102 million outstanding shares. Trading value has been higher than average by approximately 300% during the last two sessions, as shares continue to trade -43.40% from their 52-Wk High of $ 5.23.
Inhibitex's pipeline addresses significant viral and bacterial infections, including herpes zoster (shingles), chronic hepatitis C, and S. aureus infections. The company's product pipeline includes: FV-100, a bicyclic nucleoside analogue in development for the treatment of herpes zoster (shingles), Aurexis®, a humanized monoclonal antibody with a high affinity and specificity to clumping factor A (ClfA), which is expressed by virtually all strains of S. aureus and INX-189, indicated for Hepatitis C.
In mid September, the company announced that it had commenced dosing in a 90-patient randomized, placebo controlled, Phase 2 clinical trial to evaluate the safety, tolerability and antiviral activity of INX-189 in combination with pegylated interferon and ribavirin in chronic HCV-infected genotype 2 and 3 treatment naïve patients.Patients in the INX-189 containing treatment arms that achieve an extended rapid viral response, or eRVR, defined as having HCV RNA below the level of detection after 28 days and 12 weeks of dosing, will stop all therapy after 12 weeks. Those patients who do not achieve an eRVR will continue receiving pegylated interferon and ribavirin for 12 additional weeks. The BioMedReports FDA calendar shows that results are expected in sometime in the first quarter of 2012.
The Company also announced the initiation of an additional clinical trial of INX-189 designed to evaluate higher doses of INX-189 administered as monotherapy or in combination with ribavirin for seven days. The first cohort in this expanded Phase 1b trial will receive 200 mg INX-189 once daily as monotherapy. Other planned cohorts include 100 mg INX-189 twice daily as monotherapy, 100 mg INX-189 once daily in combination with ribavirin, and possibly higher monotherapy doses of INX-189. Each treatment cohort in the trial will include 10 patients, eight of which will receive INX-189 and two of which will receive placebo.
From a technical analysis standpoint, there are several indicators that show building strength in the chart with the next strongest point of price resistance at the $3.35 level and some newly established minor support at $2.91.
[Click to enlarge]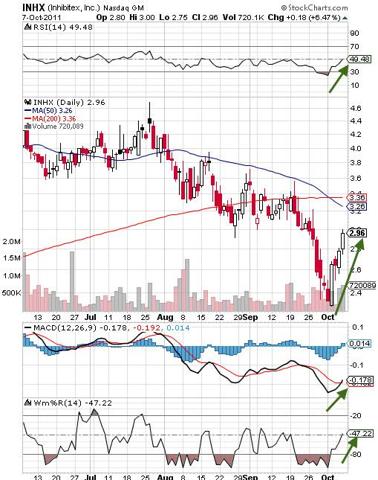 Click to enlarge
Disclosure: I have no positions in any stocks mentioned, and no plans to initiate any positions within the next 72 hours.