Watson Pharmaceuticals (WPI) has been a strong performer since the start of the recession and, given its beta of 0.43, remains a relatively safe investment in the event of a double dip. Watson went up more than 140% since the beginning of 2008. While analysts currently rate the stock between a "hold" and a "buy", I find that the opportunities for value-creating acquisition in the Global Brand segments make it far more undervalued. A strong pipeline with breakthrough pharmaceutical products provides tremendous synergistic value with drugs of related use. And a global footprint in the United States, Europe, Canada, Asia, Australasia, South Africa, and South America allows for the firm to create a loyal market that will produce recurring profits.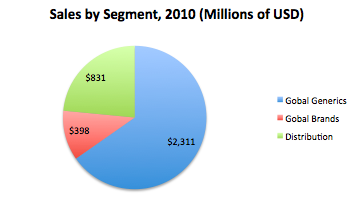 The corporation currently offers 160 and 30 generic and brand pharmaceutical product families, respectively. Its strength is in generics, but I find its tremendous potential to be in brands. The brand business will help to drive higher-risk adjusted returns given its more volatile nature. The failure with Ferrlecit is disappointing, but will be more than compensated through successes elsewhere. RAPAFLO, which treats benign prostatic hyperplasia (BPH), or enlarged prostates, is one such product to watch. The product will help fuel sales in Trelstar, a treatment for prostate cancer that is likely to produce strong growth in 2011 in its own right. PROCHIEVE for pre-term birth will also benefit from an increased market size as physicians are showing an increased willingness to screen patients. The overly conservative estimates of PROCHIEVE make it a strong value-driver.
With a solid focus on women's health, urology, and products in contraceptives, analgesic, hypokalemia, antiemetic, Watson will likely make a transformative acquisition in Global Bands that will open up the company to new markets while complementing existing ones. Management has already stressed the importance of an M&A strategy going forward and solid cash flow generation through generic sales will aid in this pursuit.
A quarter of Watson's sales come from the Walgreen Company (WAG) and McKesson (NYSE:MCK), which I also anticipate being outperformers in the next few years. My forecast is slightly more bullish than other analysts, with a projection of revenue CAGR and EBITDA CAGR at 6% and 12%, respectively, from 2011-2015. Consensus estimates for EPS are that it will grow by 30.7% to $4.47 and then by 28.9% and 10.4% in the following two years. Growth will likely be driven by Oxytrol, Trelstar, and Androderm, while RAPAFLO and PROCHIEVE --complemented by a major acquisition-- will provide for solid upside potential. With the stock trading at 11.7x forward earnings and in-line with peers, I find that the company presents favorable risk / reward despite a lack of dividends. In conclusion, as other competitors struggle with pipeline efficiency and development, Watson remains well positioned for solid long-term value creation through synergistic M&A.
Disclosure: I have no positions in any stocks mentioned, and no plans to initiate any positions within the next 72 hours.