On Friday, October 7, 2011, I had the opportunity to speak with Dan Spears, Partner and Portfolio Manager, at Swank Capital, the Creators of the Cushing MLP indices and funds. This article is a summary of several noteworthy points.
A Master Limited Partnership (MLP) is a type of partnership that is publicly traded on a securities exchange. MLPs combine the tax structure of limited partnerships with the liquidity of publicly traded securities. Most MLPs are designed to provide income in the form of distributions.
Most MLPs are oil and gas pipeline businesses that earn stable income from the transport of oil, gasoline and/or natural gas. Non-competitive pipelines have an industry standard annual price increase of CPI + 2.65 percent, which is generally superior to other long-term lease rates. Mr. Spears believes some of these stable businesses may have depreciated as asset-class correlations approached one due to the extreme volatility that the markets have seen over the last few months. See the chart for the Credit Suisse Cushing 30 MLP Index ETN (NYSEARCA:MLPN), below:
Click to enlarge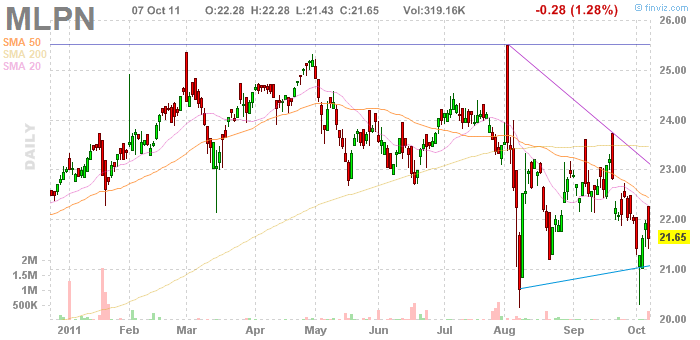 Additionally, below is a 6 month comparison chart of the Cushing 30 versus the broader market as expressed by the S&P 500.
Click to enlarge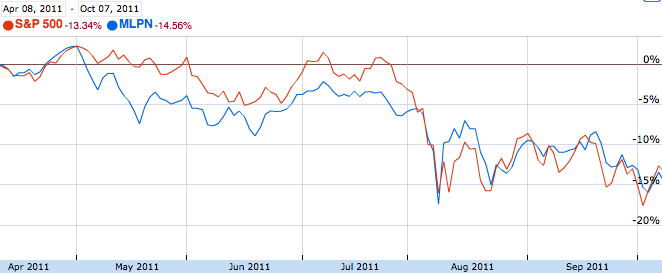 The chart shows that the MLPs and the broader market have been highly correlated for several months and to a greater extent over the last two. This chart is only comparing the equity price performance and does not factor dividends / distributions.
Mr. Spears stated that the last five years of MLP growth were primarily predicated on natural gas infrastructure development, and that he believes the next five years will likely involve continued infrastructure build-outs for natural gas liquids. Mr. Spears believes growth will surround infrastructure development from the Bakken, Niobrara and Eagle Ford shale formations, among others.
Mr. Spears indicated that Cushing's actively managed MLP Premiere funds saw positive inflows during the third quarter and that the fund strategy has a bias towards large MLPs that have strong prospects for continued organic growth and exposure to natural gas liquids. Mr. Spears noted that examples of MLPs that meet these criteria are Enterprise Products Partners LP (NYSE:EPD) and ONEOK Partners LP (NYSE:OKS). Mr. Spears also stated that they believe Crosstex Energy LP (XTEX) meets these criteria, and that it is currently the largest position in the Cushing MLP Premiere fund.
Crosstex was also recently added to the Alerian MLP Index, following the completion of EPD's merger with Duncan Energy Partners L.P. (NYSE:DEP). Duncan was also in the Cushing 30 MLP Index, but was replaced with Atlas Pipeline Partners, L.P. (NYSE:APL). Both changes were announced on September 6, 2011. Mr. Spears indicated that changes to the Cushing 30 are limited to instances of such M&A activity or announcements of significant distribution cuts, and that he is not aware of any pending distribution cuts.
Disclaimer: This article is intended to be informative and should not be construed as personalized advice as it does not take into account your specific situation or objectives.
Disclosure: I have no positions in any stocks mentioned, and no plans to initiate any positions within the next 72 hours.