The steel sector has suffered brutally this year, falling almost 50% peak-to-trough, due to fears of a global recession, overcapacity in the global steel industry and an increase in the prices of some raw material inputs. The industry, however, goes through regular boom and bust cycles, and is among the most volatile groups in the market.
As a key input in a wide range of industries that depend heavily on economic growth, the long-term outlook for the steel sector is bullish. Global steel output, currently at 1.3 billion tons annually, has been rising steadily (from 850 million tons in 2000), driven mostly by economic growth in China, which now accounts for almost half of global steel output of 1.3 billion tons annually. Besides China, the Indian steel market is expected to grow significantly in the years ahead, from a production of 124 million tons in 2012 to 275 million tons by 2020, which would make it the second largest steel manufacturer, ahead of third placed EU. The U.S. at 6% of the global steel production, and shrinking as a share of the global market, will slide to fifth place.
It is reasonable then to expect that at some point the steel cycle will reverse itself, and that steel demand and prices will rise back to and above the highs we saw in the spring and summer of 2008. Steel prices currently sit at about 20% below those highs, while the average stock is currently 40%-50% below the high set earlier this year, and down almost 65% below the highs set in the spring of 2008. Since the boom-bust cycle is inevitably going to lead us to higher demand and prices for steel, we tested to see which stocks would outperform if steel prices rose back up to conditions we saw near the last peak, at the end of 2007. We based our analysis on not just forward P/E, but also price-to-book (P/B) ratio and the Enterprise Value to EBITDA (EV/ EBITDA) ratio. The EV/ EBITDA ratio is capital structure neutral, and is often used as an alternative and in addition to standard valuation measures such as P/E and P/B to compare across companies that have varying levels of debt leverage.
We determined based on our analysis of the major steel stocks (including leading iron ore manufacturers), that at the end of 2007, during the last peak of the steel cycle, the average steel stock traded at a forward P/E of 12.2. Furthermore, the average steel stock at the end of 2007 traded at a median P/B ratio of 4.1, and at an EV/ EBITDA ratio of 13.3. Based on that (see Table), we determined that the following steel stocks would gain the most, when the cycle reverses itself and global demand and supply support higher steel prices:
All ten companies trade well below the target price determined based on either and all of the above three measures of P/E, P/B and EV/EBITDA. Of these, MTL and MT are the best value as the analysis suggests that shares of these companies could quadruple when the cycle reverses, and steel demand and prices rise. Furthermore, it is projected based on the analysis that shares of X, PKX and CLF could triple under that scenario, and the remaining five from the above list could double.
Other companies that would also do well in this scenario, but not as well as the first group above, include the following:
Only one major steel company, Luxembourg-based Ternium SA (NYSE:TX), would most likely not do well in this scenario as its shares would remain over-valued, based on both P/B and EV/ EBITDA ratios.
Table (Click to enlarge)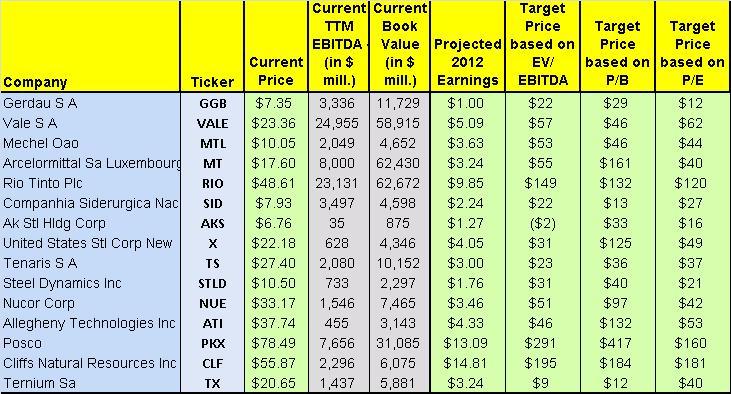 Disclosure: I have no positions in any stocks mentioned, and no plans to initiate any positions within the next 72 hours.
Disclaimer: Material presented here is for informational purposes only. Nothing in this article should be taken as a solicitation to purchase or sell securities. Before buying or selling any stock you should do your own research and reach your own conclusion. Further, these are our 'opinions' and we may be wrong. We may have positions in securities mentioned in this article. You should take this into consideration before acting on any advice given in this article. If this makes you uncomfortable, then do not listen to our thoughts and opinions. The contents of this article do not take into consideration your individual investment objectives so consult with your own financial adviser before making an investment decision. Investing includes certain risks including loss of principal.