In one of my worst trading moves in years, I went against my better judgement and sold 200 December 2011 $15 strike call options on Cisco Systems (NASDAQ:CSCO) on August 10th, when Cisco's share price was trading around $13.75.
At the time of my purchase, I paid around $0.58 per contract. I loved the price of Cisco when I bought it at the time and my initial investment wasn't large at all. I thought CSCO wasn't going to stay at such a low price for very long, and I figured it was going to take off relatively soon.
As it turns out, it took longer than I expected to make a move upward and I uncharacteristically became impatient. Normally, when I go bullish long-term on a stock, I will purchase 200-300 contracts and be patient with them.
Well, the call options I had weren't doing very much at all for about three weeks, so I decided to sell them. This type of scenario can happen when you are used to getting in-and-out of positions very quickly trading options on high-priced stocks like Google (NASDAQ:GOOG), Apple (NASDAQ:AAPL), and so on. Everything else you trade seems rather slow.
Forward to the present and Cisco is now trading at $16.66 at the end of trading on Friday, October 7, 2011. Those call options I sold at a little bit less than my initial cost (plus the commission costs I had to eat) netted me a loss. It wasn't that I was angry that I took a minor loss on the options contracts and commission costs, but the fact that I sold them too early. Cisco's stock started its upward move right after I sold them. That made it even more frustrating.
Those same December 2011 $15 strike calls I sold are now trading with a bid/ask of $2.20/$2.23. Not one of my better moments. I relate this story because I wanted to show what happens when a trader (myself) goes against the reason they buy the options to begin with. I let my impatience and desire to get into another position take over when I was almost certain Cisco would make a very nice rebound.
Cisco has been in an upward trend ever since I sold it. This brings me to what I think Cisco's stock will do from here in the coming months. I am still very bullish on Cisco. CEO John Chambers has taken a lot of heat in recent years for the company's struggling stock performance. In many respects, he deserved a lot of the blame. The company's growth and business were just stagnant, and so was the stock as this 10-year chart will show. Underneath this is Cisco's 52-week price range, EPS, and P/E ratio.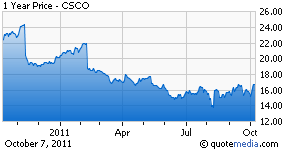 Basically, Cisco got too big and had too many employees. CEO John Chambers finally decided it was time to start correcting things, and he started doing so quickly. In the past few months, Cisco has laid off workers and sold off 5,000 more to Foxconn Technology Group.
It has been a huge part of a restructuring plan that John Chambers has outlined. Analysts have given upgrades and raising price targets for Cisco in recent months. The stock has performed very well since August 2011 and looks to be in a major uptrend. Cisco is still a leader in the technology sector with its routers, switches, and other IP-based products. Is it a huge growth story that it was in the early 90's? Absolutely not. However, this stock was unfairly beaten down in my opinion for not being that "growth" stock anymore.
Cisco is also sitting on about $44 billion in cash equivalents and short-term investments. That is very impressive and very hard to ignore. It leaves the door open for a dividend increase, strategic acquisitions, and stock buy-backs.
Earlier this year, Ralph Nader sent a letter to CEO John Chambers to increase their dividend. Chambers has indicated that he is open to a possible dividend increase, but nothing has been confirmed. If the dividend is increased from the miniscule 1.4% as it stands now, this could provide another boost to Cisco's stock.
Another trend I have been noticing since August 2011 is that it has been outperforming the Nasdaq on up days and less on the down days. Just an observation, but something to also keep an eye on.
Cisco's call options available still go for very reasonable prices. I fully expect CSCO to be trading in the low 20's by early 2012. This is where I would be looking to enter a position. Currently, April 2012 $20 calls have a bid/ask of 0.52 - 0.54. From Yahoo! Finance, 35 analysts have a high price target of $25.00 on Cisco and a low target of $13.50. The median target is $18.00.
I really see little downside from here with Cisco's share price. The most I think it could go down from here is to $14.50/share, but I wouldn't be too patient waiting for that to happen to initiate a position. Along with Nvidia (NASDAQ:NVDA), Cisco is one of my top picks to perform excellent in the next six to seven months.
I have no plans to make the same mistake twice in selling my position too early like the one I wrote in the beginning of the article. This time, I will be holding the position. While it may take patience with CSCO, the reward will be worth it.
Disclosure: I have no positions in any stocks mentioned, but may initiate a long position in CSCO over the next 72 hours. I will be purchasing April 2012 $20 strike calls