This year has been fascinating for the mortgage real estate investment (mREIT) sector. There have been mREIT-sector ups and downs as Federal intervention has been active. As October is here, investors can listen to the third quarter conference calls for updates on the industry and company-specific performance issues. In my opinion, here are 4 mREITs to buy and 3 mREITs to avoid.
mREITs to Buy
American Capital Mortgage Investment Corp. (NASDAQ:MTGE)
I believe American Capital Mortgage Investment is trading at a compelling valuation. The first factor is the management team. Since my August 15th article, "Passing on American Capital Mortgage", I believe the current stock price offers a compelling valuation. The first catalyst is the management team. Gary Kain, is the President and Chief Investment Officer. Mr. Kain is also at the helm of the top performing agency mREIT, American Capital Agency Corp. (NASDAQ:AGNC).
The company has paid a stub-dividend of 20 cents. This stub period represents the August 9, 2011 through September 30, 2011 time frame versus a full quarter.
The second reason is the valuation. The company came public at $20 per share. The stock is currently trading at a 20% discount to its 2 month old IPO price. Mr. Kain has proven he is adapt at purchasing agency mortgage backed securities (MBS) with the intent to reduce prepayment risk. The team has earned my trust, through its communication and investment success, to minimize credit risk with non-agency MBS purchases.
Two Harbors Investment Corp. (NYSE:TWO)
Two Harbors Investment Corp. was able to retain the 3rd quarter dividend payment constant from the 2nd quarter. In a vote of confidence in the company, 4 insiders purchased shares. These insider transactions are reported in the
Two Harbors Investment Corp. SEC Form 4 filings:

The company's book value per share, as of June 30th, was $9.89. Currently the stock is trading at $9.01. This value represents a 91% price-to-book multiple. On October 5th, the company announced a news release to buy back up to 10 million shares.
Capstead Mortgage Corp. (NYSE:CMO)
Capstead Mortgage is the oldest publicly traded mREIT. The company focuses exclusively in agency MBS. The business model focuses on short-duration adjustable rate mortgage (ARM) securities along with interest rate swap agreements. Capstead Mortgage has a June 30th book value per share of $12.46.
The benefit of owning Capstead Mortgage is the lack of credit risk as an owner of only agency MBS, and a diminished interest rate risk due to the focus on short duration ARMs.
Income investors can also consider the Capstead Mortgage Series B Preferred shares. The shares pay a monthly 10.5 cents, which equates to an annual $1.26. This provides an annual yield of 8.9%. The preferred shares do have a $12.50-per share call price. The common shares currently offer a 15.4% dividend yield.
American Capital Agency Corp. (AGNC)
American Capital Agency Corp. has proven to be the top-performer in the agency mREIT sector. American Capital Agency Corp., per the below table, shows an annualized total rate-of-return of 22.5%. It's important to note that the table does not reflect dividend reinvestments.
The company has on the cutting edge of identifying agency MBS with the intent of minimizing prepayment risk. As an agency mREIT, the company does not have any credit risk due to owning MBS backed by the U.S. Federal Government.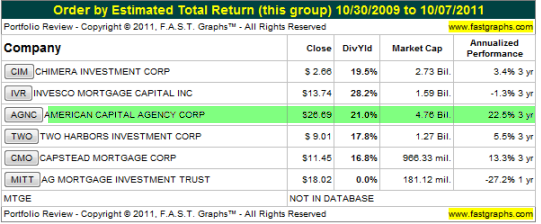 mREITs to avoid
Chimera Investment Corporation (NYSE:CIM)
Chimera Investment Corporation is a name I would avoid. The June 30th book value per share was $3.35. This hybrid mREIT has Annaly's (NYSE:NLY) Michael Farrell as their external manager.
Chimera Investment owns non-agency MBS and agency MBS. The mREIT focuses upon residential mortgage securities. I am not optimistic on the housing market turning around in the next 6 months. If housing does start to improve, then Chimera Investment Corporation will likely do very well. Until I see improvements in housing valuations, then I have to avoid this name. Because the mREIT owns non-agency MBS, the credit risk of the mREIT's MBS portfolio is a major issue.
Invesco Mortgage Capital Inc. (NYSE:IVR)
Invesco Mortgage Capital has broken down in price since earlier in the year. As a hybrid mREIT, it is difficult to assess what the current book value per share is. The company issued a mid-quarter secondary to build up cash for deployment. The company did have a swap hedge which did impair the book value per share. The 3rd quarter conference call will be important to identify what the current book value per share is. On a positive note, there has been numerous insider purchases per the SEC Form 4 filings.
AG Mortgage Investment Trust, I (NYSE:MITT)
I addressed AG Mortgage Investment Trust in a August 16th article. The company has recently become a publicly traded company in a difficult non-agency mREIT market. The company did announce a solid 40-cent, 3rd quarter dividend. I personally have to pass on taking a position due to the non-agency mREIT structure. There are more established hybrid-mREITs to own until AG Mortgage Investment Trust has proven themselves for 1-2 quarters.
Summary
I believe American Capital Agency Corp. remains the best value in the mREIT sector. The company continues to perform with the shareholders' benefit in mind. The dividends provide a high yield income stream. Although this yield may decrease due to Operation Twist and a flattening yield curve, American Capital Agency Corp. is likely to continue to provide positive net investment returns.
I am focusing upon agency mREITs with strong management teams. I am willing to move into the hybrid sector if I have confidence in the management teams. I own Two Harbors Investment Corp. because of their net performance and insider purchases. Two Harbors management has a) bought back shares on the open market, and b) announced plans for a stock repurchase up to 10 million shares.
The coming month should provide insights into which mREITs are handing the changes smoothly and which mREITs are struggling.