I wrote a previous article on Seeking Alpha about my affinity for trading CF Industries (NYSE:CF) daily with stock options. I've received quite a response from that article. I've been trading options on CF Industries for years now. It is one of my favorite companies to trade options on because of the very large price swings it provides on a daily basis.
However, I'll be honest and say that I'm not in favor of a buyout. I would miss trading it daily. Yet, a buyout has to be considered due to the relatively low market capitalization CF has and its growth prospects.
I believe there is a good chance that a company such as Mosaic (NYSE:MOS), Potash (NYSE:POT), or even Monsanto (NYSE:MON) would be interested in CF. Mosaic has the most cash on hand to make a deal possible, while Potash POT and Monsanto MON certainly have the market capitalization to swing a deal. The purchase of CF Industries by either Mosaic or Monsanto would clearly put the pressure on Potash POT and the other top fertilizer companies. This could drive up the price and net a nice premium for CF Industries.
CF Industries current market capitalization is at $9.67 billion. It is trading at $134.71/share as of Friday's close. The 52-week range for CF is $104.14 - $192.70. CF recently reached that high on August 30, 2011. It has traded lower over the last month or so, but I see it rebounding nicely in the coming months.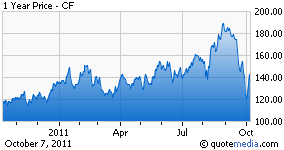 The question is at what price will it possibly take to buy CF Industries? Personally, I think it would have to be at least $12-13 billion if you take into account the growth of CF. It could fetch much higher than that, but I'm being conservative here. Its last quarterly earnings release was one of the most impressive I have seen in quite a while. They also have about $1.3 billion in cash and equivalents.
This brings me to the possible buyout. CF Industries is about $58.00 off its all-time high as of this writing. I'm not sure how long CF will stay at its current price-per-share. The current and ensuing months may be the best time for another company to strike before CF takes off again and that will only make it more expensive in a takeover.
Having a market capitalization just short of $10 billion makes a possible deal for the above mentioned names very feasible for what I believe to be a bargain for CF Industries. Let's take a closer look at each company that could possibly be interested in CF.
1.) Mosaic Co. (MOS)
According to the Mosaic's website,
Mosaic is the world's leading producer and marketer of concentrated phosphate and potash, two of the primary nutrients required to grow the food the world needs. Our business engages in every phase of crop nutrition development, from the mining of resources to the production of crop nutrients, feed and industrial products for customers around the globe. Our customer base includes wholesalers, retail dealers and individual growers in more than 40 countries. Headquartered in Plymouth, Minnesota, we employ approximately 7,400 people in eight countries.
Mosaic Co. has a market capitalization of $22.86 billion. It has $4.03 billion in cash and equivalents, which is more than Potash Corp. or Monsanto has. While some details would need to be worked out, it can be done. A combination of both cash and Mosaic stock could facilitate any financing issues.
Here's why I think Mosaic is the most logical company that would be interested in buying CF Industries:
While Mosaic Co. is a leader in phosphate and potash, they are not in the nitrogen-based nutrients at all like CF is. Also, CF Industries is also already in the phosphate-based nutrients that Mosaic is a leader in. This would make an easy transition for Mosaic. Buying CF would more than place them as an all-encompassing fertilizer company. It makes a lot of sense.
2.) Potash Corp. (POT)
According to Potash's website,
Potash Corp is the world's largest fertilizer company by capacity, producing the three primary crop nutrients – potash (K), phosphate (P) and nitrogen (N). As the world's leading potash producer, we are responsible for about 20 percent of global capacity. With operations and business interests in seven countries, PotashCorp is an international enterprise and a key player in meeting the growing challenge of feeding the world.
Potash acquiring CF would make a lot of sense on a number of levels. CF Industries and Potash Corp. both produce nitrogen and phosphate fertilizer. Potash is based in Canada, so buying CF would give Potash a presence and base in the United States as CF industries is based in Deerfield, IL.
Potash has a market capitalization of $38.27 billion. They are not sitting on nearly as much cash as Mosaic or Monsanto, however. This could represent a bit of a problem in trying to get a deal done, but would not necessarily prevent a deal from happening.
A 3/1 ratio of Potash shares and cash for every CF share is something that could be considered. This would equate to a nice premium given for CF shareholders.
3.) Monsanto (MON)
Monsanto provides agricultural products for farmers in the United States and internationally. It operates in two segments, seeds and genomics, and agricultural productivity.
Monsanto has a market capitalization of $37.93 billion, which is more than Mosaic's. However, there are a few issues that I feel make it less likely than Mosaic to buy CF Industries. The first issue is that Monsanto does not have as much cash on hand as Mosaic does. With Monsanto sitting on $2.57 billion in cash and equivalents, there would need to be some work done to finance a deal as large as this would be for Monsanto.
Again, like Potash, a stock and cash deal would appear to be the most likely in getting something done. Monsanto could also raise cash by doing an offering or other methods, but that will probably not go over too well with shareholders.
Unless Monsanto really wanted to get into the nitrogen-based fertilizer field, which may be possible, they seem much less likely to make a move for CF Industries than Mosaic or Potash would. A deal for buying CF isn't out of the realm of possibility for Monsanto, but just more doubtful than Potash or Mosaic.
Additional Notes:
In February 2009, Agrium (NYSE:AGU) made an unsolicited bid for CF Industries. They offered one Agrium share along with $31.70 in cash to push the deal, which at the time was a 30% premium. The bid not work out as it was viewed as seriously undervalued by CF.
It is worth noting that CF rejected that 30% premium bid and the company has only grown the last two years.
I did not include Agrium in this list because since they made the unsolicited bid in early 2009, CF Industries has grown to the point where Agrium couldn't really afford to make a deal for CF at this time.
Disclosure: I am long CF. I am trading options with CF on a daily basis