In the first part of our IPO market update we will update: 1) Filings, 2) Performance and 3) a few other market developments.
There were no IPO pricings in September. Many companies (and their investment bankers) remain hopeful for enough of a market bounce to open the window again before the end of the year. Filings have started to slow down as we wrap up the second straight month of a stalled IPO market. We still had 19 new filings in September:
Restoration Hardware bravely positions itself as a "luxury brand in home furnishings" as the global economy appears to be softening. However, recent reports indicate that activity in the wealthy portion of the market continues to grow while the middle and low-end of the markets languish.
Enova International is another provider of financial services to "alternative credit consumers" that wants to join peer companies Green Dot and Netspend as a public company. Enova appears to be more international in scope.
FX Alliance is another "growth financial services" name providing foreign exchange trading solutions. They are following FXCM,which came public in December 2010 at $14 and currently trades at $13 after reaching a high of $15 and trading as low as $8 in the past year. [FXA Stats: $200m revenue, growing 100% with 30% operating margins.]
GCT Semiconductor has filed as another "4G wireless play." Investors may already be moving on from 4G and LTE network plays due to increasing competition and shrinking margins. Recent IPO Sequans (NYSE:SQNS) has been a disappointment.
A cluster of "bio material" companies have filed, including Mascoma (renewable fuels from biomass), Elevance Renewable Sciences (specialty chemicals from natural oils), Fulcrum BioEnergy (biofuel from garbage) and Trellis Earth Products (bioplastics.)
The new filings are listed in the table below. Those in bold we plan to do more work on. A few IPO offerings were withdrawn in September, including BlueArc (acquired), Prometheus Labs, WhiteGlove Health, The Telx Group and ReSearch Pharma.
[Click to enlarge]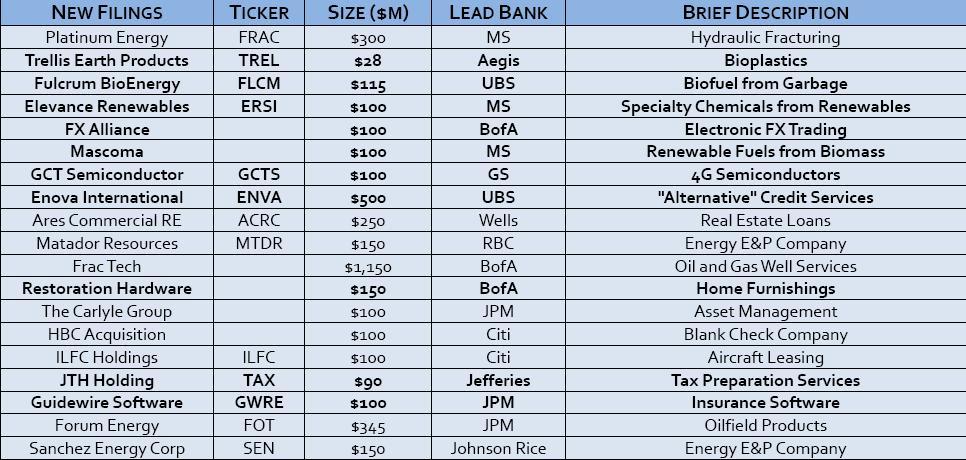 There appear to be two deals in active marketing right now, HomeStreet and SQI Diagnostics. It's not clear if they are really marketing or just hanging out there.
Performance
The average stock in our ecosystem was down 16% in September, underperforming the S&P, which declined 7%. The top 10 names were up 11% and the bottom 10 were down 45%.

Most of the winners were surprises. KiOR has benefitted from a rebirth of interest in domestic sources of alternative energy. Recent market volatility has been a plus for FX trading and FXCM has seen an increase in transactions. We posted a note on Vringo on Seeking Alpha after learning about its move into a more socially-aware video offering on smartphones.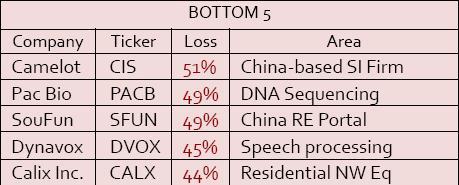 The losers are a diverse lot. We met with management of Calix, and while they have a good strategy their ability to make money is unclear. Dynavox makes the losers list so often we're surprised they are still traded! Also worth mentioning are Todou Holdings, down 47% in two weeks, and Carbonite down 12%.
Other IPO News & Developments
Kayak is said to put IPO plans on hold to await better market conditions. However, we'd point out that the launch of Google (NASDAQ:
GOOG
) Travel post its acquisition of ITA makes the Kayak story harder to position with investors. Wouldn't be surprised to see Kayak go the M&A route.
Investing in Pre-IPO shares continues to be in fashion. MicroVentures is another player raising money from individual investors to buy shares in Facebook. MicroVentures is an even smaller scale player than others already in the market. They raised $150,000 from individual investors online to make their first investment. It appears to be a small shift from their original plan to link small businesses needing capital to "micro investors" - Facebook is no small business needing capital.
Sequans hasn't given investors much to cheer about since its IPO. Despite being "a 4G play" results have been weak and the shares have suffered. The share lockup has been extended to November 11th, which means on November 14th the listed American Depository Shares will be in good supply.
Disclosure: I have no positions in any stocks mentioned, and no plans to initiate any positions within the next 72 hours.