The total return and price chart data for country fund ETFs are not appealing at this time. They are down and in downtrends.

This table of total returns for MSCI country indexes for developed markets is 100% down for three months and YTD. All but the U.S. are down for one year as well.

Those that have the best one-year total return are the United states (VTI), Switzerland (EWL), United Kingdom (EWU), Japan (EWJ), Canada (EWC), Australia (EWA) and Norway (NORW) - all down less than 10%.
Note: The symbol for a country proxy ETF is listed next to each country, but they may not all track the specific MSCI index for that country.
Click images to enlarge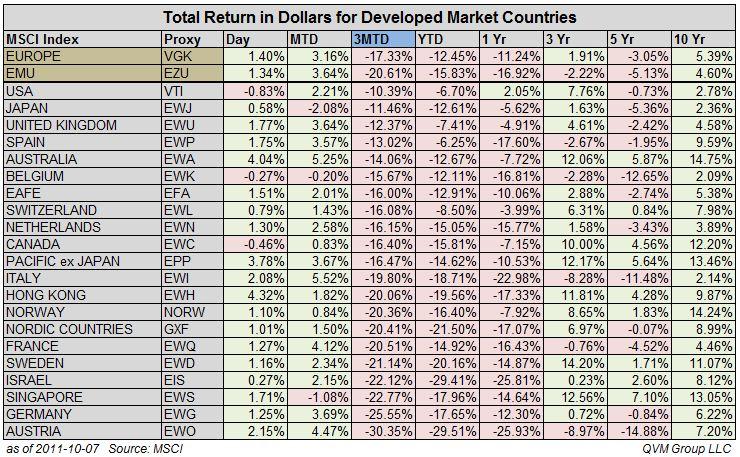 This table of total returns for MSCI country indexes for emerging and frontier markets is 100%, down for three months, YTD and one year.

Those that have the best one-year total return are Malaysia (EWM), Mexico (EWW), Indonesia (IDX), South Africa (EZA), Taiwan (EWT), Thailand (THD), GCC countries (MES) and Korea (EWY) - all down less than 10%.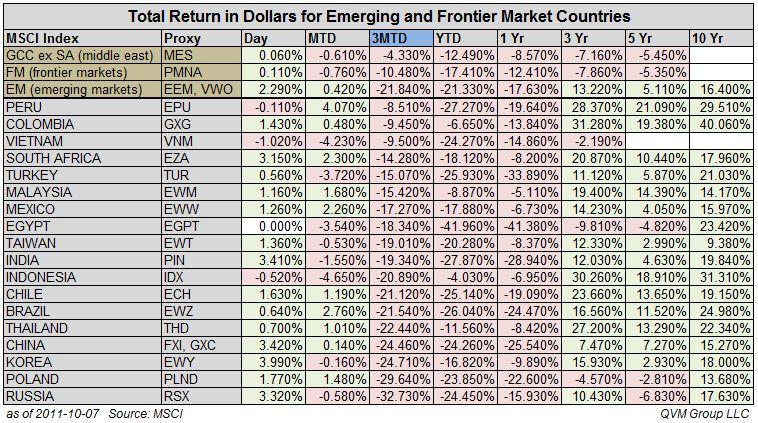 This quantitative review of the price charts (not total return) of the proxy country funds shows a bleak picture.

All have a negative linear regression slope over 126 days (six months). All but Switzerland, Indonesia and Thailand have a negative slope for 252 days (one year).

No country fund is above the 30% retracement level (price position in historical range) for 252 days or 126 days. Only a few are in the 30% to 40% retracement level for 63 days (three months).

Not one country fund has a price above its 252-day moving average price, nor a 21-day (one month) moving average above the 252-day average.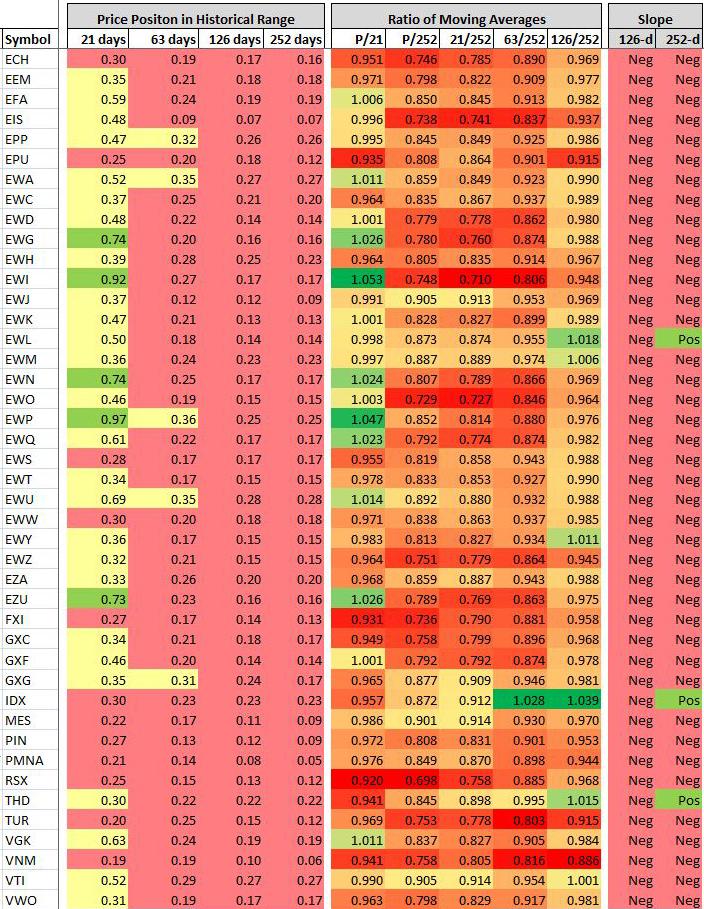 Note: Three of the country ETFs in the total return tables are not included in this quantitative review of the price charts because they do not have a full year of price data available in the Thomson Reuters database we use. Those three are EGPT (Egypt), NORW (Norway) and PLND (Poland).
It is not yet time to recommit risk capital for those who wish to invest in fundamentally attractive securities that are also in an up-trend. The fundamentals may be available for some countries, but down is still the order of the day. That will change, but we are not there yet.

Disclosure: QVM does not have positions in any mentioned security as of the creation date of this article (October 9, 2011).

Disclaimer: This article provides opinions and information, but does not contain recommendations or personal investment advice to any specific person for any particular purpose. Do your own research or obtain suitable personal advice. You are responsible for your own investment decisions. This article is presented subject to our full disclaimer found on the QVM site available here.