"Everything that is done in the world is done by hope." – Martin Luther
Followers of my articles will note that after having called the deflation pulse in February, Silver top in April, Summer Stock Market Crash in June, and Gold top in Spetember, I am now calling for the "mother of all counter-trend rallies" in what I am now calling the "Fall Melt-Up of 2011." For those interested, I recently did an interview on the show "Mean Street" discussing the Melt-Up scenario, viewable here.
The reality is that markets have been in bear mode since February of this year when defensive sectors such as Utilities (NYSEARCA:XLU), Healthcare (NYSEARCA:XLV), and Consumer Staples (NYSEARCA:XLP), coupled with the long bond (NYSEARCA:TLT) all started outperforming broader markets. In other words, the internal dynamics of the market have been behaving like a bear market/recession occurred much earlier this year than we tend to think. This also means that we are nearly eight months into this bear, and every bear has sharp counter-trend rallies.
More so than that, however, price action over the past several weeks has acted as if a Lehman event has already occurred, when in reality we have seen no event yet. What this means is that the market has not only priced in a Lehman event, but even acted as if the after-effects are underway. The Great Surprise would be that this is not 2008 – something which I believe the market has not priced in nor is considering. This makes the payout for betting on such a scenario potentially quite high.
Finally, the bear trade appears to be ending, and if I am right, that means defensive sectors stage meaningful weakness relative to broader markets on both up and down days, and that the inflation pulse returns to markets. The most visible way of seeing this would be through rising yields, independent of the Fed's Operation Twist. Make no mistake about it – rising yields would be seen as a positive for risk taking in equities because it means that demand for money is coming back.
One way of confirming this is to look at the Homebuilder's ETF (NYSEARCA:XHB). With mortgage rates now at all-time historic lows, one would suspect that at some point those rates will have some kind of an effect on the performance of all things home-related. Take a look below at the price ratio of XHB relative to the Dow Jones Industrial Average (NYSEARCA:DIA). As a reminder, a rising price ratio means the numerator/XHB is outperforming (up more/down less) the denominator/DIA.
click to enlarge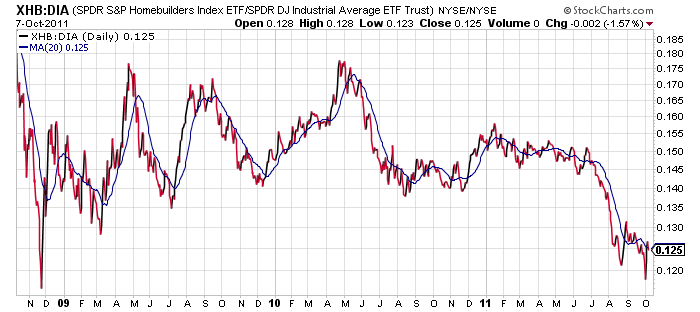 A few things I want to bring attention to here. First, the ratio collapsed towards the end of September and staged a relative "V." Also notice that the ratio fell hard in July, before the Summer Crash took place in August. Now, with XHB/DIA at near 3 year lows, coinciding with record low mortgage rates, a move higher in Homebuilders (outperformance in the industry) would confirm risk-taking is underway as bets increase that the demand for money will rise, pushing interests rates up as a result. Thus, should the ratio follow-through on the upside, it likely would provide just another very real reason for a sudden and violent move back up in risk assets into the end of the year.
Disclosure: I have no positions in any stocks mentioned, and no plans to initiate any positions within the next 72 hours.
Additional disclosure: The author, Pension Partners, LLC, and/or its clients may hold positions in securities mentioned in this article at time of writing. The commentary does not constitute individualized investment advice. The opinions offered herein are not personalized recommendations to buy, sell or hold securities.