Last Tuesday's reversal looks like a potential near-term bottom, but, in this market, having conviction sure is challenging. If indeed it proves to be a bottom, we might see some bottom-fishing as hedge-funds and other institutional investors attempt to play catch-up. The year hasn't been kind to investment professionals, with Lipper reporting that the average Large-Cap Core mutual fund underperformed the S&P 500 by almost 2% in the first nine months, according to The Wall Street Journal. Even if the snap-back thesis proves to be wrong, being oversold or deep enough value might protect some of these beleaguered stocks in the event the market moves lower again.
With this in mind, I decided to take a look at the ugliest stocks in the S&P 500. The S&P 500 has lost about 8.1% so far in 2011 (excluding dividends), but 35 stocks have lost more than 40% of their value. The damage has been widespread, though no Health, Consumer Staples or Utility names have suffered such extensive damage.
(Click table to enlarge)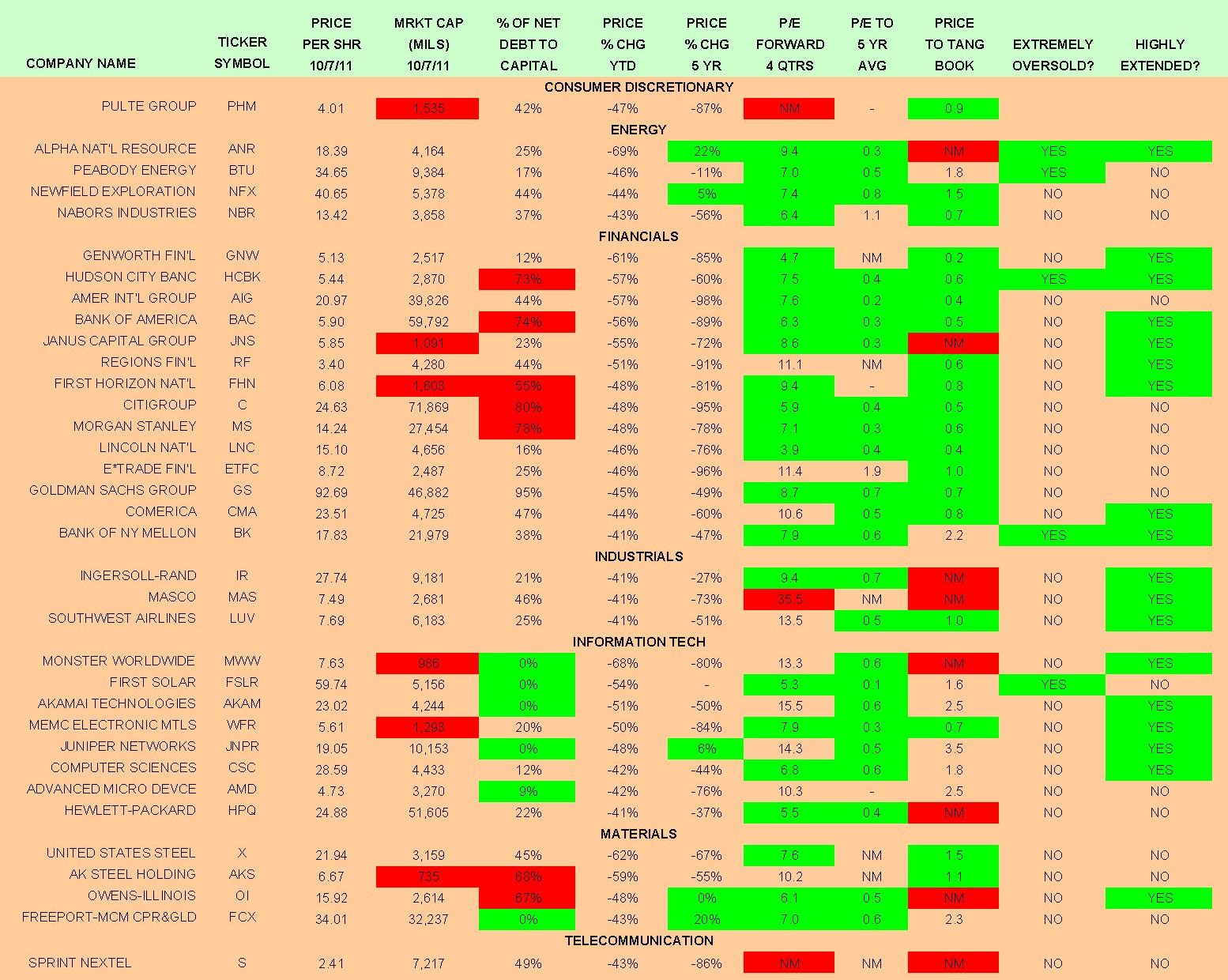 While I am familiar with all of these companies, very few of them are on my watch list. Some of the drama of these dogs is well known, while the weakness in others is less clear. In order to sift through the rubble, I have color-coded the columns to provide visual clues.
One indicator that could throw a wrench in the plans for bottom-fishers is the market cap, with small market caps indicated in red. The six names highlighted, all less than $2 billion (among a total of 12 of the 500 stocks falling beneath that level), are at risk of being removed from the index. S&P recently changed its guidelines, and these companies are 50% below the minimum for new additions. Obviously, they are already down, but soon they could be down and out, which would probably offer an even better entry.
Given the weak and potentially deteriorating economic environment, paying attention to debt makes sense. I have highlighted in green those with less than 10% net debt to capital and in red those with greater than 50%.
I also highlighted the 5-year returns that are still positive, as these stocks are perhaps in better technical shape. Eyeballing them, it's not clear that's the right conclusion, but all five of these stocks are trading above their 2008/09 lows, some substantially.
As far as forward P/E, almost all of these stocks trade below 10, with three trading at either a high PE or generating an expected loss over the next year. Most of the stocks are also trading well below their average P/E for the past five years.
Price to Tangible Book can be a helpful metric in assessing downside. I have highlighted the several that have negative tangible equity in red, and I have highlighted in green the many that are trading at less than 1.5X. 16 of the names are trading at 1X or less, but I would be cautious in trying to assess the Financials.
Finally, in the last two columns I have used proprietary technical measures to gauge the likelihood of potential reversal. The oversold indicator is based upon a measure developed by StockVal, and I have highlighted the names that are more than 2 standard deviations oversold. The extended indicator is one that I developed, with names having their 10dma below the 50dma for the past 13 weeks highlighted.
Going through each of the sectors briefly to share my thoughts, I would be careful with PHM. I note some insider buying here, but I actually like some of the other names in the sector for a contrarian play.
Among the Energy names, the coal names sure seem overdone. I would focus on Peabody (BTU) over Alpha Natural (ANR), which just closed on a big acquisition of Massey, but ANR seems extremely cheap too. The most interesting to me is Newfield (NYSE:NFX), but I find several other names in the sector more attractive. Nabors (NYSE:NBR) has been drilled back to the lowest valuation levels of 2009.
The Financials are overrepresented on the list. Most of the names are banks, though there are a few exceptions. Strategically, using ETFs for the sector or for Banks might make more sense that trying to pick the best security. One non-bank that stands out to me is Janus (NYSE:JNS), which is trading at less than 3X EV/EBITDA. The balance sheet isn't highly leveraged. I don't know Lincoln very well (NYSE:LNC), but it appears to be extremely cheap as well, trading below the 2009 lows on P/TB basis. Bank of New York Mellon (NYSE:BK), which is mired in legal troubles and canned its CEO, and HCBK, which slashed its dividend earlier this year, are both overextended and oversold.
In the Industrial sector, Southwest (NYSE:LUV) stands out, as it is trading near its lowest valuation in the past 15 years or longer on a PE, P/TB and EV/EBITDA basis.
The Technology sector has several interesting ideas. The numbers for Hewlett Packard (NYSE:HPQ) don't reflect its recent purchase of Autonomy. It's hard to have confidence in this one, but it sure looks tempting and is clearly out of favor. Two better ideas in my opinion are Akamai (NASDAQ:AKAM) and Juniper (NYSE:JNPR). AKAM jumped on restarted rumors of an acquisition last week but still looks quite attractive on a valuation basis. The stock seems perennially dogged by fears of competition, but this remarkable management team has delivered consistent performance. JNPR, in my view, has lost its premium to Cisco (NASDAQ:CSCO) as investors have decided the share gains are over. That may be the case, but both appear to be value plays at this point. JNPR, which is still projected to grow sales double-digit this year despite disappointment, has $3.25 billion in cash and investments net of debt (over $6 per share).
On the Materials stocks, Freeport-McMoran (NYSE:FCX) jumps out to me, especially as it remains in a long-term uptrend. It looks like the collapse in copper flushed investors, but copper remains in a long-term uptrend as well. Finally, Sprint Nextel (NYSE:S) is a tough bet in my view. Why not just go with Verizon (NYSE:VZ) or AT&T (NYSE:T)?
My thesis here is that some of these dogs may be due for a bounce or could hold in should the market become unglued again. I have tried to highlight some factors that might be helpful in honing in on the better bets and avoiding the riskier ones. While I have focused on the very worst stocks thus far this year, there are likely plenty of potential opportunities among less beaten down stocks as well.
Disclosure: I have no positions in any stocks mentioned, and no plans to initiate any positions within the next 72 hours.