There are not too many companies that you can say "buy and hold," but 3M (NYSE:MMM) may be one of them. The ones you would like to buy and hold should have an A++ financial strength, a 100 percentile price stability rating, fairly predictable earnings streams and a cash flow that will allow for share buy backs, aggressive R&D, funding of acquisitions and any capital expenditures management deems necessary. 3M has all of those. Buying these companies on dips is always a good long-term strategy. This 2 1/4-year weekly trading chart provided by Barchart illustrates now this might be the time to acquire additional shares:
Click to enlarge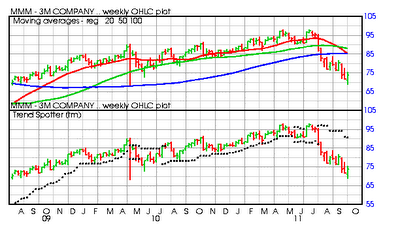 3M Company, together with subsidiaries, operates as a diversified technology company worldwide. The company's Industrial and Transportation segment offers tapes, coated and non-woven abrasives, adhesives, specialty materials, filtration products, energy control products, closure systems for personal hygiene products, acoustic systems products, and components and products that are used in the manufacture, repair and maintenance of automotive, marine, aircraft and specialty vehicles.
Its healthcare segment provides medical and surgical supplies, skin health and infection prevention products, inhalation and transdermal drug delivery systems, dental and orthodontic products, health information systems, and food safety products.
The company's Display and Graphics offers optical film solutions for LCD electronic displays; computer screen filters; reflective sheeting for transportation safety; commercial graphics sheeting and systems; and mobile interactive solutions, including mobile display technology, visual systems products, and computer privacy filters.
The company's Consumer and Office segment provides office supply products, stationary products, construction and home improvement products, home care products, protective material products, certain consumer retail personal safety products, and consumer health care products.
Its Safety, Security and Protection Services segment offers personal protection products, safety and security products, cleaning and protection products for commercial establishments, track and trace solutions, and roofing granules for asphalt shingles.
The company's Electro and Communications segment provides packaging and interconnection devices; fluids that are used in the manufacture of computer chips, and for cooling electronics and lubricating computer hard disk drives; high-temperature and display tapes; insulating materials, including tapes and resins; and related items. The company was founded in 1902 and is based in St. Paul, Minnesota. (Yahoo Finance profile)
Factors To Consider
Barchart technical indicators:
Short term sell signals in stocks that have terrific price stability can signal a good buying opportunity
Most of Barchart's technical sell signals are weakening and will shortly be neutral if the trend continues
56% Barchart technical sell signal - weakening
Trend Spotter sell signal is also getting weaker
Trades below its 20, 50 and 100 day moving averages
The stock is 24.31% off its one-year high compared to the overall market which is 22.41% off its one year high
Relative Strength Index is 43.55% and getting stronger
Barchart computes a technical support level at 71.32
Traded recently at 73.82 with a 50 day moving average of 78.77
Fundamental factors:
Wall Street brokerage analysts project sales will increase by 12.30% this year and another 6.30% next year
Earnings consensus is for an increase of 7.30% this year, another 8.90% next year and to continue annually at rate of 13.08% over the next five years
These numbers resulted in analysts publishing eight strong buy, five buy, four hold and a couple of under perform recommendations on this stock
The P/E ratio of 12.67 is almost dead on the P/E ratio of the overall market
Dividends have been paid consistently at the rate of slightly below 40% of net earnings and have been raised every year for at least the last 20 years
At today's price the dividend rate is approximately 2.95%
Although acquisitions have not been large a very positive cash flow has been used for constant smaller acquisitions
The positive cash flow allows management the luxury of following multiple strategies to improve stockholder value
A++ financial strength
General investor interest:
The readers of Motley Fool widely follow 3M with 4,397 reader expressing an opinion
97% of those voting felt the stock will beat the market
98% of the more savvy and experienced All Stars voted for the same result
Fool note that of the last 28 articles Wall Street columnists have written about the stock 27 have been positive
Competitors and sector leaders:
The 3M conglomerate has been off slightly by 16% this past year and its three major competitors are also off with Avery Dennison (NYSE:
AVY
) off 31%, E I DuPont de Nemours & Co (NYSE:
DD
) off 9% and Johnson & Johnson (NYSE:
JNJ
) off just .25%:
Click to enlarge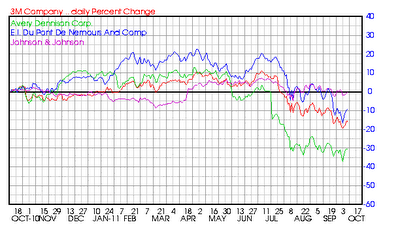 Being a conglomerate 3M is also a member of the SIC 3941 - Surgical and Medical Instruments and Apparatus sector and some other members have done quite well in the past year with Endologix (NASDAQ:ELGX) up 120%, Omsure Technologies (NASDAQ:OSUR) up 96%, Opko Health (NYSEMKT:OPK) up 81% and Neoprobe (NEOP) also up 81%:
Click to enlarge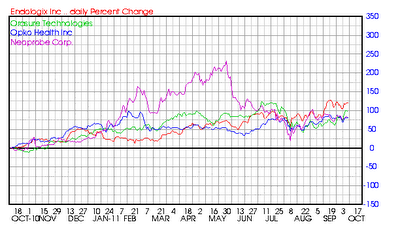 Summary: 3M is a company that lends itself to a buy and hold or a dollar cost averaging strategy. This would be a very good component for your IRA if you put the stock on a DRIP program and acquire shares over time.
Disclosure: I have no positions in any stocks mentioned, and no plans to initiate any positions within the next 72 hours.