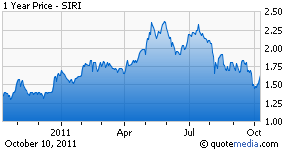 Sometimes there are announcements that pop a stock based on the fact that they are sexy. Other times, deals that really make a substantial difference pass under the radar without much notice. Sirius XM (NASDAQ:SIRI) has put a lot of press behind its new Studio 54 Channel and upcoming live event, and while that is great news, it does not really move the needle from a business perspective. Last week Sirius XM announced a new deal with Nissan (OTCPK:NSANF) that did not seem to garner a lot of attention, but is actually much bigger news than many anticipate.
Sirius XM Radio announced that participating Nissan and Infiniti dealerships across the United States will give customers a three-month subscription to Sirius XM when they purchase any pre-owned vehicle from the satellite radio-equipped inventory of participating dealers.
This deal does not just involve Certified Pre-Owned (CPO) cars, nor is it just Nissan and Infiniti vehicles. This deal represents any satellite radio equipped car sold at participating Nissan and Infiniti dealerships. This is the second such deal that Sirius XM has announced. Earlier this year the company announced that over 1,000 GM (NYSE:GM) dealers would be doing the same thing.
In speaking about the deal Sirius XM stated:
"We are thrilled Nissan and Infiniti dealers are joining the growing list of participating dealerships across the country giving their pre-owned vehicle customers a three-month introductory subscription to Sirius XM," said Joe Verbrugge, Senior Vice President and General Manager, Automotive Remarketing Division, SiriusXM. "Customers buying any pre-owned satellite radio-equipped vehicle from Nissan and Infiniti dealerships can be assured they are receiving the best in-vehicle experience on the road."
One interesting aspect is that auto manufacturers seem to be raving about the pre-owned program.
"I am a firm believer in the Sirius XM Pre-Owned Vehicle Program and when we were presented with the opportunity, we immediately enrolled in the program," said Ken Schatzberg, Operating Partner of Infiniti of Scottsdale. "We are now able to demonstrate Sirius XM and provide a three-month subscription to our customers on any pre-owned satellite radio-equipped vehicle in inventory, making our vehicles come alive with the latest in-vehicle entertainment and providing an added value to my customers."
Investors should be excited about this because of the simple size and scale of the used car market. Dealerships typically keep newer trade-in vehicles to sell on their own lots, and many dealerships sell three to four times as many used cars as they do new ones.
About 65% of new cars come equipped with satellite radio. While the used car segment certainly has less penetration, the volume of cars sold presents a great opportunity for both Sirius XM as well as participating dealerships.
It is really a win-win situation, and that is what should excite investors. Dealerships now have some skin in the game, and that makes them virtual spokesmen for the benefits of satellite radio. Consumers will be happy to get a trial promotion, and Sirius XM can get down to the business of making money from converting consumers to self-pay status after the promotional period.
Deals like the GM and Nissan deal will add to the bottom line over time and help Sirius XM improve their business metrics. This deal may have flown under the radar, but a savvy investor can see the path Sirius XM is taking, and that should create excitement.
Disclosure: I am long SIRI.