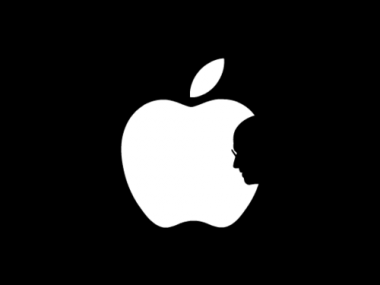 Apple (NASDAQ:AAPL) was co-founded by the late visionary Steven Paul Jobs and has completely transformed every industry it operates in. The perpetual focus on innovation has made this one of the largest, fastest-growing companies, and Apple investors have been handsomely rewarded for their ownership over the years. I have recommended option strategies on Apple since 2010 with tremendous results. For reference, please view the first and other articles in the series to fully understand the strategy and its strong potential returns. As we enter the post-Jobs era, it is even more important to keep a close eye on your investment and execute care with your trades.

A brief recap of this week in Apple (down $10.57, or -2.8%):
Our generation's greatest businessman, innovator, and visionary passed away this week. It is impossible to put into words how dramatically he changed the world. I have read approximately one hundred articles and watched hours of coverage on Jobs since he died, yet the shock at his death is still present. Others who personally knew Steve Jobs have much better perspectives on him as an inventor, leader, father, neighbor, and human being, so I will stick to the financial orientation. I have had numerous people contact me online and in person for my thoughts on Apple now that Steve is no longer steering the ship. I think you can throw comparisons to previous product and earnings releases out of the window, as this is no normal quarter.
In the fast-paced technology sector it is important to monitor competitors, but there was relatively little occurring outside of Apple this week. It is quite fitting that Microsoft threw in the towel by canceling the Zune this week as it goes to show that even the largest rivals cannot succeed against Apple. Amazon (NASDAQ:AMZN) and Google (NASDAQ:GOOG) might increase the competitive against Apple in its time of vulnerability, but CEO Tim Cook has been managing day-to-day operations for over one year and the company is in capable hands for the foreseeable future.
The true question is what will happen to Apple when Steve's influence starts to lessen after five or ten years. I will dive further into what I think about Apple later this week, but for know I can say that I am firmly confident in Apple for the remainder of 2011 and 2012. In the immediate term Apple is down almost $30 in the past two weeks, which brings the PE down below 13. Despite phenomenal growth, Apple has traded at the multiple of a value company because of fears about Steve's health. Now Apple will continue to trade like a value company because Steve has passed away. Is that logical? I do not believe so, but you cannot fight the consensus.
The days of triple-digit growth are not quite over yet for Apple, but there are definite signs that future growth could slip. Even as a value stock I like Apple going into earnings; therefore, I suggest going long and conservatively selling calls for a margin of safety. Having said that, I think this is one of those moments that you will look back upon and kick yourself for not buying Apple. Yes, Apple is still a buy for 2011. I fully expect Apple to rise eight percent in the next three months and reclaim the $400 per share valuation that it achieved this summer.
Below I present three possible scenarios and the potential returns for the October 14 weekly options (Source: TD Ameritrade). The first scenario represents a negative outlook for Apple, while the final two scenarios are more reasonable. These scenarios are just projections, and there is no guarantee that they will come to fruition. As a general rule, selling calls with higher strike prices has greater potential return, but additional risk of loss due to the lower (or lack of) downside protection. For more information on the fundamentals of covered calls, consult Investopedia.
(Click tables to enlarge)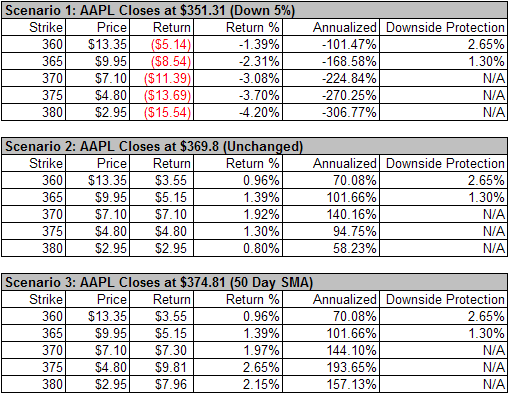 I have also prepared a sensitivity analysis for absolute return and percent returns, respectively. After studying the information above, these two charts make it easy to pick a strike price based on where you believe Apple will close on Friday.





With this information, executing a buy-write on AAPL October 14 (Weekly) 380s is the optimal risk-return strategy. If you are uncomfortable with this strategy, I suggest an ordinary buy-write 370s or 375s. The 370s have the greatest time value ratio (1.9%) but I want to maintain the opportunity for stock appreciation with the 380s. As a general rule I am only persuaded to take the "easy money" and sell the at-the-money covered call when the time value ratio is greater than 2.0%. Even if you are extremely bullish, you can still profitably sell covered calls, but do not become short-sighted in your quest for alpha.
An alternative approach is to sell out-of-the-money 365 puts and collect the premium without having to purchase the stock outright, but even this is risky; if the Steve Jobs selloff continues, you could get burned. Note that if the stock declines to the strike price, you are obligated to buy the stock (or close out the position).
Disclosure: I am long AAPL and GOOG, and short AAPL October 22 415 calls.