Illumina's (NASDAQ:ILMN) CEO Jay Flatley said Friday that during the third quarter, research funding shortages stemming from economic uncertainty caused an "unprecedented slowdown in purchases" of the tools and systems his company sells. Illumina markets research tools and integrated systems for use in genetic variation analysis.
Shares of the company, which had already been cut in half since July, fell 31.93% Friday to close at $27.18. Governments are looking for ways to cut spending as the pace of the worldwide economic recovery grinds to a halt, "and the weakness in demand (for medical research tools and systems) may continue as the U.S. government ... mulls the research budget for agencies including the National Institutes of Health." This is a problem for Illumina given that it derives 80% of its revenue from government-backed research funding.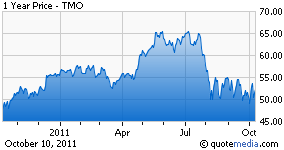 What is worth noting is the collateral damage caused by Illumina's announcement. Shares of competing medical research product companies suffered outsized losses Friday on the back of Illumina's gloomy forecast. Notably, shares of Thermo Fisher Scientific (NYSE:TMO) lost 6% Friday. While the shares have rebounded today (Monday) as part of a broad-based relief rally, they will likely slump again soon as jubilation over European bank recapitalization plans fades and investors refocus on the dismal outlook for research spending. If this happens, Thermo Fisher looks to be a best-of-breed company worth buying on weakness, especially given that it only derives around 5% of its revenue from NIH funding.
Thermo Fisher, which carries a five star rating from S&P, develops and manufactures equipment, instruments and software for application in scientific research, diagnosis and discovery. According to S&P's stock report, TMO should be able to overcome the challenges presented by the weak economy by virtue of its extensive line of products and aggressive expansion into China and various emerging markets where S&P sees substantial and continuing growth. The company is adept at increasing shareholder value by way of its various stock repurchase programs - the company returned around $1.5 billion to shareholders in 2010.
Moreover, TMO has far less debt than its competitors as a percentage of long-term capital. TMO's long-term debt-to-cap ratio is only 11.7% compared to 18% for Perkin Elmer, 36.3% for Life Technologies, and 39.6% for Waters Corp. It has more cash than Perkin Elmer and Life Tech and as much cash as Waters, although Waters turns a higher percentage of its revenue into net income.
Compared to competitors, Thermo Fisher is a giant. The company's sales were nearly $11 billion in 2010 compared to $1.64 billion for competitor Waters Corp. and $3.59 billion for Life Technologies Corp. This large gap between the sales generated by TMO and those generated by its competitors lead S&P to conclude that the company will likely enjoy a comparative advantage over its competitors regarding purchasing power and operating leverage.
Regardless of the downturn in research funding, analysts estimate TMO's 2012 earnings at $4.92 per share - that means TMO traded at just 10.26 times forward earnings after Friday's sell-off. Look to accumulate shares on dips.
Disclosure: I have no positions in any stocks mentioned, and no plans to initiate any positions within the next 72 hours.