In my last $10,000 portfolio update, I made five primary trades. Win, lose or draw in the near-term, I promised to stick with each one through the underlying company's respective earnings report.

Here are the trades I made last week. At the time the portfolio that I am looking to double by the end of the year was valued at $17,557.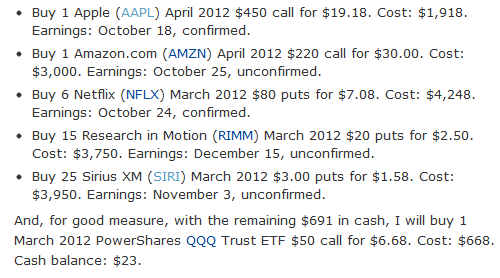 And here's how things stand on each position (I use the midpoint price in each case and then note the profit or loss), as of Monday's close:
AAPL April 2012 $450 call. $20.93. Profit/Loss: +$175.
AMZN April 2012 $220 call. $36.78. Profit/Loss: +$678.
NFLX March 2012 $80 puts. $8.28. Profit/Loss: +$720.
RIMM March 2012 $20 puts. $2.52. Profit/Loss: +$30.
SIRI March 2012 $3 puts. $1.39. Profit/Loss: -$475.
QQQ March 2012 $50 call. $8.35. Profit/Loss: +$167
Add it all up and, before the SIRI on-paper loss, the value of the $10,000 portfolio stands oh so close to a double at $19,327. Factor in SIRI and it's still sitting pretty at $18,852. That's a nearly 89% gain in just over a month.

Anyhow, I'm comfortable, for all intents and purposes, heading into earnings with each of these positions. Among the biggest concerns:
AAPL retreats, as it often does, even on blowout numbers.
Even a small misstep sends AMZN tumbling.
On the bullish plays, I'm pretty confident that AAPL and AMZN will hold their ground not merely on solid Q3s, but more so on expectations of excellent holiday seasons for both companies.

On the bearish side, regardless of what happens between now and then, Netflix CEO Reed Hastings and RIM co-top dog Jim Balsillie continue to battle it out for the executive who has a worse handle on his company's business award. No reason exists for either stock to do anything but stagnate or implode further on earnings. As for Sirius XM, I think it's a pretty safe bet that the company will report relatively tepid growth that might not disappoint, but surely will keep the stock along ways away from the $2.00 mark.

In any event, I designed the bearish plays to be the safest ways to play pretty risky situations. In each case, I don't see a ton of upside, at least when compared to the potential for sideways movement and/or downside. As the evolution of these plays prove thus far, I could (A) hit the symbolic $20,000 marker prior to earnings and (B) the winners could end up being big enough to offset the losers. Of course, if I'm wrong on all counts, I'll be in a world of hurt.

Either way, hitting $20K ahead of earnings could indeed prove symbolic because, no matter what happens on-paper, I am holding each position through their respective reports. Because of this, I could hit a double intraday and never even know it, as I am not paying much attention to the daily fluctuations after having committed myself to fixed holding periods.

Disclosure: I am short RIMM.

Additional disclosure: I may initiate a short position in NFLX over the next 72 hours.