Several weeks ago I called for a buy of SPXU. The Pro Shares Ultra Pro Short S&P 500 (NYSEARCA:SPXU) seeks a triple leverage or 300% return on the inverse performance of the S&P 500. Conversely, Pro Shares Ultra Pro S&P 500 (NYSEARCA:UPRO) is a triple leveraged fund that seeks a 300% return on the performance of the S&P for a single day. If you believe as I do that we are setting up for a leg down on the S&P, then SPXU is the best way to profit from this trade.
On September 14th I wrote an article calling for a break above 1140 on the S&P as a sign to go long UPRO. Yesterday my inbox was full of posts thanking me for this analysis. Seems many readers have made a nice 20% return since then.
Despite this week's rally I believe the bear market rally isn't over. The traditional definition on Wall Street is that bear market rally's end once stocks have fallen 20 percent and I believe this one won't be any different. At its intraday low this past Tuesday, the S&P 500 was off 21.6% from its May 2nd high, marking the 16th "official" bear market since 1940. Before Tuesday's close, stocks rallied back above the 20% threshold on hopes that eurozone officials would be hatching a bigger and broader bailout plan.
While after the day's 4% reversal, the equity benchmark continued to rocket higher the next two days and ended the week about 16% below the May high. While many readers have profited from my call for UPRO, in my opinion, these investors shouldn't presume that the dance with the bear is over. Tuesday's pattern did not meet the explosion in volume that typically comes with a climatic capitulation. Once a bottom is formed, it generally takes several months to complete the bottoming process. The ugly news is that historically this bottoming process could involve a further 10 to 12% decline with heavier volume.
Over the last 70 years, bear markets have averaged 32% decline and a median 28.8% drop. The deepest bear market ended November 2008 following the collapse of Lehman Brothers, with more than half of the equity market's value wiped out from the 2007 top. However, the equity losses credited to the housing crisis were even deeper if you ignore a slight 47 day respite at the end of the year when the benchmark snapped back by 24%. However it continued to lose more than another 20% before finally bottoming out in May 2009 at the ominous intraday level of 666.76
Yesterday the S&P 500 and UPRO ran up 40 points on very anemic volume. Please see chart below.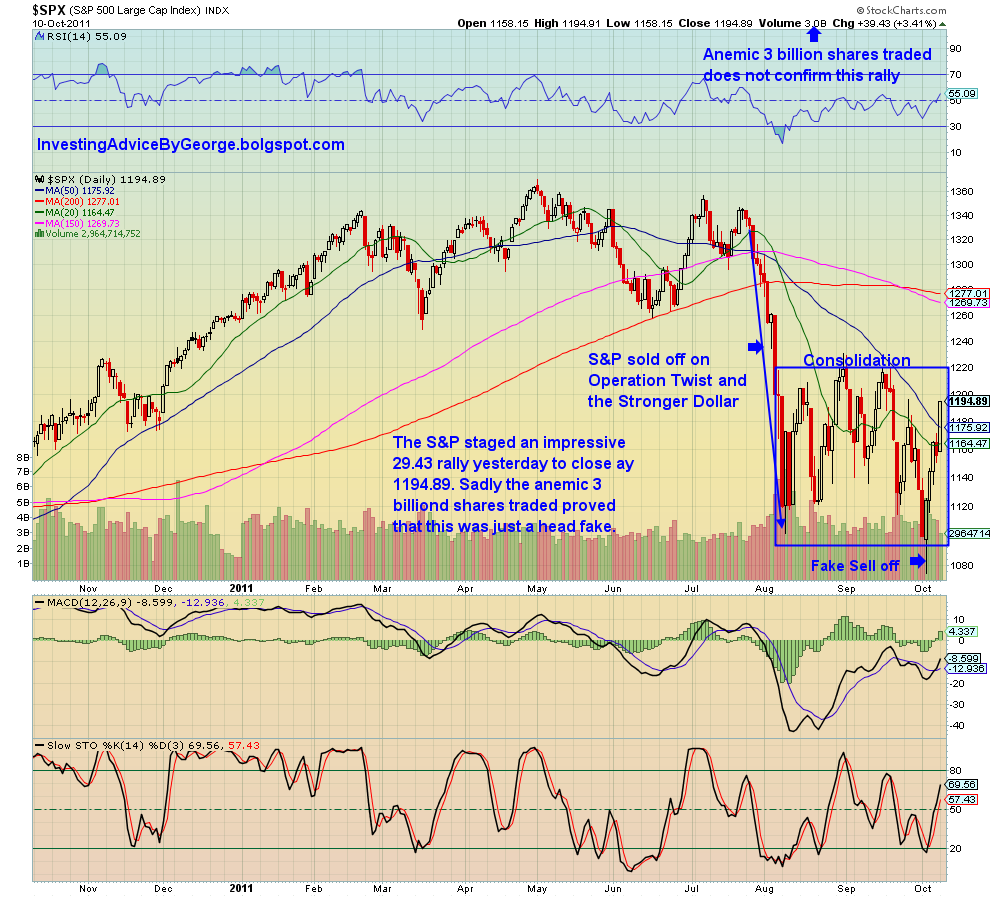 Click to enlarge
(Click to enlarge)
A look at this chart will show two different pictures. One is a picture of a strong rally and the other is a picture of head fake rally. If the S&P pulls back today, the next call will be for a move down to the S&P to some level between about 1020 / 1050. Such a potential drop would represent a 10 to 15% plunge from current levels in the preceding weeks and presumably signal continued fears around eurozone debt crisis and weak economic data here in the U.S.
If this bear market I am predicting holds true, the U.S. will find itself in good company. The majority of major markets in the world are in bear territory. At last count 20 of the 29 major world markets – from Italy to China to even Colombia were in bear market territory.
In conclusion, I believe this is a Lehman Brothers situation in Europe and our dance with the bear is far from over. Europe is in recession and the U.S. and China will be there soon.
To further illustrate my point I believe we are near that emotional point that occurs near the end of bear markets when sentiment gets so negative that there is nearly no one left to keep selling and therefore a rebound must ensue. This capitulation typically occurs with a few down days or strong reversal days on very high volume.
Disclosure: I am long SPXU.