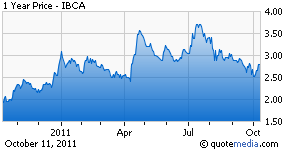 Intervest Bancshares Corporation ("Intervest" or the "company") (NASDAQ:IBCA) is a full service commercial bank. The company's shares can be purchased today for roughly 35% of tangible book value, or 5-6x a depressed multiple of run-rate earnings. The equity markets today are littered with banks trading at discounts to tangible book; however, in most of these cases the "tangibility" of the book value is highly questionable as a result of some combination of aggressively marked assets, lurking legal liabilities, or currently unprofitable business operations. Intervest, by comparison, has a far more conservative risk profile. The company's loan book underwent a material enhancement at the behest of its regulator, the Office of the Comptroller of the Currency (OCC), in 2010. Subsequently, the company's operations and capital ratios have shown consistent improvement. Notwithstanding the fact that any bank's loan book is by nature something of a black box to outsiders, the scale and intensity of the OCC's review, in conjunction with the huge discount to tangible book, provide patient investors with a large margin of safety as they wait for the public markets to more accurately reflect Intervest's intrinsic value.
Intervest has seven banking offices. One of the offices, as well as company headquarters, is located in New York City (Rockefeller Center). The other six offices are located in and around Pinellas County, Florida (Clearwater area). Intervest's primary focus is on cash flow-backed first mortgage loans secured by commercial and multifamily properties. The company does not own or originate either construction loans or condo conversion loans. Roughly 70% of the loan book is backed by properties in the New York metropolitan area, 20% by properties in Florida, and the balance by properties elsewhere on the East Coast. Intervest's primary funding source is CDs, which although more expensive than traditional deposits, allow it to better match the duration of its assets and liabilities.
The company's Chairman and CEO is Lowell Dansker. Prior to becoming CEO, he had served as the company's President and Treasurer subsequent to its inception in 1993. Together with family members, he owns over 10% of the outstanding shares. Mr. Dansker approves virtually every loan that goes into his book, and he knows the loan book cold.
In 2009, Intervest entered into a Memorandum of Understanding ("MOU") with the OCC. The MOU (which was formalized in late 2010) required Intervest to, among other things, develop a formal 3-year strategic and capital plan, and improve a host of internal operations including loan portfolio management, loan review, liquidity risk management, and interest rate risk management. A chief credit officer was hired, further strengthening the management ranks. In addition, Intervest was required to buttress its capital position through a forced sale of roughly $200mm in nonperforming and underperforming loans, and a subsequent equity raise. The divested loans, which were sold on average for less than 60 cents on the dollar, have in many cases been subsequently resold for significant premiums. As a result of these changes, Intervest today is a much stronger bank that it had been in the past.
Subsequent to the forced loan sale in 2Q 2010, Intervest's three primary capital ratios (Tier 1 leverage, Tier 1 risk-based capital, and Total risk-based capital) have shown consistent improvement, as have both ROA and ROE. At the end of 2Q 2011, TBV per share was $7.90 vs. a market price of $2.70/shr. The bank is doing nearly $0.50/shr of annualized EPS.
So in summary, with Intervest, you have a bank run by an incentivized owner-operator trading at roughly 35% of TBV, or 6x EPS. The bank has recently been recapitalized, is profitable, and is showing consistent improvement in its capital ratios. The loan book has been scrubbed by the OCC, arguably the strictest bank regulator in the United States. This combination of improving business fundamentals, and a rock bottom valuation, should reward the patient investor.
Disclosure: I am long IBCA.