If you take a look at some of the stocks that have actually fared pretty well in recent weeks, healthcare comes to mind.
As it turns out, the Healthcare Sector SPDR ETF (XLV) has turned in better performance than the S&P 500 ETF (SPY) on a year-to-date basis – and especially since August.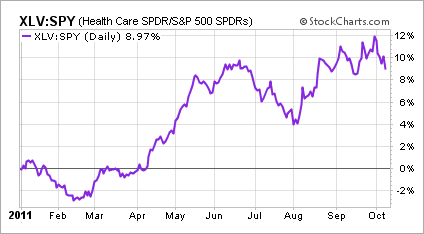 Some of the stocks in the sector – though certainly not all as you'll see – have a good track record for raising dividends every year. So I thought I'd take a look at which companies have been raising dividends and at their payout percentages.
If the percentage of earnings that a company pays as dividends gets too high, it might be forced to cut its dividend.
So here's a look at five major healthcare stocks. The green columns show the annual dividend payment (scale at left). The purple line shows the payment percentage (scale at left) that I got from Value Line.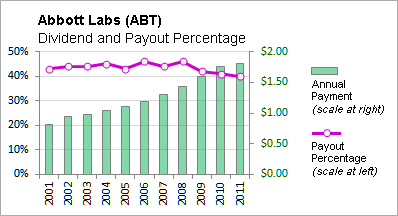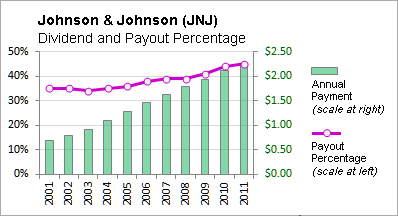 Both of these companies are Dividend Aristocrats. They're serial dividend raisers, each paying less than 50% out in earnings even as JNJ tripled its payments and ABT doubled its payments over the past decade.
Eli Lilly hasn't raised its dividend much at all, but its payout percentage has been constant.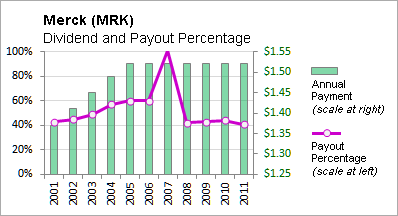 Merck's dividend has been stuck at $1.52 for years, and its ratio did rise a bit past 100% in 2007, but its been around 40% since.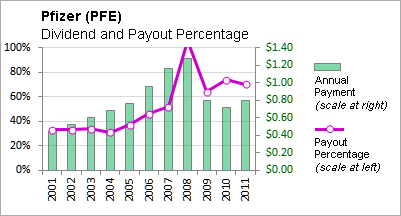 Pfizer had been forced to lower its dividend a few years ago. And even in doing so, its payout ratio still remains much higher than earlier in the decade.
Of all these five companies, I own Abbott Labs. I kind of wish I owned JNJ as well.
Of the others, Pfizer, Lilly and Merck have higher yields. Lilly seems to be worth a closer look with a yield of 5.20%. But I'm steering clear of Pfizer and Merck for now.