There are 36 "large cap value" ETFs. Per Fig­ure 1, these 36 ETFs have dras­ti­cally dif­fer­ent stock hold­ings and, there­fore, allo­ca­tions. The low­est num­ber of hold­ings is 30 while the high­est is 1178.
How do investors pick the ETF that will deliver the best performance?
Fig­ure 1: Hold­ings Count of Large Cap Value ETFs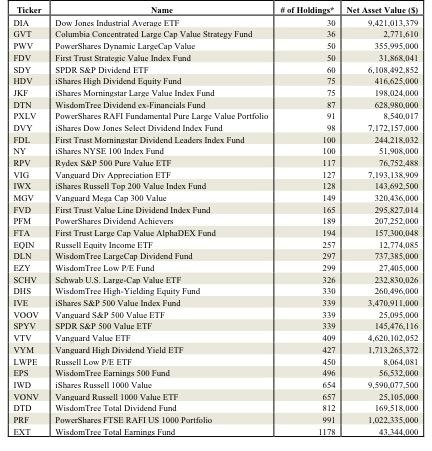 (Click to enlarge) Sources: New Con­structs, LLC and ETFdb of Hold­ings excludes cash
As detailed in my prior arti­cle on how to find the best tech ETFs, that ques­tion was posed to the major ETF issuers at Mornigstar's ETF con­fer­ence in Chicago a cou­ple weeks ago. The issuers admit­ted that the land­scape for ETFs is a bit clut­tered and needs attri­tion. They did not, how­ever, offer any solutions.
Like most Wall Street types, the issuers are focused on how to profit from ETFs not how to help investors profit from ETFs. Thank good­ness for inde­pen­dent research.
To iden­tify the best ETFs within a given cat­e­gory, investors need a pre­dic­tive rat­ing for ETFs based on analy­sis of the under­ly­ing qual­ity of earn­ings and val­u­a­tion of the stocks in each ETF. See Fig­ure 2.
Fig­ure 2: Invest­ment Merit of Allocations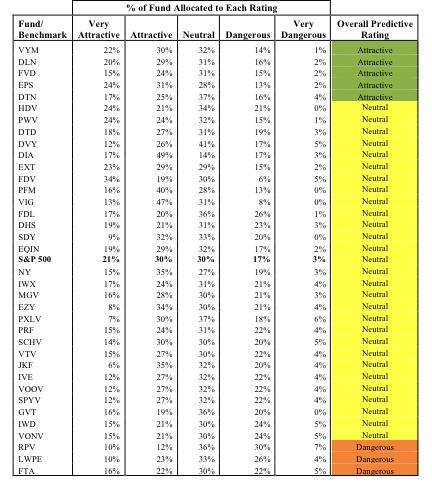 (Click to enlarge) Sources: New Con­structs, LLC and com­pany filings
Too many investors have been mis­led to believe they can trust the ETF label, i.e. cat­e­gory, and believe that all ETFs within a cer­tain cat­e­gory are the same when they are not.
For exam­ple, the Van­guard High Div­i­dend Yield ETF (VYM), our top pick among large cap value ETFs, holds 427 stocks while First Trust Large Cap Value AlphaDEX fund (FTA), our worst-rated large cap value ETF, holds only 194. Pow­er­Shares Dynamic Large­Cap Value (PWV) holds only 50 stocks and gets a neu­tral rat­ing like the S&P 500.
Pre­dic­tive rat­ings empower advi­sors and their clients to make more informed decisions.
My pre­dic­tive rat­ings come from bottoms-up analy­sis of the qual­ity of a fund's. This research provides:
Intel­li­gent dif­fer­en­ti­a­tion between funds
Due dili­gence to pro­tect against own­ing funds with stocks that might blow up
As high­lighted by Bar­rons' "The Dan­ger Within," for research on funds to rival the qual­ity of research on stocks, fund research must be based on rig­or­ous analy­sis of all the hold­ings within a fund.
Below is a sam­ple of our bottoms-up analy­sis on stocks that are included in the large cap value ETFs. Notice there are good stocks and bad stocks. The only way to know what a fund holds is to look.
John­son & John­son (JNJ) – very attrac­tive rat­ing): Cur­rent val­u­a­tion of this pharma stal­wart implies the company's after-tax cash flow (NOPAT) will decline by 20% next year and never grow from that depressed level. My model reveals strong eco­nomic earn­ings and a top quin­tile ROIC of 15% for JNJ.
Exxon Mobil (XOM) – attrac­tive rat­ing): The energy giant earns an 11% ROIC and has a val­u­a­tion that implies the com­pany will never grow its prof­its beyond their cur­rent level.
AT&T (T) – dan­ger­ous rat­ing): My model shows the AT&T has mis­lead­ing earn­ings: account­ing prof­its are pos­i­tive and ris­ing while eco­nomic prof­its are neg­a­tive and declin­ing. At the same time, the stock's val­u­a­tion sug­gests the company's prof­its will grow by 30% over the next sev­eral years. It is hard to grow prof­its when you don't have any.
Disclosure: I have no positions in any stocks mentioned, and no plans to initiate any positions within the next 72 hours. I receive no com­pen­sa­tion to write about any spe­cific stock, sec­tor or theme.