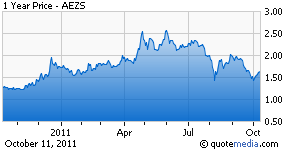 Since my last article AEterna Zentaris (NASDAQ:AEZS) article on April 21, 2011 (Aeterna Zentaris looks ready to make new highs), AEZS saw its stock price make a new 52 wk high of $2.68 from the prior $2.19. As Investors know, I am extremely bullish on AEZS and Keryx Biopharmaceuticals (NASDAQ:KERX) and continue to be. The stock market conditions have caused a sell off in all stocks and have created a major buying opportunity in both AEZS and KERX. AEZS is now trading in the $1.60 range and this price level represents a must buy and a must own stock in my opinion . Investors should likely see a huge run up from this level within the next 90 days ahead of more clinical data expected. I wouldn't be surprised in the least to see 100% to 200% gain the stock price.
Below is a an update on some recent key developments along with some supporting facts on why you should consider buying AEZS:
8/31/2011

Keryx Biopharmaceuticals' Cancer Drug Trial Gets Safety Panel Nod-Reuters

Reuters reported that Keryx Biopharmaceuticals said that an independent safety panel has given its go-ahead for a late-stage trial of its experimental drug for colorectal cancer. The independent Data Safety Monitoring Board completed an interim analysis for safety and futility on the drug and recommended the late-stage study continue to completion. The late stage trial is being studied to treat colorectal cancer in more than 465 randomized patients with refractory advanced colorectal cancer.
10/5/2011

AEterna Zentaris Inc.; Journal Of Clinical Oncology Publishes Phase 2 Clinical Trial Results Of Perifosine Plus Capecitabine In Patients with Metastatic Colorectal Cancer

AEterna Zentaris Inc. announced that a manuscript entitled, Randomized Placebo-Controlled Phase 2 Trial of Perifosine Plus Capecitabine as Second- or Third-Line Therapy in Patients with Metastatic Colorectal Cancer reporting Phase 2 activity of perifosine (KRX-0401) in the treatment of patients with refractory, advanced colorectal cancer (mCRC), was selected for publication in the October 3, 2011 online edition of the Journal of Clinical Oncology (JCO). Perifosine, the Company's Akt/PI3K inhibitor, is currently being investigated in a Phase 3 trial entitled the "X-PECT" (Xeloda + Perifosine Evaluation in Colorectal cancer Treatment), which is a randomized (1:1), double-blind trial comparing the efficacy and safety of perifosine + capecitabine vs. placebo + capecitabine. The JCO publication highlights the efficacy and safety data on the 38 mCRC patients participating in this Phase 2, randomized, multicenter study, comparing perifosine plus capecitabine (P-CAP) to placebo plus capecitabine. Based on the data, in which the combination of P-CAP demonstrated statistical significance with respect to median overall survival and median time to tumor progression, the investigators concluded that the P-CAP combination showed promising clinical activity compared to single-agent capecitabine, and that the difference in clinical outcome seen with the addition of perifosine was impressive.
9/26/2011

AEterna Zentaris Inc. Announces Interim Data For Its Phase 1/2 Trial With AEZS-108 In Prostate Cancer; AEZS-108 Well Tolerated At All Dose Levels / Early Evidence Of Anti-tumor Activity

AEterna Zentaris Inc. announced positive interim data for the Phase 1 portion of its ongoing Phase 1/2 study in castration and taxane-resistant prostate cancer with its targeted cytotoxic luteinizing hormone releasing hormone (LHRH) analog, AEZS-108. The data were presented by Jacek Pinski,, Associate Professor of Medicine at the Norris Comprehensive Cancer Center of the University of Southern California, during a poster session. Twelve patients entered the study, 3 patients each received AEZS-108 at the lower dose levels of 160 and 210 mg/m(2), and 6 patients at 267 mg/m(2). Data on 10 patients were presented; 2 patients were too early for evaluation. AEZS-108 was generally well tolerated and there were no dose limiting toxicities so far. The only grade 3 and 4 toxicities were hematologic in nature. There were no cases of bleeding or infections. To date, there have been three grade 4 toxicities (2 at 210 mg/m(2), 1 at 267 mg/m(2)), all of which were asymptomatic. There have been six grade 3 toxicities including two cases of grade 3 anemia after repeated courses (cycles 5 and 6) and one case of febrile neutropenia that occurred during cycle 1. Signs of therapeutic activity included 5 patients with PSA regression. One of these patients treated at the lowest dose level, received 8 treatment cycles because he demonstrated continued clinical benefit. .

8/30/2011

AEterna Zentaris Inc. Announces Results Of Orally Active Anticancer Erk Inhibitor

AEterna Zentaris Inc. announced results of orally active anticancer Erk inhibitor, which includes AEZS-131. AEZS-131 is an orally active small molecular compound that selectively inhibits Erk 1/2 with an IC50 of 4nM. The in vitro antiproliferative efficacy proved to be excellent in diverse human tumor cell lines. GI50 values in the low nanomolar range were obtained. In vivo anti-tumor activity was studied in a mouse xenograft experiment utilizing the human HCT-116 colon cancer model. Up to 74% inhibition of tumor growth was achieved with daily oral doses of 30 - 120 mg/kg. The medicinal chemistry programs are supported by X-ray crystallography and modeling towards the optimization of pyrido[2,3-b]pyrazines as series of kinase inhibitors. Aeterna Zentaris has identified small molecular compounds that selectively inhibit Erk 1/2, among them AEZS-131, which has been shown to significantly inhibit tumor growth in vivo studies. Early development of the Erk inhibitor AEZS-131 is an integral part based on the knowledge with of Aeterna Zentaris' kinase research program comprising the investigation of different compounds for single Erk inhibition, single PI3K inhibition and dual Erk/PI3K kinase inhibition.

8/30/2011

AEterna Zentaris Inc. Announces Favorable Top-Line Results Of Completed Phase 3 Study On AEZS-130 As First Oral Diagnostic Test For Adult Growth Hormone Deficiency

AEterna Zentaris Inc. announced favorable top-line results of its completed Phase 3 study with AEZS-130 as the first oral diagnostic test for Adult Growth Hormone Deficiency (AGHD). The results show that AEZS-130 reached its primary endpoint demonstrating >90% area-under-the-curve (AUC) of the Receiver Operating Characteristic curve, which determines the level of specificity and sensitivity of the product. The Company is currently proceeding with further detailed analyses of the data and preparing for a pre-New Drug Application (NDA) meeting with the U.S. Food and Drug Administration (FDA) in the upcoming months, which would be followed by the filing of a NDA for the registration of AEZS-130 in the United States. The parameters of the study, as defined below under Study Design, were achieved as agreed to with FDA under our Special Protocol Assessment (SPA). Importantly, the primary efficacy parameters show that the study achieved both specificity and sensitivity at a level of 90% or greater. In addition, 8 of the 10 newly enrolled AGHD patients were correctly classified by a pre-specified peak GH threshold level. The use of AEZS-130 was shown to be safe and well tolerated overall throughout the completion of this trial.

7/20/2011

AEterna Zentaris Inc. Announces Milestone In Non-Clinical Development of Oral Prostate Cancer Vaccine Candidate, AEZS-120

AEterna Zentaris Inc. announced that it has reached a key milestone in the non-clinical development of its live recombinant prostate cancer vaccine candidate, AEZS-120, for oral administration. The program, partially funded through a grant from the German government, encompassed the full development of a GMP process, including GMP production and quality testing of a clinical batch, as well as a non-clinical safety and toxicology package, as previously agreed with regulatory authorities. Subject to a positive review by German regulatory authorities, the Company aims to start Phase I clinical development in 2012. The principle of AEZS-120 is based on the recombinant expression and secretion of the prostate specific antigen (PSA) in the approved attenuated vaccine strain Salmonella typhi Ty21a using a technology. The technology allows for the expression and secretion of an antigen genetically coupled to the non-toxic B subunit of cholera toxin to enhance immunogenicity. In principle, this platform technology is suitable for any prophylactic or therapeutic vaccine indication by varying the antigen. AEZS-120 has been developed through a research collaboration with the Department of Medical Radiation Biology and Cell Research, and the Department of Microbiology of the University of Würzburg, Germany. As part of the collaboration, a melanoma vaccine based on the recombinant expression of a modified B-Raf protein has been generated.

7/12/2011

AEterna Zentaris Inc. Receives Patent For Perifosine By European Patent Office

Aeterna Zentaris Inc. announced that the European Patent Office (EPO) has granted a patent for the use of alkyl phosphocholines, more specifically perifosine (octadecyl 1,1-dimethylpiperidino-4-yl phosphate), in the preparation of a medicament for the treatment of benign and malignant tumours, prior to and/or during the treatment with approved anti-tumour anti-metabolites such as 5FU (fluorouracil) and capecitabine. Filed on July 29, 2003, the patent (EP #1 545 553) titled, 'Use of Alkyl Phosphocholines in Combination with Anti-Tumour Medicaments', will be effective as of July 13, 2011, following its announcement in the European Patent Bulletin, and will expire on July 28, 2023.
On 10/04/11 AEZS had some insider buying which shows good faith by the company.
On 8/16/11 an interesting and rather exciting article was published in the Miami herald regarding AEZS108 shows promise against bladder cancer. Also a must see is this video AEZS108 version that made it on local NBC Miami news.
Clearly, AEZS and KERX are both good investments given the likely approval for Perifosine. Along with a strong cash position, I currently prefer AEZS over KERX considering the robust pipline AEZS has. Both companies could easily see takeover offers in the near future. I believe, if your selling in this range you will miss out on some serious upside profits. Most investors know I manage a private wealth fund. This year the fund was stopped out of every long position besides the following Apple (OTC:APPL), AEZS, Baidu (NASDAQ:BIDU), and Hansen Natural Corporation (HANS). I am rather parsimonious at times, but with AEZS I am an aggressive investor considering I now have 36% of my own portfolio in AEZS. The fund I manage is restricted to a 10% maximum limit in any stock and the current AEZS holding is 5.9%. We are now accumulating AEZS to our maximum holding limit of 10% while taking advantage of this fire sale in the stock.
AEZS has a 50 day moving average of $1.77 and a 200 day of $2.03. Watch for a move back above the 200 day moving average within the next few months.
Eight analysts continue to be bullish on AEZS with buy ratings and average price targets of $5 per share. AEZS current stock price greatly undervalues the company. Watch for analysts to reiterate ratings along with possible upgrades.