It is time again for quarterly earnings for the market starting on Tuesday, October 11. The market has a lot to digest from Q3, as investors want to know how their companies are faring with headwinds from Europe, data showing a slowing economy, and a lot of companies not slashing estimates or targets before earnings.
The Oxen Group believes that the best way to approach this quarter as well as all other quarters is look for opportunities that combine both high growth levels with undervaluation and a history of positive results.
Our approach to determine the best investments for quarterly earnings is to combine both a growth assessment ranking score with a value ranking score along with historical results. Each score assesses each company's fundamental value in growth and as a value investment given a number of indicators and ratios.
We believe that it is important to combine both because some companies looking at amazing quarterly growth are heavily overvalued or have already priced in their earnings. On the other hand, many undervalued companies are undervalued because they lack the growth capabilities to have significant impacts on their valuation.
The key to this quarter for us was to look at companies that have high-growth but show less risk with lower beta and less chance of them missing those estimates. Further, we wanted to avoid a lot of companies that would have exposure to significant amounts of commodity price increases as well as exposure to currency problems.
Our top three sectors for this quarter are Oil & Gas, Agriculture, and Services. These three sectors have the best growth to value capabilities as well as being less exposed to the negatives of commodity price increases.
The following report will report on our Top Five Picks for Q3, Top Five Large-Cap Picks, Top Five Mid-Cap Picks, Top Five Small-Cap Picks, and more.
It is important to remember that these picks are ideas about stocks performance into earnings and as they appear at the present. Many of these picks will perform well before their earnings selections, and these ideas are not earnings trades. Rather, these are companies that can perform well during earnings season as a whole.
(Click chart to enlarge)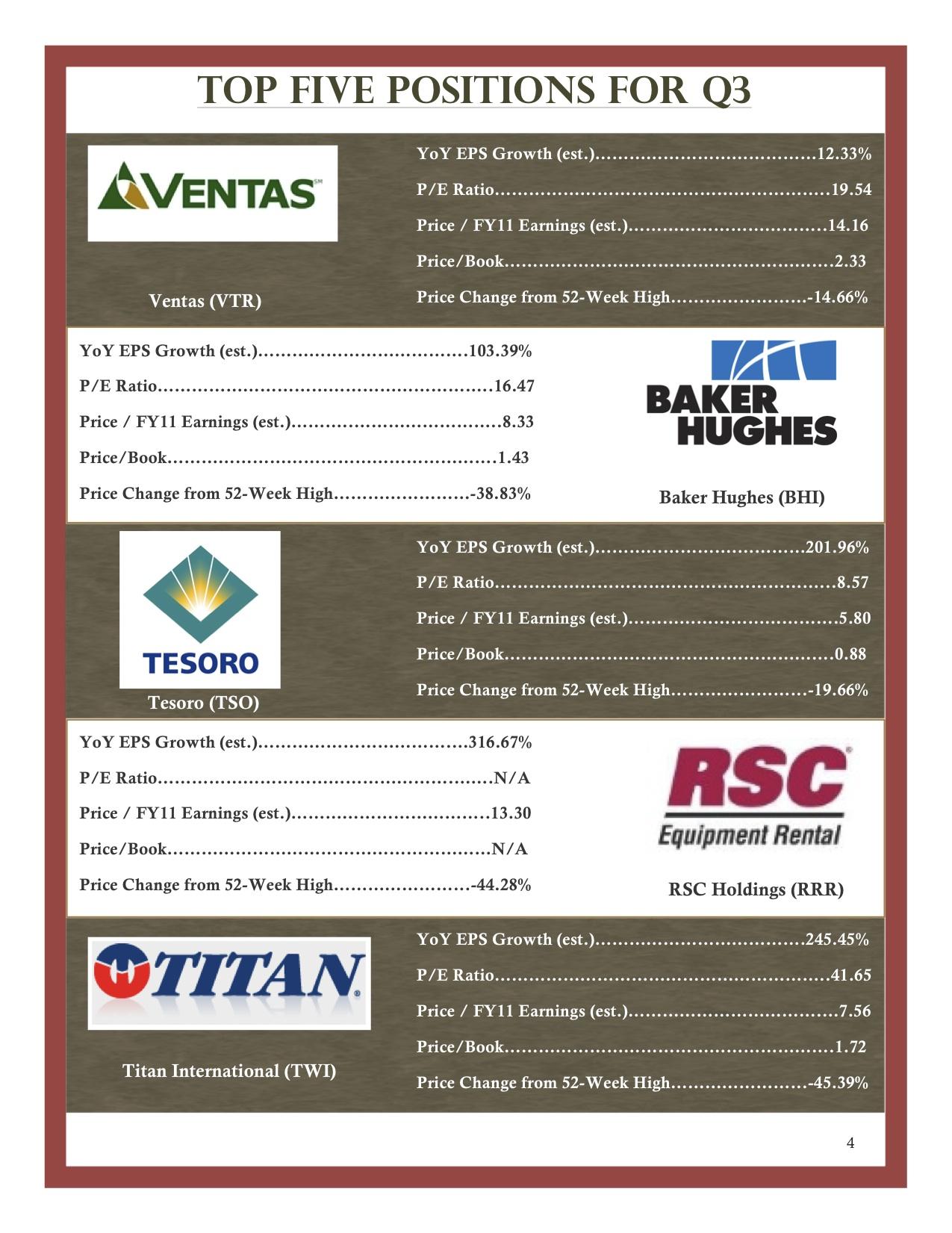 Company Profiles:
Ventas (NYSE:VTR)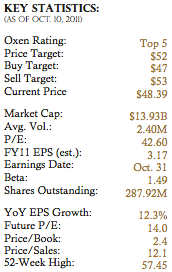 Ventas is one of our top large-cap earnings selections for this season. The company operates as a healthcare REIT with both senior housing and healthcare facilities. What attracted us most to VTR this earnings season was the incredible growth the company is having in sales.
The company is expected to grow revenue year-over-year (YoY) by over 100%. The company went on an aggressive acquisition spree over the past year, spending $11B in acquiring a number of new properties. The company is now threatening HCP to be the largest REIT in healthcare. The growth story behind Ventas attracts us. In a time when companies are seeing rather flat sales growth, VTR is offering 100% growth this quarter in revenue. They are expected to grow sales by 64% this year as well as over 10% growth in earnings this year and the next.
That growth comes in an industry where most other competitors (sans HCP)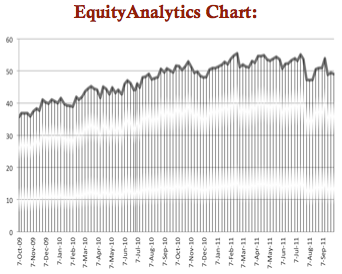 are offering much less in growth and some even negative growth. In a time when people will pay a lot for consistent growth, VTR is attractive. Its future P/E sits at a comfortable 14.0, and we believe a test of the $52 - $55 region is probable.
More than anything, we enjoy the consistency and drop-off in risk from Ventas. These are uncertain times, and we like the sort of consistency and lack of risk that VTR proposes.

Baker Hughes (NYSE:BHI)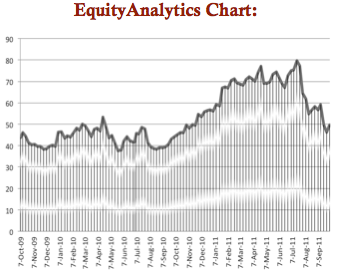 Baker-Hughes had a tremendous quarter last quarter, and it was one of our favorites for Q2 earnings. Q3 earnings look solid once again, and this time, the company looks fairly undervalued. The company is looking at a significant jump in EPS YoY at 103.39%. That is coupled with 26% growth in revenue.
Let's take a look at BHI share price vs. P/E. Currently, the P/E ratio is a modest 16.4. The industry average is 27.5 for oil service companies. Even for BHI to maintain a 16 P/E ratio, the stock has to go up. The company is slated to report EPS 0.61 higher than currently. That raises the annual EPS for BHI from 3.00 to 3.61.
3.61 multiplied by 16 is nearly 58. That is with a lower P/E ratio. With a 20 P/E, the company should be trading at close to 70. All in all, BHI is severely undervalued.
The company delivered last quarter, and it should once again this quarter. The chart is harsh, and the stock has pulled back significantly. Yet, as we near that earnings date as well as get confirmation that all is well in the oil services from competitors, BHI will be a top-notch bet for this season.
The company has beaten EPS estimates consistently, and they are a very strong, clean company. We like the prospects on BHI, and we believe they are severely undervalued for their results.


Tesoro (NYSE:TSO)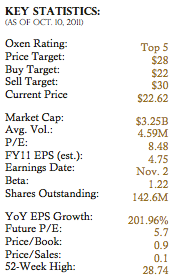 Tesoro is another of these oil and gas companies that looks enticing. The stock is set to grow EPS by over 200% YoY for this quarter as well as grow revenue by 35%. These are not normal growth levels at all, and they are even fairly strong for an oil and gas company.
Yet, the company operates at a P/E of 8.5 and future P/E of 5.7. Those are not respectable numbers, and TSO deserves some. The industry average P/E for oil and gas refiners is 14.1. TSO sits well below that. Even with an 8.5 P/E. A jump of 1.07 in EPS YoY takes the annual EPS to 3.74. Multiply that by 8.5, you come up with $32. That would be a break of the 52-week high.
Yet, why do companies like TSO that are growing so greatly get little to no respect from the market…the company was at a loss last year. Further, the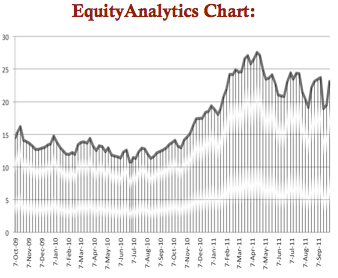 company had several rough years and headwinds still remain for the refiner's market. Not to mention, the company has $2B worth of debt, which is just 66% of their entire market capitalization. Their debt number continues to grow rather than fall.
We believe TSO probably represents the best upside in the five top selections, but it is not a no-brainer. There are risks for TSO and general market sentiment remains weak for them.
Trade with caution…but look out for mega gains.

RSC Holdings (NYSE:RRR-OLD)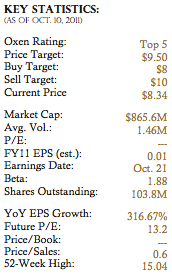 RSC Holdings is one of two small-cap stocks we liked for our top-five picks. RSC is an equipment rental company that rents out larger equipment for construction and industrial use. The company has one of the largest YoY EPS growth estimates in the market at 316.67%, which is due to a move to profit for RSC. In fact, a report of profitability will be the first report of its kind for RSC since 2008.
Moving to profits is a big deal for a company as well as investors as it instills a lot of confidence back into the stock. We cannot do our typical EPS models for P/E based on growth since the annual EPS is still at a loss, but we can see that their future P/E is 13.2. The industry average for P/E is over 32 and the services sector, as a whole tends to be around. What this tells us is that a lot of this growth is not factored into the stock price.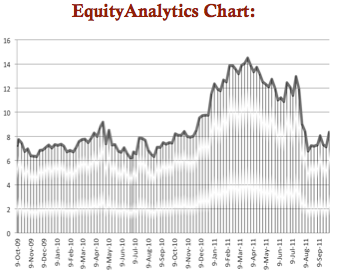 RRR was a $15+ stock the last time it was profitable. We see the long-term outlook for RSC as fairly neutral, but we think this move to earnings coupled with solid growth provides the type of situation where buyers want to hop on board.
We also like the recent price action in RSC that has taken the stock above some key moving averages that should provide support for the stock. Look to buy soon and hold before earnings for a nice pop.
Titan International (NYSE:TWI)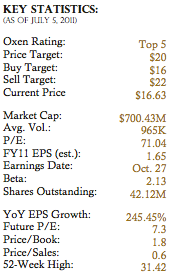 Our pick in Titan Automotive gives us exposure to the automotive sector, which we want to have in this earnings season as the industry continues to be strong and outperform expectations. Titan Automotive is expecting a huge lift in earnings coming on the heels of a 70% increase in revenue. Earnings are slated to move from 0.11 to 0.38.
The jump of 0.27 added onto a current EPS of 0.23 helps to alleviate some of the reason for a P/E of 71. Now, we do not believe a 71 P/E is acceptable, but the increase drops the P/E of TWI from 71 to 35.3. The industry average for auto parts is north of 16. The company's future P/E is 7.3, so there is upside in this stock as in reality it is not long-term overvalued.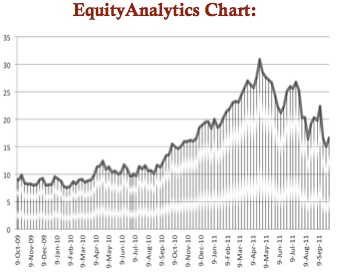 Price/book and price/sales can help paint that picture more as they are 1.8 and 0.6, respectively. Those numbers are both very weak. We believe that TWI and the auto industry have a lot of potential this earnings season, and TWI represents a small-cap approach that can pay off. The company can boot back over $30 in no time, but even a move above $20 will be quite lucrative.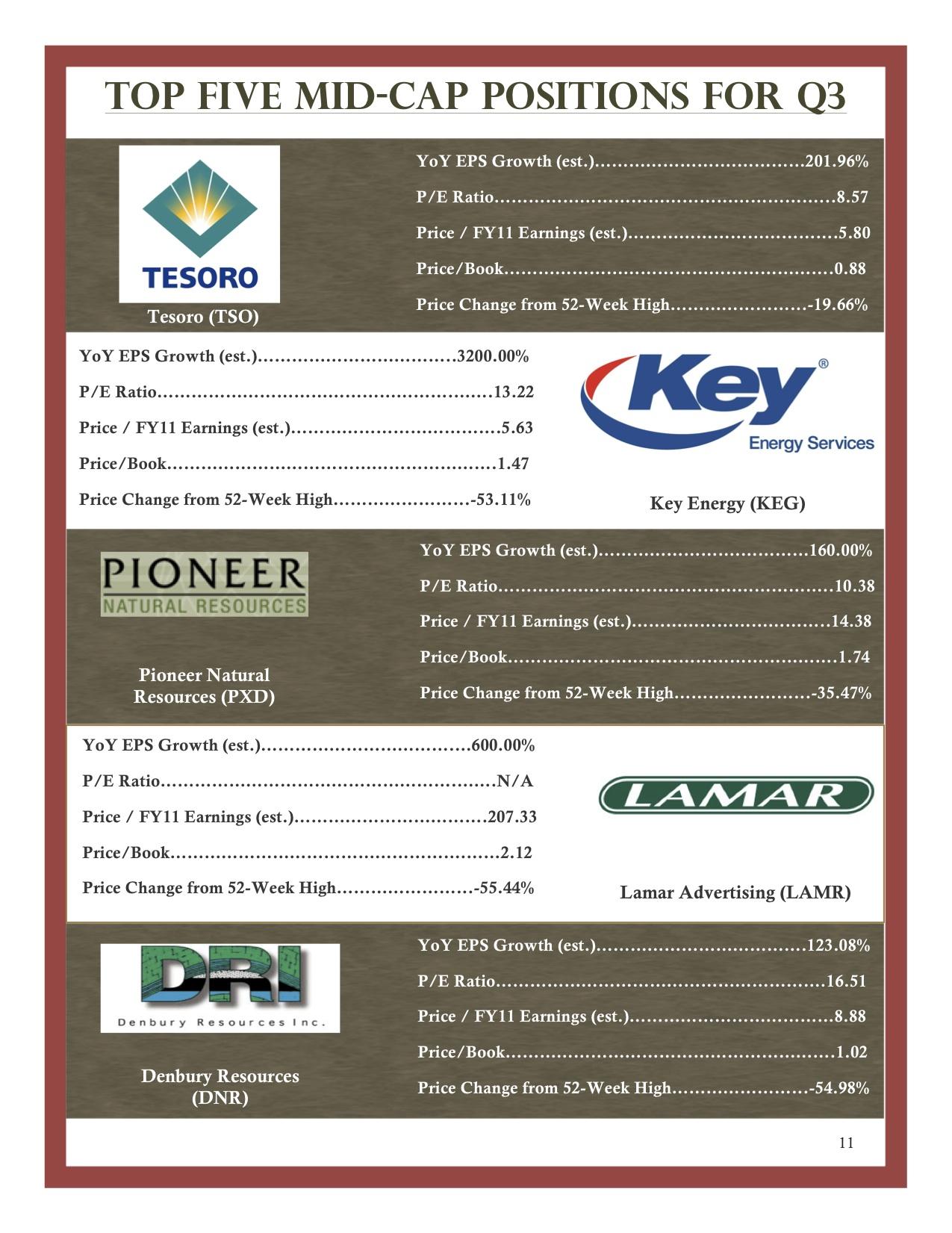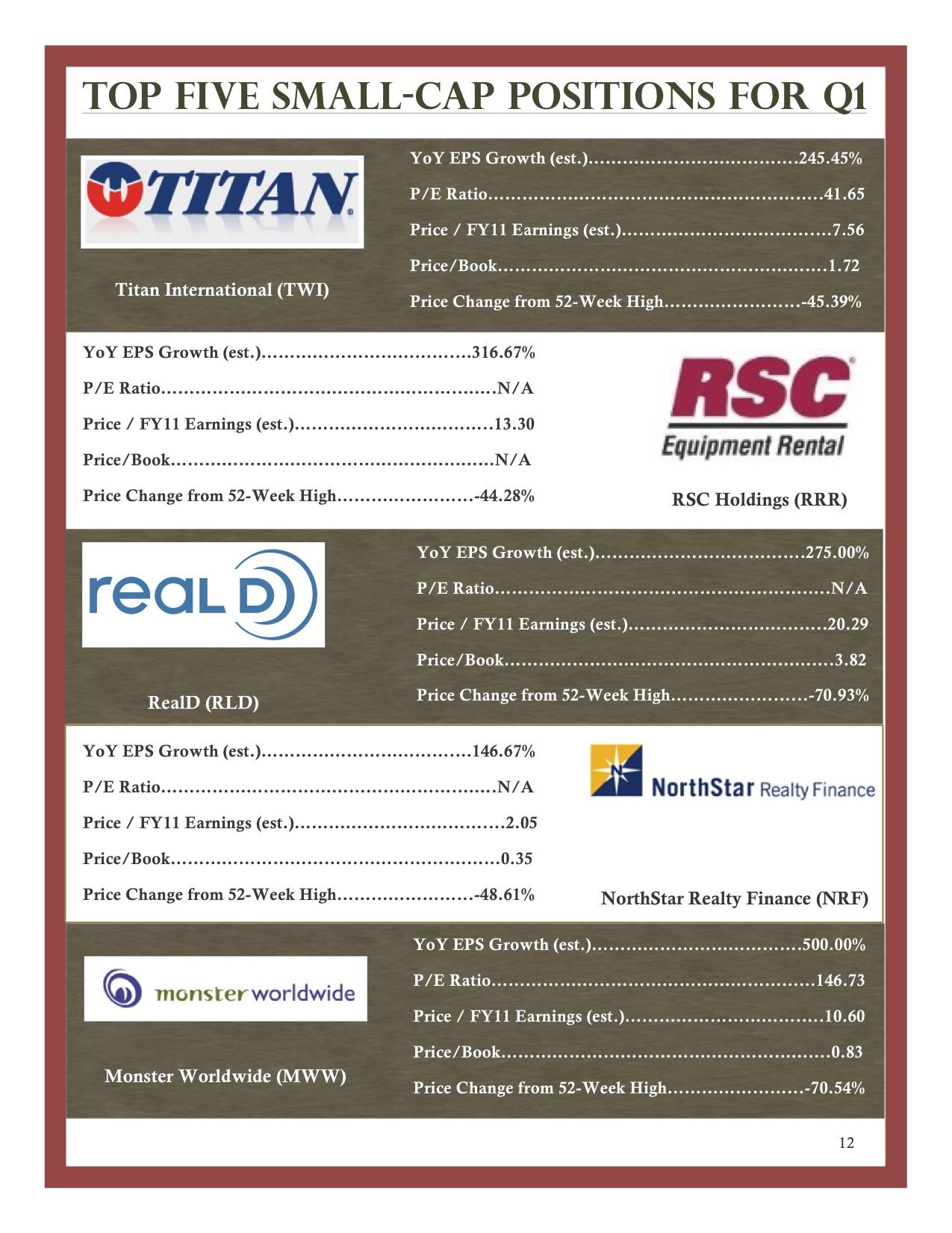 Disclosure: I am long VTR, BHI, RRR-OLD.