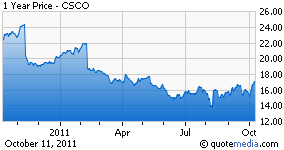 The networking and service provider Cisco Systems (CSCO) has for around a decade struggled to create shareholder value. The stock relentlessly hovers around $20 with analysts currently rating the tech company slightly better than a "hold." I find that, given the fundamentals and growth opportunities, the company is solidly discounted to its intrinsic value at around a 25% margin of safety.
Management has decided to streamline the business and focus on core capabilities by simplifying services and engineering around the following areas: Routings, switching and associated services; data center consolidation; collaboration; video conferencing and business architecture. These are areas that will be greatly helped by increased cloud computing and structural optimizations. The CEO says that management will be ...
"simplifying and focusing our organization and operating model. During Q4, we reorganized our sales, engineering, services and operations organization, providing clear line of sight, accountability, accelerating the speed of decisions, driving toward major improvements in productivity and driving innovation at a faster pace. The changes we have now made position us to continually evolve our business models for the continued success in leadership.

Second, aligning our cost structure given transitions in the marketplace. We are well into the implementation of reducing our operating expenses by $1 billion on an annualized basis using Q4 FY '11 as a base. We will leverage this shift in cost structure coupled with the effectiveness in evolving our organizations and operating model to fund our future innovation and achieve value for our shareholders. This new cost and organization structure positions us very well to succeed in uncertain economic environment."
While the company has seen margin compression from competition in the L4-7, WLAN and video conferencing markets, this is a trend that I anticipate will make a reversal. At the same time, gross margins are highest in the European markets, which is a pressing issue given macro headwinds in the region. Market share for WLAN has declined, but the IP-provider still retains a majority at just over 50%. Moreover, overall September sales appear to have relieved many concerns over plummeting demand. This will be further strengthened by more robust trends in U.S. contracts over the last two months.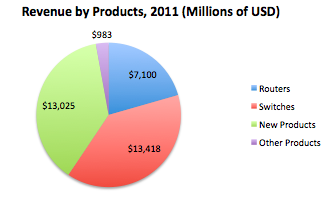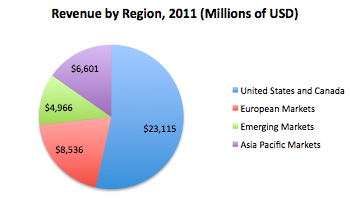 Management is also rightfully focused on increasing the scale of its high return on investment services. There is solid demand in the UCS and LAN markets and I am particularly optimistic about Catalyst 6500. Nexus 7K, 5K and 2K will should also be carefully watched as a sign of corporate vitality for the maturing firm.
Cisco is also a strong producer of free cash flow, churning out around $2B per quarter. This is incredibly beneficial and made even more so by management's commitment to returning cash to shareholders. Since it began its repurchasing program, over $73B worth of shares have been bought back. Add an industry attractive dividend yield of 1.4% and you have a company with favorable risk/reward, notwithstanding the beta of 1.14.
As the leader in networking - an increasingly important sector of the industry as a whole - Cisco remains exposed to tremendous upside as it strengthens the core business. For years, the company has transformed the way people communicate and connect - a history that will only get brighter given the shift toward cloud computing. Although I anticipate strong growth in Microsoft (MSFT) from cloud integration, Cisco is well-diversified in other areas in a way that will enable it to outmaneuver stronger competitors. With a market price trading at 14.7x and 9.1x past and forward earnings, respectively, the stock is slightly undervalued on a multiples-basis.
Consensus estimates for EPS are that it will increase by 4.9% to $1.70 in 2012 and then by 10.6% and 7.5% in the following two years. My model forecasts revenue growing by 6% (2012) and 6.8% (2013), above market expectations. For those bullish on the technology industry, Cisco is one stock worth closely following.