Historically, when it comes to computing resources companies have had to purchase equipment and software, hire personnel to support the equipment/software, deploy the infrastructure, and then operate and maintain the computing resources.
But with cloud computing, companies can outsource their computing needs to an outside entity offering computing resources via the cloud. This way the company can focus on the company's core elements instead of having to spend time, resources and money on tangential elements of the company such as computing resources.
A fast growing company offering services in the cloud market segment is Rackspace Holdings (NYSE:RAX). Rackspace recently realized a $1 billion annualized revenue run rate and is experiencing a 32% annual growth rate.
Rackspace is seeing a lot of global interest in cloud computing and believes cloud computing represents the largest market opportunity in all of technology. In order to support its global growth, the company has a physical presence in the U.S. as well as in the U.K., The Netherlands, Hong Kong, and Australia.
The company is winning customers with its flexibility and its ability to support potential customers' current and evolving computer needs.
In its most recent conference call, (earnings call transcript), Rackspace indicated it had added 10,000 new customers in its most recent quarter to bring its total customer count to 152,000.
Rackspace not only supports a customer's public computing resource needs, but can also manage the customer's private computing resource needs. Rackspace is seeing its largest growth rate, 200% sequentially, in the private managed cloud services space.
More than 800 customers have adopted the company's cloud load balancer service since it became available in April 2011. The cloud load balancer service enables customers to effectively scale applications and/or deploy fault tolerant high-availability configurations. Load balancers distribute workloads across multiple servers when an application outgrows one server and provides redundancy in case a server is knocked offline.
Dell Inc. (NASDAQ:DELL) is supporting its OpenStack cloud solution by combining services offered from Dell with services provided via Rackspace Cloud Builders (Dell OpenStack reference).
OpenStack is an open source cloud computing project initiated by Rackspace and NASA, which now has 117 companies involved (OpenStack reference). OpenStack's mission is to enable any organization to create and offer cloud computing services operating on standard hardware.
In its conference call, Rackspace indicated that OpenStack is currently driving revenue to the company. The company further indicated it believes OpenStack is becoming the de facto open source standard for cloud computing.
The company also indicated in its conference call that its future efforts would include development of cloud block storage, firewall as a service, unified control panel and building the Cloud Builders business.
Investing in the cloud via Rackspace is attractive, but even with the recent pullback in the price of RAX, Rackspace's current stock price is at a premium with a P/E ratio of around 80. Rackspace's stock price is just above its previous support level of $31 and with some bad news related to the company, Rackspace's stock could drop all the way to its next support level of around $23 as shown below: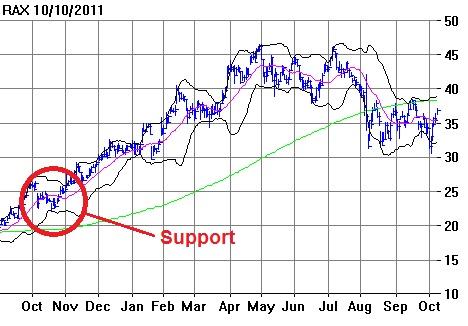 So what's an investor seeking to take advantage of investing in the cloud with Rackspace to do?
Well, a collar investment using options is one way to invest in a company and also insure against a large drop in price.
The collar strategy consists of selling a call option against a purchased or existing stock and using some of the proceeds from selling the call option to purchase a put option to provide for protection or insurance against a large drop in price.
Using our PowerOptions search capability, a collar for Rackspace was found with a potential return of 2.5% and a maximum potential loss of 8%. The time frame for realizing the potential return of the collar is only 12 days. The collar position could be entered by selling an October 37 call option and using the proceeds from selling the call option to purchasing an October 33 put option.
Even if Rackspace is at the today's current price of $36.78 at expiration in 12 days, the collar investment will return 2.5%. If the price of RAX is equal to or greater than the $37 strike price for the call option at expiration, the position will return 3.1%. And, if the stock takes a nasty drop in price, the maximum loss is 8%, even if the price of RAX drops to zero. A profit/loss chart for the RAX collar is shown below: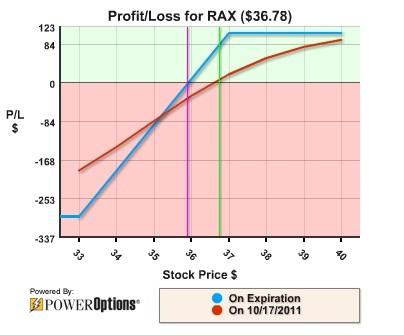 The cloud is an attractive investment area, but there are some large companies like Amazon (NASDAQ:AMZN) attempting to get a foothold in the cloud space, and with their leverage, these large companies could very well upend the cloud Rackspace is comfortably sitting on with Rackspace taking a long tumble back to Earth. A collar strategy is one way to prevent a potential fall of Rackspace from hurting an investor's portfolio.

Disclosure: I have no positions in any stocks mentioned, and no plans to initiate any positions within the next 72 hours.