The iconic motorcycle producer Harley-Davidson (HOG) has a solid "buy" rating on Wall Street and continues to trade below its intrinsic value due to under-appreciated corporate changes. Since the recession, management has cut back on production by around 40% from the 2006 peak and has been focused on keeping inventories lean. Says the CEO,
"Over the past 27 months, we have been focused on making changes that we believe will lead to long-term sustainable success for the business and for our dealers around the world …

The company saw strong improvement in many areas, including income, in both the Motorcycle and Financial Services segments. We are pleased by the 7.5% growth in new motorcycle retail sales in the U.S., as well as the growth of Harley-Davidson retail sales on a worldwide basis. With strong second quarter retail sales performance, we have raised our shipment guidance for the year as we look to support our retail sales activity. The change in shipment guidance also reflects our confidence in being able to maintain continuity of supply for several subcomponents in the aftermath of the March earthquake in Japan. Our supply management team has done an outstanding job of mitigating supply chain risks resulting in no expected downtime or interruption in our production due to these issues …

In late 2009, we laid out our strategic plan, which was based on 4 pillars: Growth, continuous improvement, leadership development and sustainability with the intention to transform our business and become best in class in areas that are critical to our long-term success. Our transformation focuses on 3 main areas: Manufacturing, product development and excellence at retail".
This strategy of undersupplying the market has led to a more resistant price in a way that protects investors from a double dip. With inventories at their lowest levels, domestically, since 2002, dealers have expressed concerns, but I remain confident that this is sign management is willing to make the tough decisions to focus on long-term value creation.
Such a commitment will have the effect of reducing cost of goods from 65.8% of sales in 2010 to 63.8% in 2013, according to my estimates. I forecast revenue growing by 13.1% to $5.5B in 2011 and then by 6.9% in the following year due to improved demand. Note that some of this revenue will, however, be offset through higher marginal tax rates in the years ahead.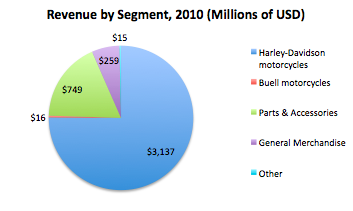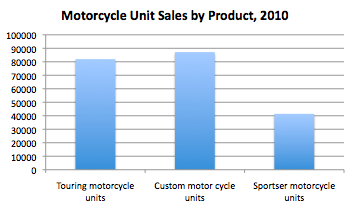 What makes me most optimistic about Harley-Davidson closing its discount over the next few years is, however, that it will substantially improve free cash flow. Excluding the finance division which drags the figure down, free cash flow will rise to around $650M in 2011 and then $810M in 2012 due to market share gains complemented by cost containment according to several analyst estimates. Much of this gain will likely be returned to shareholder through a share repurchasing program and increased dividends (currently the yield is at 1.44%).
And on a competitive standpoint, although Honda (HMC) has seen improvements in supply chain management since the Japanese tsunami disruption, I am still bearish on the manufacturer's motorcycle sales internationally. Harley-Davidson's heavyweight motorcycles remain popular and the company's global segment has increased to 35% of retail revenue with little signs of reversal. Gains in engine displacement of 651+cc and parts & accessories will also benefit as a result. My only concern is that a fifth of sales comes from Europe, which is likely to experience macroeconomic stagnation in the next few years.
Finally, Harley-Davidson will also be able to better maximize economic profits through an eCommerce rollout sometime in 2012 and a combination of touring and softball manufacturing within the York assembly operations. More docile union representation than competitors will further benefit shareholder value by enabling smoother changes in production.
With a stock valuation of 22.7x and 11.6 past and forward earnings, respectively, the company is fairly traded on a multiples-basis. Consensus estimates for EPS are that it will grow by 112.6% to $2.36 in 2011 and then by 26.7% and 24.4% in the following two years.
Disclosure: I have no positions in any stocks mentioned, and no plans to initiate any positions within the next 72 hours.