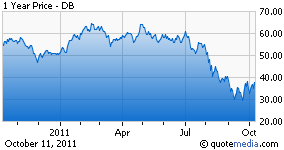 With investors wary about economic stagnation, the sovereign crisis, and supposed financial "recklessness," global investment banks have plummeted far below rational pricing levels. As I emphasized earlier in my bullish articles on Goldman Sachs (NYSE:GS) here, Barclays (NYSE:BCS) here, and BlackRock (NYSE:BLK) here, many investors have irrationally lost sight of the fundamentals that drive value creation. These are companies that are led by, in my view, great management. Yes, mistakes occur, but that is all part of the risk/reward in running a firm very sensitive to the macro economy. It is very regrettable that some of the most vocal critics of financial firms emphasize managerial errors as sort of an historical rule to take place again and again. Ignorant to the crucial roles companies like Deutsche Bank (NYSE:DB) play - with tremendous overall success - in building value and fostering growth for companies, these critics have not rationally assessed corporate history. What would modern day economic growth look like but for global investment banks?
These firms are structurally positioned to fuel the economy ahead, not to just return lost shareholder value. While corporate banking has been hit and will take a while to recover, capital changes, meaningful selling of risky assets, and general restructuring will speed up the process. According to Deutsche Bank,
"The intensifying European sovereign debt crisis led to sustained uncertainties among market participants in the third quarter and thus to significantly reduced volumes and revenues in particular in the Corporate Banking & Securities (CB&S) Corporate Division. At the same time, the third quarter of 2011 has been negatively impacted by operating costs relating to an indirect tax position. As such, the third quarter 2011 result will come in significantly lower than expected for the CB&S business division.

In response to the significant and unabated slowdown in client activity, Deutsche Bank will consider additional cost controls beyond those already implemented as part of the recalibration of the Corporate & Investment Bank. This will lead to a reduction in headcount by around 500 positions in CB&S during Q4 2011 and Q1 2012, primarily outside Germany …

[T]he Bank will be profitable in the third quarter and expects a robust earnings level for the full year 2011. The Bank is confident that the classic banking businesses (Private Clients and Asset Management and Global Transaction Banking) as a whole will deliver their best earnings ever".
Management has also claimed to have a strong funding position due to a competitive benefit from peers being more exposed to sovereign issues. I share the same belief, as the company's 5 year senior CDS spreads are better than peers at 255 basis points. Moreover, the firm will easily reach a Basel 3 CET1 target of 9% by 2013's end. Selling off poorly-rated securitized assets will help Deutsche Bank meaningfully reach this objective.
Josef Ackermann has made a point that the market has not fully appreciated how politicians will help avert a crisis. While this raises an issue of moral hazard, the effect of this perverse incentive is not commensurate with the safety and overall reward. Deutsche Bank has an attractive business mix of companies with leading market shares and the investment bank will succeed in its own right, irrespective (and, in my opinion, despite) of government interference.
Sal Oppenheim and Postbank are two attractive holdings that are successfully reducing marginal costs. Deutsche Bank, as a whole, is also moving away from investment banking to asset management. The businesses it deals with have better scale opportunities than competitors, thus allowing for improvements in economic profit as costs are reduced. My expectations are that the company will sustainable improve return on equity over the next three years.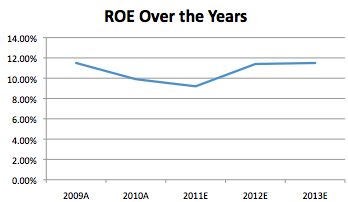 Consensus estimates for EPS are that it will grow by 83.1% to $5.42 in 2011 and then by 10.3% and 9% in the following two years. With the stock trading at 12.5x and 5.7x past and forward earnings, respectively, Deutsche Bank is slightly undervalued compared to peers on a multiples basis. Goldman Sachs, Barclays, and UBS (NYSE:UBS) are trading at respective forward earnings multiples of 6.6, 5.8. and 6.5. While I believe that all of these companies are very strong investments, I particularly recommend Deutsche Bank for investors considering global financial firms with limited exposure to economic issues compared to peers.
Disclosure: I have no positions in any stocks mentioned, and no plans to initiate any positions within the next 72 hours.