Most long-term conservative portfolios have basic material stocks in them and a great one is Southern Copper (NYSE:SCCO). Basic material stocks have taken a big hit in this recession and long-term investors should look at these dips as a great buying opportunity: Right now the stock is 44.03% off its one-year high but still up for the long run as you can see by this five-year weekly price graph provided by Barchart:
Click to enlarge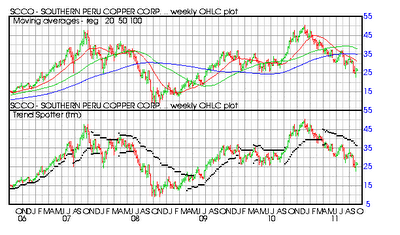 Southern Copper Corporation engages in mining, exploring, smelting and refining copper ores in Peru, Mexico and Chile. It is involved in the production of copper and molybdenum concentrates; smelting of copper concentrates to produce anode copper; and refining of anode copper to produce copper cathodes, as well as refined silver and copper. The company operates the Toquepala and Cuajone mines in the Andes Mountains located southeast of the city of Lima, Peru, as well as a smelter and refinery in the coastal city of Ilo, Peru. It also operates five underground mines that produce zinc, lead, copper, silver and gold; a coal mine, which produces coal and coke; and a zinc refinery. The company was founded in 1952 and is based in Phoenix, Arizona. Southern Copper Corporation is a subsidiary of Americas Mining Corporation.
Factors To Consider
Barchart technical indicators:
Barcharts technical indicators are based on price movements from seven day to six months and a technical sell signal can identify a dip which might be a buying opportunity
All the sell indicators seem to be weakening and the buy signals are getting stronger - this signals a price reversal if the trend continues
48% Barchart technical sell signal - weakening
Trend Spotter sell signal - also weakening
The stock is trading below its 20, 50 and 100 day moving averages
Although the stock is 44.03% below its one year high it has gained 11.74% in just the last five trading sessions
Relative Strength Index is 45.16% and rising
Barchart computes a technical support level at 26.22
Recently traded at 26.44 with a 50 day moving average of 29.69
Fundamental factors:
Revenue projections keep on growing despite recent weaknesses in the price of copper
Wall Street brokerage analysts project revenue to increase by 37.60% this year and an additional 6.50% next year
Earnings estimates are also positive with an expected 58.50% increase this year, 9.00% more next year and continue at an annually rate of increase of 15.07% for the next five years
These consensuses resulted in analysts issuing two strong buy, six buy, seven hold and one under perform recommendation
The company has announced an expansion plan which should increase the production of copper by 35% before the end of 2013
At today's price the dividend rate of 9.51% is generous and only about 50-60% of expected earnings
The company enjoys an A+ financial rating and the stock gets a 100 price growth persistence score
General investor interest:
This is a widely followed stock with the readers of Motley Fool, and 4,320 express an opinion on this stock
The general readers vote 98% that the stock will beat the market
The more experienced and savvy All Stars vote 98% for the same result
Competitors and sector leaders:
SCCO is down around 31% for the year and its major publicly held competitor is Freeport McMoRan (NYSE:
FCX
), which is down around 25%:
Click to enlarge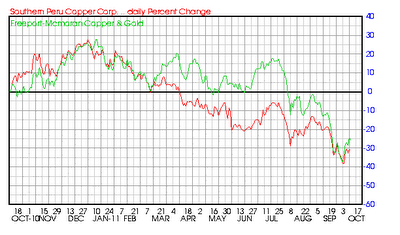 SCCO is a member of the SIC 1000 - Metal Mining sector and some members are up substantially for the year like Richmont Mines (RI) up 79%, New Gold (NYSEMKT:NGD) up 55%, Mine Finders (MFN) up 49% and Paramount Gold (NYSEMKT:PZG) up 29%:
Click to enlarge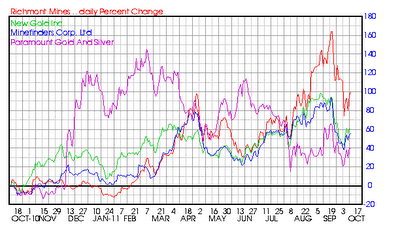 Summary: Southern Copper has been a consistent money maker for years. Its major products are copper and silver and both are needed by industrial nations. With its generous dividend and recently depressed price investors buying in at this level could see annual total returns in the 20-30% range depending on the prices of silver and copper. SCCO will make money - how much is dependent on the prices of the underlying commodities.
Disclosure: I have no positions in any stocks mentioned, and no plans to initiate any positions within the next 72 hours.