By Taras Berezowsky
In the wake of LME Week, with copper dominating the headlines, the news from the world of lead is that, although the market will still be in oversupply, some firms are counting on new applications to help buoy demand, and hence the lead price.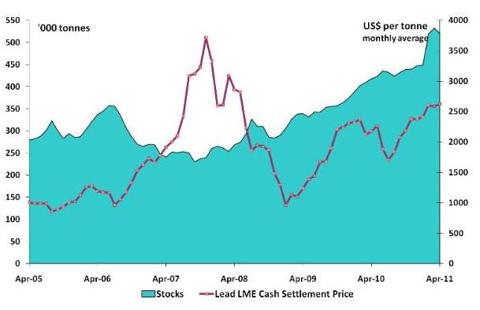 In this graph from the International Lead and Zinc Study Group (ILZSG), we can see the lead stocks on a significant upward slope since they bottomed out between 2007 and 2008.
Although the ILZSG data in the graph only goes through April 2011, stocks are expected to continue increasing. During LME Week, representatives from ILZSG said they expect battery-material lead to rise to a 97,000-ton surplus next year, down from a 188,000-ton surplus this year, according to a Reuters special report. As batteries represent 80-85 percent of global lead consumption, the figures are a good indicator of how the overall lead market will act. LME stocks are at a near record-high 379,700 tons. A separate Reuters column by a lead specialist at CHR Metals limited noted that because of the high recycling rates from used batteries, "it is unlikely that the lead market faces any near-term shortfall in supply."
However, integrated US lead producer Doe Run is optimistic that demand will hold up, according to Reuters, even though lead cash prices have dipped below the $2,000/ton mark on the LME for the second time this month: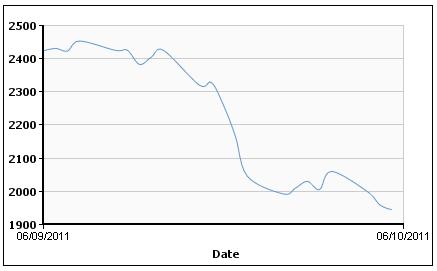 Source: LME
LME lead began September at $2,444/ton, then dipped down to $1,994/ton on Sept. 27. The metal got back above $2,000 at the start of October, but is now heading back south toward $1900. According to our MetalMiner IndX, local prices in China and India have also followed the LME and dropped over the past month.
These low prices are hurting lead producers, as they're unable to overcome their costs of production and turn enough of a profit. But Jose Hansen, VP of sales at Doe Run, said he's "optimistic for the potential for growth in the telecommunications industry, E-bikes, hybrid cars as well as in the storage and transport of nuclear waste." He told Reuters he sees lead usage rising 5-6 percent next year.
Of course, the sales team of a lead producer seems almost required to be optimistic or even bullish on its own prospects. If you're positive, the hope is that the prophecy gets fulfilled. But like most other industrial metals in the commodity sell-off, lead has experienced a downturn in demand and price that has worried producers, and some analysts.
In a telling parallel story, Paul Robinson, CRU's non-ferrous metals group manager, posited that Chinese growth alone may not be enough to buoy metal prices. Beijing's rate-tightening and more modest growth expectations are a couple of the reasons. However, when asked to rank base metals in terms of consumption growth prospects in China, he "put aluminum first, followed by nickel, zinc, copper, lead and lastly tin."