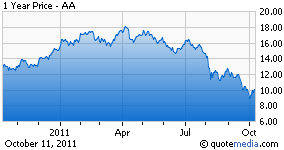 Alcoa's (NYSE:AA) third quarter earnings missed expectations horribly, or by over 30%. Income from continuing operations came in at about $0.15 per share, while the Street was looking for $0.22 - and this estimate had come down significantly in recent weeks. We are maintaining our $11 fair value estimate for Alcoa and still believe that a good entry point is below $6 per share for the company, as we outlined in our previous note "Alcoa Has to Fall Much Further For Us To Get Excited." Though this means Alcoa has to drop significantly from today's levels, we think the application of a sufficient margin of safety and patience are two reasons for the meaningful outperformance of our Best Ideas.
Alcoa's revenue jumped over 20% on a year-over-year basis in the quarter, but fell 3% sequentially on weaker prices thanks to the well-publicized weakness in Europe and expected lower metal prices during the period.
Though results missed the mark, the firm's end markets performed quite well. Revenue from commercial transportation increased 44%, automotive jumped 26%, while packaging and aerospace expanded over 20%, respectively. We think the results were particularly positive for expected third quarter performance out of the aerospace sector, and we continue to reiterate our best ideas in the space: Edac Tech (NASDAQ:EDAC), Precision Castparts (NYSE:PCP), and Astronics (NASDAQ:ATRO). Alcoa also noted that revenue from aerospace, along with commercial transportation, increased sequentially. We also think the noted recovery in industrial turbine (IGT) demand revealed in Alcoa's earnings release is particularly positive for Precision Castparts, a maker of IGT castings. Aside from aerospace as a positive takeaway, the firm's cash flow continues to be robust, with Alcoa pulling in roughly $250 million through the first three quarters of the year. The firm is in much better shape than 2008.
Management had some cautious comments regarding the global economy (and Europe), but it reiterated its 12% growth estimate for aluminum demand in 2011, as well as its belief that global consumption of aluminum will double by 2020. We think these growth estimates are achievable and point to China (aluminum cans) and aerospace as the key drivers (particularly as narrowbody demand by Boeing (NYSE:BA) and Airbus (OTCPK:EADSY) ramps up in coming years). We don't view the introduction of mostly composite airplanes - 787, A350 - as a huge threat to these intermediate-term forecasts at this time. The company also raised its growth forecast for China by two percentage points this year. All things considered, we'd generally steer clear of the industrial and material space, but we are considerably overweight in aerospace, a bright spot in the sector. As for Alcoa, we remain on the sidelines and suggest Precision Castparts as the best play within metals.
Disclosure: I have no positions in any stocks mentioned, and no plans to initiate any positions within the next 72 hours.
Additional disclosure: Precision Castparts, Edac Tech, and Astronics are included in our Best Ideas Newsletter.