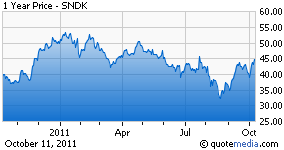 SanDisk Corp. (SNDK) is scheduled to announce its third quarter fiscal 2011 results on October 20 after market close, and we do not see much variation in analyst estimates at this point.
Second Quarter Overview
SanDisk's second quarter 2011 adjusted earnings of $1.10 per share surpassed the Zacks Consensus Estimate of 97 cents. The adjusted or non-GAAP earnings per share exclude amortization of acquisition-related intangible assets, operating expense adjustments, convertible debt interest and tax gains, but includes stock-based compensation expense.
Sandisk reported total revenue for the second quarter of $1.38 billion, up 16.6% on a year-over-year basis. The revenue growth was driven by strong demand for SanDisk's flash memory products in emerging markets, as well as strong performance by its retail and OEM (original equipment manufacturer) channels, globally.
Segment wise, Product revenue increased 17.5% year over year to $1.28 billion, while License and Royalty revenue was $93.0 million, up 6.0% year over year.
Product gross margin in the quarter was 41.3% on a non-GAAP basis versus 42.4% in the year-ago quarter. Total gross margin decreased 140 basis points year over year to 45.3%. The margin decline was due to the negative impact of the yen exchange rate, start-up cost for a new fab as well as price declines.
All these factors tempered the positive effect of cost control measures. Operating margin on a non-GAAP basis was 29.2%, compared with 31.9% in the year-ago quarter. The company's total operating expenses increased 24.8% on a year-over-year basis.
SanDisk generated $269.2 million in cash from operating activities, compared with $398.6 million in the prior quarter. Cash and short-term investments were $2.69 billion versus $2.97 billion in the previous quarter.
Agreement Of Analysts
Out of the six analysts providing estimates for the third quarter, none revised estimates over the last 30 days. Again for the fiscal year 2011 and 2012, none of the analysts made a meaningful revision.
The unchanged estimates point to the fact that there were no major catalysts during the quarter that could drive results. Consequently, analysts are more or less sticking to the estimates projected post-second quarter earnings and are of the opinion that SanDisk will deliver third quarter results in line with their expectations.
Some analysts are of the opinion that SanDisk remains the world's largest semiconductor vendor and are also convinced about the fact that SNDK as well as the NAND industry are controlling supply in a mature manner. The analysts also believe that, even amidst a likely global slowdown, the demand storyline is expanding.
First there was the iPad, iPhone and the MacBook Air, but now they are about to be joined by an instant-on tablet-laptop hybrid, i.e., Intel''s (NASDAQ:INTC) Ultrabook, with high input output operations per second (IOPS), and by Amazon's (NASDAQ:AMZN) KindleFire and by multiple smart phone launches.
Some other analysts are of the opinion that SanDisk has recently added significant testing capacity solely dedicated to Apple (NASDAQ:AAPL). This suggests market share gains ahead for SanDisk, likely at the expense of Samsung (OTC:SSNLF).
Analysts believe that the NAND flash supply outlook is more positive than a quarter ago. NAND flash suppliers including Samsung (but with the exception of Hynix) have reduced second-half capacity ramp plans, which could result in less than 80% bit supply growth for the year.
Magnitude Of Estimate Revisions
Over the past 30 days, the Zacks Consensus Estimate for the third quarter has moved up by 2 cents to $4.26. However, over the last 60 days, estimates have been lowered by 1 cent for the third quarter and raised by 19 cents for the fiscal year 2012.
Our Take
SanDisk posted decent second quarter 2011 numbers, surpassing the Zacks Consensus Estimate. Both OEM and retail sides of the business progressed, resulting in solid product revenue. Though revenue guidance was decent, margin guidance was disappointing, as SanDisk continued to see memory price declines and currency headwinds.
We understand that demand for flash memory could grow in the coming years, backed by the popularity of devices such as smart phones and tablets such as Apple's iPad. But we think that slower cannibalization of PCs could hurt the demand for SanDisk's memory products and rationalize revenue growth, going forward. Customer concentration risk, competitive pressures and European weakness are other headwinds for the company.
Considering the above factors, we feel our short-term Sell recommendation on SanDisk is justified, as indicated by the Zacks #4 Rank.