Pepsico (PEP) has been having some issues recently but might recover soon. Commodity prices have given the company challenges. I'm not just talking about sugar, flour and corn. I'm talking aluminum and plastics for packaging and oil based fuels for transportation costs. The company always has good earnings but the costs of commodities determines how much. The stock has been down recently as this six month price chart provided by Barchart shows:
Click to enlarge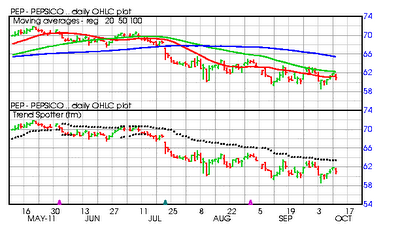 PepsiCo. engages in the manufacture, marketing and sale of foods, snacks and carbonated and non-carbonated beverages worldwide. The company operates in four divisions: PepsiCo Americas Foods (PAF); PepsiCo Americas Beverages (PAB); PepsiCo Europe; and PepsiCo Asia, Middle East, and Africa (AMEA).
The PAF division offers Lay's and Ruffles potato chips, Doritos and Tostitos tortilla chips and dips, Cheetos cheese flavored snacks, Fritos corn chips, Quaker Chewy granola bars, and SunChips multigrain snacks in North America; Quaker oatmeal, Aunt Jemima mixes and syrups, Cap'n Crunch cereal, Quaker grits, and Life cereal, as well as Rice-A-Roni, Pasta Roni, and Near East side dishes in North America; and various snack foods under Doritos, Marias Gamesa, Cheetos, Ruffles, Emperador, Saladitas, Sabritas, and Lay's brands in Latin America.
The PAB division provides carbonated soft drinks, beverage concentrates, fountain syrups, and finished goods under Pepsi, Mountain Dew, Gatorade, 7UP, Tropicana Pure Premium, Electropura, Sierra Mist, Epura, and Mirinda brands; ready-to-drink tea, coffee and water products through joint ventures with Unilever and Starbucks; and sells concentrate to authorized bottlers, and branded finished goods directly to independent distributors and retailers. This division also manufactures third-party brands, such as Dr Pepper, Crush, Rock Star, and Muscle Milk.
The PepsiCo Europe division offers Frito Lay Snacks, Pepsi-Cola beverages, Gatorade sports drinks, Tropicana juices, and Quaker foods in Europe.
The AMEA division provides snack food under the Lay's, Kurkure, Chipsy, Doritos, Smith's, Cheetos, Red Rock Deli, and Ruffles brands; Quaker-brand cereals and snacks; and beverage concentrates, fountain syrups, and finished goods under the Pepsi, Mirinda, 7UP, and Mountain Dew brands. PepsiCo, Inc. was founded in 1898 and is headquartered in Purchase, New York. (Yahoo Finance profile)
Factors To Consider
Barchart technical indicators:
72% Barchart technical sell signal
Trend Spotter sell signal
Below its 20, 50 and 100 day moving averages
Down 13.86% from its 1 year high
Relative Strength Index 46.82% and getting slightly stronger
Barchart computes a technical support level at 59.80
Recently traded at 61.00 with a 50 day moving average of 62.05
Fundamental factors:
Wall Street brokerage analysts project revenue to increase 14.60% this year and an additional 3.00% next year
Earnings are estimated to increase by 7.00% this year, another 6.80% next year and continue for the next five years at an annual rate of 8.90%
The numbers have resulted in analysts publishing three strong buy eight buy, six hold and no negative recommendations
The company made several acquisitions of two of its biggest bottlers and even a Russian dairy company
Although beverage sales seem a little flat in the U.S. the company is experiencing major increases in consumption in Turkey and India
As mentioned previously profits are almost a given but are sensitive to the commodity prices of corn, sugar, wheat, aluminum, plastic and fuel.
Income investors should note that the dividend, presently at about 3.38%, has been raised every year for at least the last 17 years and is usually in the neighborhood of 40% of earnings
General investor interest:
A very popular stock with the individual investor
4,317 readers of Motley Fool expressed an opinion with a 97% vote that the stock will beat the market
The more experienced and savvy All Stars voted 98% for the same result
Fool follows Wall Street columnists and notes that all 18 of the recent articles about the stock have been positive
Competitors and sector leaders:
PEP is down about 13% for the the year and some of its publicly held competitors have done a little better with Coca-Cola (
KO
) down 1%, Dr Pepper-Snapple Group (
DPS
) down 2% and Kraft (KFT) up 1%:
Click to enlarge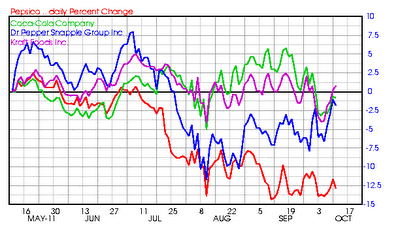 PEP is a member of the SIC 2080 Beverage sector and Coffee Holdings (JVA) is up 198% for the year followed by Companhia de Bebidas (ABV) up 20%, Brown-Forman (FB.B) up 20% and Diegoe (DEO) up 12%:
Click to enlarge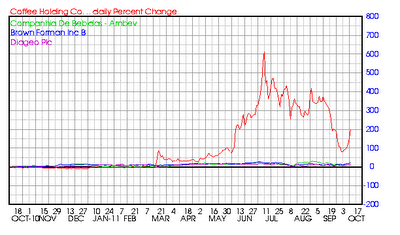 Summary: Pepsico should be considered as a long term conservative holding and those already holding should keep it. Aggressive and growth investors and those wanting to take new positions might look at the other stocks mentioned if your willing to take a little more risks.


Disclosure: I have no positions in any stocks mentioned, and no plans to initiate any positions within the next 72 hours.