In the economic environment in which we find ourselves these days, few want to take on risk. Yet the fixed income alternatives are measly at best. Where can we park our cash and make some money with less risk? I know that it has been repeated often in many articles written by smarter authors than myself, however, I would like to touch on at least one stock that has given me a lot of comfort over the past few years.
How does a 5% yield sound? Better yet, how about 6%, or 7%? A 7.5% yield is guaranteed until 2043, unless the shares are bought back by the company. And it is a brand name; it's guaranteed by a company that has been increasing sales and profits and has survived through perilous times without one single tax payer dollar!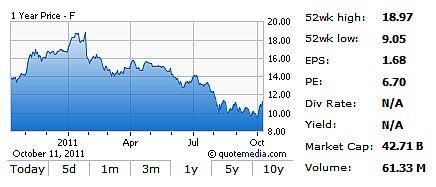 It's Ford (NYSE:F). Did you know that Ford has a preferred share class "A" available for anyone (F.PA)? Not many people actually even know about it since Ford stopped paying dividends on its "other" preferred shares and common shares when the auto industry was going through its turmoil. The company has resumed paying dividends on its other preferred shares since then as well. Many investors never even noticed.

The yield is significantly higher than many other fixed income choices. With the increased relative safety of preferred shares, it seems like a good alternative for income-seeking investors.

The U.S. auto industry has been making healthy gains, and the big three, General Motors (NYSE:GM), Chrysler, and Ford have all been increasing sales and beating street estimates regularly. And Ford has been taking market share, both here and abroad, for the first time in years. I like the entire sector, but only Ford has this income alternative. The ratings agencies are very close to upgrading Ford's investment grade status as well.

Just what the market doctor has ordered: Less risk, higher yield, great turnaround story, brand name, great management, and in my humble opinion, a solid future.

I would never suggest to anyone that they should plunk down everything in one company stock. However, in a well-diversified portfolio of brand name, blue chip, dividend-paying stocks such as Johnson & Johnson (NYSE:JNJ), General Electric (NYSE:GE), Exxon Mobil (NYSE:XOM) Procter and Gamble (NYSE:PG), Altria Group (NYSE:MO) and a few other gems, Ford Preferred Class "A" (F.PA) can round out a portfolio, and be a place to "park" some cash.

Disclosure: I am long GE, JNJ, XOM, F.PA.