Mastercard's (NYSE:MA) stock price has performed well recently despite the European debt crisis and global economic uncertainty. As of 10/10/11, Mastercard has increased 45.38% year to date, outperforming the -4.99% return of the S&P 500.
A brief summary of the current market sentiment for Mastercard follows:
FY2011 analyst EPS estimates increased 4% over the past 90 days ($17.73 vs. $17.04)

FY2012 analyst EPS estimates also increased 4% over the past 90 days ($20.84 vs. $20.01)

Average analyst target price for Mastercard $331.50 (currently trading at $325.81)

Average analyst recommendation is "overweight"
As shown in the chart below, Mastercard has trended upward in 2011. The Bollinger Bands (90 days, 3σ) show that Mastercard has had a floor of $200 for most of 2011 based on a 3σ / 99.7% confidence interval.
Click to enlarge: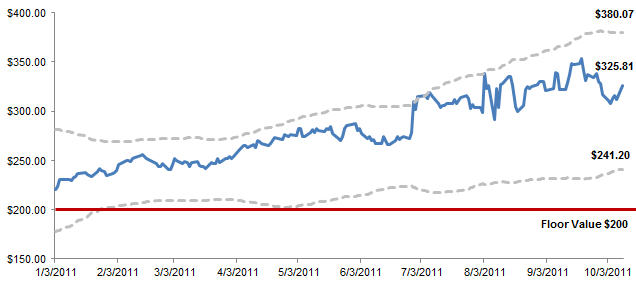 Click to enlarge
Therefore, an attractive option strategy to take advantage of Mastercard's recent low-end trading range is a short calendar put consisting of:
· Short April 12 Put at $175 strike price
· Long January 12 Put at $175 strike price
This strategy would yield a premium of $2.64 if executed at the April 12 bid and the January 12 ask. If executed at the mid-quote, then the premium would increase to $3.38. Based on my ThinkorSwim margin requirements, this trade would require an initial margin of $1,958.40. Therefore, the potential return is 13.5% based on the bid / ask and 17.3% based on the mid-quote.
Disclosure: I have no positions in any stocks mentioned, and no plans to initiate any positions within the next 72 hours.