Duke Energy (DUK) is one of the largest electric utility providers in the Americas. The company has operations in North Carolina, South Carolina, Ohio, Indiana, and Kentucky. Duke Energy also runs hydroelectric power generators in Latin America. The company, headquartered in Charlotte, North Carolina, employs more than 18,440 employees.
As of October 11, Duke Energy stock was trading at $20 with a 52-week range of $16.87 – $20.26. It has a market cap of $26.6 billion. Trailing twelve month P/E ratio is 13.2, and forward P/E ratio is 14.1. P/B, P/S, and P/CF ratios stand at 1.2, 1.8, and 6.5, respectively. The 3-year annualized revenue and EPS growth stand at 3.9% and -5.9%, respectively. Operating margin is 22%, and net profit margin is 14%. The company has a debt-to-equity ratio of 0.8. Duke Energy is a nifty dividend payer with a projected yield of 4.9%.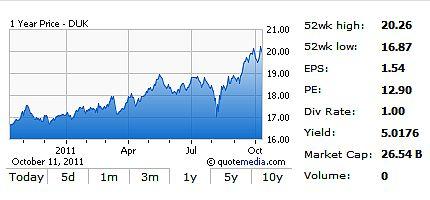 For some reason Duke Energy has only a 2-star rating from Morningstar. While its trailing P/E ratio is 13.2, it has a 5-year average P/E ratio of 18. Out of 18 analysts covering the company, 17 have a hold rating, and one has a sell rating. Wall Street has diverse opinions on Duke Energy's future. The bottom line is -2.9% growth, whereas the top-line growth estimate is 7.9% for the next year. Average five-year annualized growth forecast estimate is 3.7%.
What is the fair value of Duke Energy given the forecast estimates? In this article, the 29th in the series, I will show a step-by-step calculation of Duke Energy's fair value using discounted earnings plus equity model.
Discounted Earnings Plus Equity Model
This model is primarily used for estimating the returns from long-term projects. It is also frequently used to price fair-valued IPOs. The methodology is based on discounting the present value of the future earnings to the current period:
V = E0 + E1 /(1+r) + E2 /(1+r)2 + E3/(1+r)3 + E4/(1+r)4 + E5/(1+r)5 + Disposal Value
V = E0 + E0 (1+g)/(1+r) + E0(1+g)2/(1+r)2 + … + E0(1+g)5/(1+r)5 + E0(1+g)5/[r(1+r)5]
The earnings after the last period act as a perpetuity that creates regular earnings:
Disposal Value = D = E0(1+g)5/[r(1+r)5] = E5 / r
While this formula might look scary for many of us, it easily calculates the fair value of a stock. All we need is the current-period earnings, earnings growth estimate, and the discount rate. To be as objective as possible, I use Morningstar data for my estimates. You can set these parameters as you wish, according to your own diligence.
Valuation
Historically, the average return of the DJI has been around 11% (including dividends). Therefore, I will use 11% as my discount rate.
Since we are in the middle of the year, it will be more feasible to take the average of ttm EPS of $1.54 along with the mean estimate of $1.41 for the next year.
E0 = EPS = ($1.54 + $1.41) / 2 = $1.48
Wall Street holds diversified opinions on the company's future. While analysts tend to impose subjective opinions on their estimates, the average analyst estimate is a good starting point. Average five-year growth forecast is 3.70%. Book value per share is $16.95.
The rest is as follows:
Fair Value Estimator

V0

E0

$1.48

V1

E0 (1+g)/(1+r)

$1.38

V2

E0((1+g)/(1+r))2

$1.29

V3

E0((1+g)/(1+r))3

$1.20

V4

E0((1+g)/(1+r))4

$1.12

V5

E0((1+g)/(1+r))5

$1.05

D

E0(1+g)5/[r(1+r)5]

$9.54

BV

Equals

$16.95

Fair Value Range

Lower Boundary

$17.06

Upper Boundary

$34.01

Potential

70.05%
(You can download FED+ Fair Value Estimator, here.)
I decided to add the book value per share so that we can distinguish between a low-debt and debt-loaded company. The lower boundary does not include the book value. According to my 5-year discounted-earnings-plus-book-value model, the fair-value range for Duke Energy is between $17.06 and $34.01 per share.
As of October 11, Duke Energy was trading at a price of $20. At the beginning of the year, Duke Energy announced its merger with Progress Energy (PGN) subject to regulatory approval. I was not expecting the deal to be approved in its original form, since both companies are headquartered in North Carolina, and thereby compete with each other. A merger would have given Duke Energy complete power in the electricity pricing.
As I expected, the deal was only conditionally approved, with the condition that the power companies should come up with a solution to keep the competition alive. Nevertheless, even if the merger is not approved, at a price of $20, Duke Energy is trading near the lower end of its fair-value range. The stock has almost 70% potential to reach the upper boundary of its fair value range. Compared to its industry peers, Duke Energy looks cheaper. Here is a comparison of Duke Energy with selected peer companies:
| | | | | | |
| --- | --- | --- | --- | --- | --- |
| Company | Market Cap | P/S | P/B | P/E | Yield |
| Duke Energy (DUK) | $26.98 Billion | 1.8 | 1.2 | 13.2 | 4.9% |
| National Grid PLC (NGG) | $36.90 Billion | 1.5 | 1.6 | 10.2 | 5.8% |
| Southern Company (SO) | $36.84 Billion | 2.1 | 2.2 | 17.7 | 4.3% |
| American Electric (AEP) | $18.60 Billion | 1.3 | 1.3 | 12.6 | 4.8% |
| Progress Energy (PGN) | $15.20 Billion | 1.6 | 1.5 | 17.9 | 4.8% |
| Excel Energy (XEL) | $12.08 Billion | 1.1 | 1.5 | 14.6 | 4.1% |
| Enersis SA (ENI) | $11.68 Billion | 0.9 | 1.6 | 12.34 | 4.4% |
| Industry | - | 1.4 | 1.5 | 15.6 | 4.4% |
(Data from Morningstar, and is current as of October 11)
Interestingly, while Duke's merger offer was valued at $13.7 billion, Progress Energy is currently valued at $15.20 billion, 11% premium above the proposed transaction value. Moreover, compared to Duke Energy, Progress is trading at a higher P/E ratio of 17.9. As we can see in the table above, Duke Energy is one of the cheapest utility stocks. Its trailing P/E ratio of 13.2 is below the industry average of 15.6. National Grid and Enersis S.A. seems like better deals in terms of trailing P/E ratios, but they are headquartered in the U.K. and Chile. Thus, from the investors' perspective, these companies are subject to currency risks. Compared to Southern Company, Duke Energy has better P/S, P/B, P/E ratios, and it also supports a higher yield.
Click to enlarge: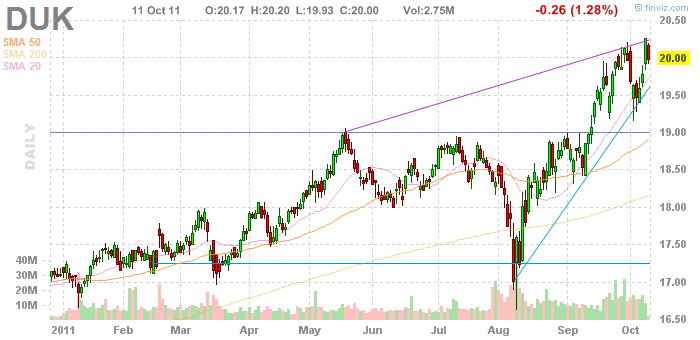 Summary
In the last 15 years, utility stocks outperformed not only the bonds, but also the equities, as shown, here. They have been slow but steady upside movers, outperforming the market with a significant margin. Duke is no exception. Over the last 5 years, the annualized EPS growth rate has been 6.84%. During the same period, S&P 500's (SPY) annual return was only -0.64%. More than half of Duke's return has been obtained through dividends. While there have been fluctuations in dividends, Duke Energy is a nifty dividend payer.
Duke has been priced at a slight premium, thanks to its shareholder-friendly management. The average P/E ratio in the last 5 years was 18. As of October 10, the stock is trading with a below average P/E ratio of 13.2, and a forward P/E ratio of 14.3. In the last 5 years, annualized EPS growth was 1.91%. However, analysts have slightly higher growth expectation of 3.70% for the next 5 years.
As of October 11, Duke Energy was trading at $20, within my fair-value range of $17.06 and $34.01. The stock has risky debt/equity ratio of 0.8, but that is normal among the utilities. Duke Energy has a low Beta of 0.39. The stock has 70% upside potential based on 3.70% EPS growth estimate. However, analysts think that the stock is already overpriced. The mean intermediate-term target price estimate is $18.91, implying no upside potential. Moreover, the stock is trading close to its 52-week high. I am a big fan of high-dividend utility stocks, and Duke Energy is no exception. Compared to its peers, the stock seems to be a better deal. The company raised its 2nd quarter earnings to $435 million. The adjusted net income of 33 cents was also higher than the analysts' mean estimate of 20 cents. I am expecting some upgrades in the near future.

Disclosure: I have no positions in any stocks mentioned, and no plans to initiate any positions within the next 72 hours.