Should you run your investing hands down deep to the bottom of the barrel to see what low-priced stocks might be there? The research says: Yes…uh, no…maybe, but allow me to explain.
The 2008 revised paper entitled, Volume and Price Patterns Around a Stock's 52-Week Highs and Lows: Theory and Evidence, shows that small stocks hitting 52 week lows do make strong gains. The random sample of evidence collected average a one week gain of 5.13% in the smallest stock category. Thus, it can be a profitable trading method.
As reported on by Titman and Jegadeesh in the paper, Momentum, stocks that under-perform the market over the past 3, 6, and 12 months generally do so for the continuing 12 months. Therefore, as a rule for investors you should be very careful about putting money long-term into a falling stock. This phenomenon was found in North America, Europe, Asia Pacific, but not Japan in the 2011 Fama and French paper, Size, Value, and Momentum in International Stock Returns.
It is with more than a little caution and trepidation that we look in the 'recently discounted' section of the stock market. As our goal is to trade longer than a few days, we need to put on our contrarian hats and be skeptical.
Examining the 52-Week Lows
Netflix (NASDAQ:NFLX) – This was once a loved stock that traded up to $300, but is now down to just above $100.
[Click images to enlarge]
I liked the Netflix story of aggressive growth, potential for global expansion, and a good head-start on legal competition (Amazon AMZN, Apple AAPL) when looking outside of the U.S. The problem is that these hot growth stocks can be finicky when the infatuation stage wears off. A downturn in the market, anger over an attempt to split Netflix into two divisions, and fleeing subscribers from a 60% rate increase has punished the stock. Is it a buy at one-third the price?
Their ratios are still not into value territory and their true growth remains potential unknown – which is what investors are banking on. What I do like is deep discount, a strong psychological support of $100 is below, in addition to the 200 day moving average of $95.59. The extremely high volume trading since mid-Sept may be a good sign for a potential bottom. While this could go lower, I will go out on a limb and say that as far as contrarian picks go, it could be worth picking up a few shares close to $100. Don't ride this to the gutter – have your stops in mind. If you buy at $100, have your eye on a selling point if it breaks much lower.
First, Solar, Inc. (NASDAQ:FSLR) – The bottom has literally dropped out of FSLR as it fell from $130 in the summer to roughly $55 today.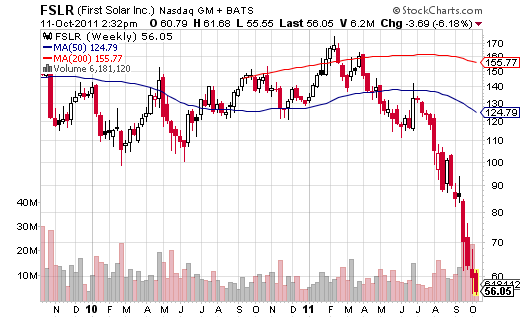 With Solyndra filing for bankruptcy protection and the investigation by the FBI and the U.S. Treasury Department for misuse of loaned funds, solar stocks are hurting. Getting loans will be harder with the Solydnra affair underway, and prices for solar panels are dropping fast. Tighter margins and funding worries are playing heavily on prices. So is it time to buy?
With a forward P/E ratio of 5.4 and a PEG ratio of 0.36 you might think so. Even the price to book value of 1.4 seems attractive. That being said, it seems unlikely that analysts have broadly reduced their earnings forecasts to account for sliding profits, and restricting loans, and stiff competition from other companies such as Suntech (NYSE:STP), the DOW Powerhouse Solar Shingle (NYSE:DOW), and JA Solar Holdings (NASDAQ:JASO), to name a few.
While volume has picked up this last month, there are just too many unknowns to recommend buying at this time. Simply based on the psychological support, $50 may be a tentative entry, but that would be an extremely speculative guess. My recommendation is to pass on this for now.
Buyer Beware
While these stocks seem like bargains, history has taught us to be cautious as sliding fundamentals can easily see these stocks reach their equilibrium at lower prices. As you trade these bottom, make sure you trade off a support level of some sort, watch for high volume that signals trader and investors are at the table actively buying, and have a stop in mind where to sell if prices continue to erode. A stock can be unloved for a very long period of time, and that is a trend you do not want to be first aboard.
Disclosure: I have no positions in any stocks mentioned, and no plans to initiate any positions within the next 72 hours.