Other than possessing among the most elite careers in NFL history at their respective positions, Peyton Manning and Terrell Owens now share another equally unlikely title: sports medicine pioneers. According to recent press reports, Manning and Owens, both future hall of fame players spurred by slow healing injuries and a desire to quickly continue their illustrious careers, have left the United States for advanced stem cell treatments that use a concentrated mixture of their own stem cells.
Colts quarterback Manning traveled to Europe for the treatment on his neck, while free agent Owens flew to South Korea for stem cell therapy on his surgically repaired ACL in an attempt to restart his career with a new team. It is important to note that both players are using their own stem cells for therapy. This autologous approach differs from other stem cell therapies that use either controversial embryonic stem cells or donor adult stem cells. Although details are sparse, according to press reports, Manning is using cells derived from his own fat. The source of Owen's procedure has not been disclosed, but he too is likely using cells derived from his own fat, also known as adipose, in an attempt to help heal and regenerate and strengthen tendons in his knee.
It wasn't that long ago that the availability of an abundant supply of regenerative stem cells from adipose went unknown. Up until this relatively recent discovery, bone marrow was viewed as the best source of regenerative stem cells. Dr. Marc Hedrick, one of the early researchers in this field, played an instrumental role in the discovery (pdf) of adipose derived regenerative cells (ADRCs) in work that began more than a decade ago. Dr. Hedrick, a plastic surgeon by training and former Associate Professor of Surgery and Pediatrics at the University of California, Los Angeles (UCLA) directed the Laboratory of Regenerative Bioengineering and Repair for the Department of Surgery at UCLA from 1998 to 2005. Hedrick now serves as President of Cytori Therapeutics (NASDAQ:CYTX), a company leading the field of ADRC's.
Based on Hedrick's research, Cytori Therapeutics has invested over $200,0000,000 to develop and patent its Celution® technology platform, a technology that quickly and efficiently extracts rich concentrations of ADRCs from small portions of fat, and to develop supporting disposable instruments that are used to treat various human maladies. This is the big bet that has yet to pay off for shareholders, but the ground work is certainly being laid. Adipose has a distinct advantage as a source of regenerative cells in that it contains 300-500 more stem cells than bone marrow, is easier on the patient to extract and does not come with the moral baggage associated with embryonic stem cells.
I've previously written about Cytori Therapeutics and it is not clear whether either athlete has used Celution technology to extract their stem cells. Manual, more time consuming procedures can legally be used by individual doctors, even without FDA approvals in the U.S., to extract these cells from fat. However, Cytori is at the forefront of getting ADRC technology approved for global widespread use and based on its own clinical trials and independent investigator lead clinical research for various afflictions there is certainly a strong body of evidence that regenerative cells extracted from adipose offer tremendous therapeutic value.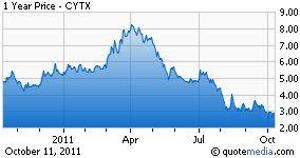 Although the company has made terrific progress in demonstrating that ADRCs work, it has so far failed to execute its business plan in a timely enough manner to satisfy the expectations of investors. As a result, the shares sit at the low end of its long and volatile roller coaster trading range of the last 5 years. CYTX shares traded as high as $9.50 in January 2010 and as low as $1.42 in March 2009 and now sit at around $2.80 representing a market cap of only $147,000,000. As I discussed in a previous SA article, Cytori management has tied its own 2011 restricted stock awards to meeting three goals in 2011:
Pursuant to the terms of the award agreements, the performance-based restricted stock awards will not vest until January 1, 2013, and then only if, and to the extent that, the Company's achieves certain performance goals established by the Compensation Committee to be achieved by January 1, 2012. The performance goals are weighted based on the following achievements: obtaining certain FDA clearance or approval (40%), achieving a targeted revenue increase for the fiscal year ended December 31, 2011 (20%), and entering into a major collaboration for development and/or commercialization of the Company's products (40%). To the extent that any of the performance goals are partially achieved, the Compensation Committee maintains the discretion to continue the vesting of all or a portion of the awards following January 1, 2012.
So far management has not delivered in 2011 but they continue to show confidence in Cytori by purchasing shares in the open market.
Although Cytori isn't focused on sports medicine, its basic platform technology is certainly suited for use in the field. It is the ADRCs that do the work and Cytori's technology, a medical device focused on extracting the richest concentration of ADRCs in the shortest period of time, is designed to treat patients in a single procedure. Cytori's current focus is on breast reconstructive surgery using ADRC enriched fat grafts and on cardio applications, the mother of all healthcare markets.
Despite its recent woes, Cytori Therapeutics maintains a leading role in a field where it seems that the tail is starting to wag the dog as patients demand therapies that use their own healing cells for a cure, as opposed to a lifetime treatment of drugs. When two of the most elite athletes in NFL history, with access to the best medical advice in the world, decide that it is in their best interests to leave the USA for stem cell therapy treatments, it seems to indicate that stem cell therapies are destined to become mainstream in the near future.
Navigating the bureaucratic roadblocks of the FDA, while working through global insurance reimbursement approvals are the critical obstacles that Cytori should eventually overcome as it has a technology that works and can revolutionize healthcare as we know it.
Disclaimer: These are the personal views of Wall Street Titan. All readers are encouraged to do their own due diligence.
Disclosure: I am long CYTX.