Benjamin Graham made value investing a household term. Companies with relatively low share prices compared to their asset values or annual earnings were worthy of his consideration provided they had manageable debt and enough liquidity. Thankfully, his value investing did better than his Broadway play, Baby Pompadour.
Then we saw the latter half of the 1990s where high-growth and high-tech stocks boomed leaving value investors like Warren Buffett behind. Value was out-dated, or so some thought. After some crashing markets in the early 2000s, value investing came back to the table as competitive and economically viable trading strategy. How well have these strategies held up over the past decade?
Value-Based Returns
As tracked by AAII.com, since 1998 the S&P 500 has only returned an annualized 1.7%. Trying to mimic Graham's approach combined with a monthly portfolio re-balancing, AAII.com reports the following annualized figures for the three Graham value approaches:
Defensive Investor (Non-Utility) – 17%

Defensive Investor (Utility) – 8%

Enterprising Investor – 20.3%
While the utility strategy seems low, remember that you must factor in dividends yields around 4-5%. If you re-invest those dividends then the annual return jumps significantly. The 'Graham' approach that Stockscreen123 and Portfolio123 employs returns a compound annual growth rate of 10.29% before calculating dividends.
Risk or Inefficient Markets?
That value outperforms growth is reported on in a recent 2011 report by Fama and French (Size, Value, and Momentum in International Stock Returns) which states that low price-to-book companies globally outperformed high price-to-book companies by 0.45% per month. This effect increased to 0.66% monthly when tilting toward smaller capitalization stocks. Fama and French believe the extra returns to be a premium, or added reward, for the additional risk of these distressed companies. Others believe that the market has simply mis-priced or undervalued these stocks.
It is beyond the bounds of this article to argue the reason behind the excess profits of value investing. Instead, I want to add another value screen that has delivered strong and robust returns over the last decade. It once again seems timely to do so as the market churns while digesting low market valuations against global sovereign debt problems.
Creating the Value Screen
We begin by creating an all American scan by only allowing companies based in the USA. We exclude financial stocks, real estate, and closed-end funds. In addition to this, none of the stocks are allowed to be optionable. While I do not have empirical evidence to back up my suspicions, I personally believe that hedge funds and other 'informed investors' that heavily utilize leveraged derivatives, influence prices so that less excess gain is left on the table for long-term investors.

We also target value stocks that have a higher percentage of insider ownership, which may speak of management's confidence in future share prices. We also want value, not only in comparison to the industry group, but also as regards its own track record as we target companies with a 20% reduction in P/E ratios when compared to the 5 year average.
The basics of the remaining filters are as follows:
Bottom half of price-to-earnings in industry group

Top 50% of insider ownership of industry group

Some annual earnings and recent quarter growth since similar quarter last year

P/E ratio is less than 80% of 5 year average

Better than industry mean Current Ratio for liquidity
10-Year Performance of Value Scan
We begin by using the method of monthly portfolio re-balancing. We cover the market since April 2001 until today. Before accounting for slippage and trading fees, we are able to generate a compound annual growth rate of 31.27%.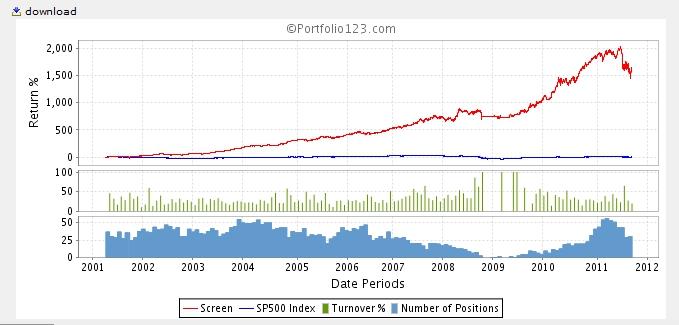 It is not our desire to re-balance monthly, however, as the amount of time and added trading costs run counter to our long-term investing approach. Therefore, our following robustness test will compare 500 different entry weeks over the past decade with a subsequent hold for one year. The results?
Average gain is 19.75% annually as opposed to 3.07% in the S&P 500 (16.67% excess)
After a further refinement that only allows stocks over $5 per share and higher, the excess gain drops somewhat to only beating the S&P 500 by 10.53% annually. If you don't mind the added volatility risk of lower priced stocks, you can trade these as well.

Stocks Currently Making the List
It should be noted that over the trailing one year, this strategy has struggled to produce superior gains with an annualized 8.4% profit over the past 12 months. While beating the market, these are lower than our average testing sample. As we examine this value approach we need to remember that it often performs in waves and patience is a must. Which companies make the list right now? (figures based on the Portfolio123 screener)
| | | | |
| --- | --- | --- | --- |
| Ticker | Name | P/E | Industry P/E |
| (NASDAQ:ADGF) | Adams Golf, Inc. | 8.35 | 21.93 |
| (NASDAQ:OBCI) | Ocean Bio-Chem, Inc. | 15.61 | 16.97 |
| (NASDAQ:DOVR) | Dover Saddlery, Inc. | 10.28 | 20.17 |
| (NYSEMKT:XPO) | XPO Logistics Inc | 22.27 | 25.42 |
| (NYSE:TKR) | The Timken Company | 13.56 | 18.39 |
| (NYSE:MOG.A) | Moog Inc. | 15.54 | 16.48 |
| (NYSE:WWW) | Wolverine World Wide, Inc. | 16.3 | 20.61 |
| (NYSE:NR) | Newpark Resources, Inc. | 16.6 | 25.27 |
| (NASDAQ:TLF) | Tandy Leather Factory, Inc. | 12 | 20.02 |
| (NYSE:ALG) | Alamo Group, Inc. | 11.59 | 17.85 |
| (NYSEMKT:SIF) | SIFCO Industries, Inc. | 15.81 | 16.48 |
| (NASDAQ:PKOH) | Park-Ohio Holdings Corp. | 11.08 | 15.64 |
| (NASDAQ:YDNT) | Young Innovations, Inc. | 15.56 | 21.22 |
| (NYSE:PIR) | Pier 1 Imports, Inc. | 13.03 | 20.17 |
Timing the Entry
As you consider buying deep value, you also need to contemplate when to buy. Graham recommended buying during irrational markets, but that can be hard to pinpoint. Here are a few entries based on support levels:
ADGF is just above the $5 support for a decent entry.

ALG has just tested the bottom of $21 resistance and recently popped above. I'm not convinced yet.

DOVR is thinly traded. I would wait for a larger volume signal to indicate a turnaround.

I like the double-bottom and upwards action of MOG.A




NR has bullishly broke past resistance. If it can say above $6.75 support, I'd say buy.

OBCI is just above $2.00 support for a decent entry.

PIR is range-bound between $9 - $12. A bounce off $9 or a breakout past $12 would be my choice.

PKOH is making a healthy bounce off $11 - $12 support levels. Provided prices stay above $11 I'd stay with it.

SIF has jumped up too far in my opinion for a timely value purchase. A pullback to $17 or $18 would be more desirable in these markets.

A potential high-volume bottom may be put in on TKR. Prices would need to stay above $35 support and 50 day moving average for my risk tolerance.

TLF has more or less kept above the $4.50 support level. A pop on higher volume above $4.75 could be a tentative buy.

WWW is an aggressive wolverine fighting to go up. I would watch for a further breakout past $38 in the near future.

XPO is underwater in my opinion. Under heavy $9 resistance will weigh on this stock.

YDNT is currently in a slight downward channel. I would wait for more positive signs on this low volume stock.
The Rocky Value-Stock Story
The recent aggregate market is up one week and down the next. Future estimated growth rates are being reduced and valuations are making stocks look cheap. Some companies, which already had low valuations, continue to get priced lower as they hit the sweet spot where value investors begin to buy aggressively from Mr. Market. These are beat up stocks, but like Rocky, don't count them out just yet.
Disclosure: I have no positions in any stocks mentioned, and no plans to initiate any positions within the next 72 hours.