New home building is in a slump but remodeling, general maintenance and repair from the recent weather disasters has kept Home Depot (NYSE:HD) in the black. Same store sales are up year over year and analysts predict a bright future. Over the past 2 1/4 years the price has been up and down but as the Barchart provided graph of the trading prices shows the stock has held up well during this latest recession: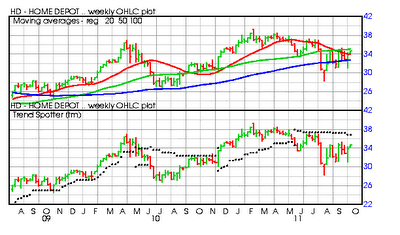 The Home Depot Inc., together with its subsidiaries, operates as a home improvement retailer. The company's stores sell a range of building materials, home improvement products, and lawn and garden products to do-it-yourself, do-it-for-me (D-I-F-M), and professional customers. It also offers installation services to D-I-F-M customers. These installation programs include products, such as carpeting, flooring, cabinets, countertops, and water heaters. In addition, the company engages in the professional installation of various products, such as generators, and furnace and central air systems that are sold through its in-home sales programs. As of May 1, 2011, it had 2,245 stores primarily in Canada, Mexico, and China. The company was founded in 1978 and is based in Atlanta, Georgia.
Factors to consider:
Barchart technical indicators:
80% Barchart short term technical buy signal
Trend Spotter buy signal
Trading above its 20, 50 and 100 day moving averages
6 new highs in the last 20 trading sessions and up 8.91% for that period
Relative Strength Index is 58.79% and rising
Barchart computes a technical support level at 34.00
Traded recently at 34.71 with a 50 day moving average of 32.71
Fundamental factors:
Wall Street brokerage analysts expect sales to be up 2.40% this year and another 3.30% next year
Earnings forecasts are for an increase of 15.80% this year, 13.60% next year and continue for the next 5 years at an annual rate of 13.51%
These consensuses resulted in analysts issuing 10 strong buy, 9 buy, 10 hold and no under perform or sell recommendations
This is a company in the construction sector with an A++ financial strength
Year over year sames store sales have climbed steadily and earnings have been fairly predictable
This former growth stock is now paying a 2.89% dividend which is about 40% of expected earnings
The P/E ratio is not out of line for this stock when compared to the general market
General investor interest:
The individual investor is watching this stock and 4,210 readers of Motley Fool have expressed an opinion on this issue
78% of the general readership who gave an opinion voted that the stock will beat the market
The more experienced and savvy All Stars voted 83% for the same result
Fool notes that Wall Street columnists have written 33 articles about the stock and 31 have been positive
HDs major competitor is Lowe's (NYSE:
LOW
) and over the past 5 years HD has held up much better than Lowe's: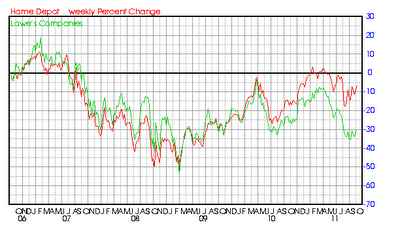 HD is a member of the SIC 5211 Retail - Lumber and building materials sectors and over the past 5 years was beaten out by Jewett- Cameron (NASDAQ:JCTCF) and Lumber Liquidators (NYSE:LL) buy not Builder's Firstsource (NASDAQ:BLDR):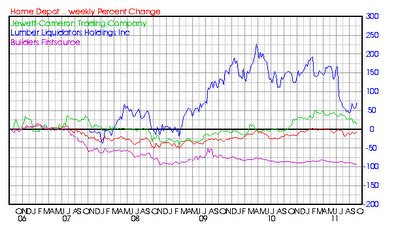 In the home building supplies sector size seems to matter and Home Depot has the most stores to attract buyers and being the largest has the greater advantage to negotiate favorable contract for goods. Although this is not a full blown growth stock it should do well over the next few years. Buyers at this price will probably see a total annual return in the 10% - 12% range over the next 5 years.
Disclosure:
I have no positions in any stocks mentioned, and no plans to initiate any positions within the next 72 hours.