Heightened fear is the primary catalyst for the past few months' drop in dividend-paying stocks. As in spring and summer 2010, conventional wisdom is the U.S. economy is headed into recession and possibly a 2008-style credit crunch, spurred by a wholesale collapse of European banks, economies and governments.
Ironically, market history is clear that major meltdowns never result from what the consensus is worried about. It's always the overlooked risks that bring the house down -- and rarely, if ever, when so many are so bearish, as is the case now.
For example, the Conference Board's Leading Economic Index increased for the fourth consecutive month in August. Growth is still slow and jagged in the US. But at least at this point we're not in recession -- and that's a huge difference with pre-market meltdown 2008, when we'd already slipped into one.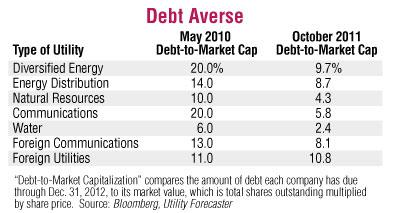 Rather, the biggest risk to investors is the potential for business setbacks at individual companies. History is equally clear that these happen more often when the economy weakens and that consequences for shareholders can be severe.
As our Facebook fanpage members already know, even in good years, some essential-service companies will stumble and be forced to reduce payouts. Cutting activity, however, invariably picks up when macro conditions worsen, as they did in 2008-09 and in 2002-03.
The primary victims each time were the leveraged: companies caught out with hefty debt burdens at the wrong time, and/or whose revenues depended heavily on economic activity. Many of the cutters in 2008-09, for example, were companies I've classified as "Merchant" utilities -- wholly dependent on unregulated operations -- or "Diversified" utilities (part regulated, part unregulated) that had taken on an inordinate amount of debt.
That period was, of course, marked by extreme conditions. The U.S. economy contracted at better than a 6 percent annualized rate in the fourth quarter of 2008 and the first quarter of 2009, the worst down-spike since the Great Depression of the 1930s.
Meanwhile, corporate borrowing rates began rising sharply in late 2007; by early 2009 even A-rated utilities were forced to borrow more than 5 percentage points above U.S. Treasury yields. Soaring interest rates proved too much for rural phone company Fairpoint Communications (NASDAQ:FRP), the only company I track to file for bankruptcy protection during the crisis.
Happily, conditions in the credit markets now couldn't be more different. For example, the early 2009 8.5 percent yield-to-maturity paid by Enterprise Products Partners (NYSE:EPD) 9.75 Percent Note of 01/31/14 has shrunk to just 2.2 percent. In fact, the BBB- rated company has 57-year debt outstanding that pays just 6.6 percent.
The table "Debt Averse" provides another point of comparison for credit: companies' two-year debt refinancing needs as a percentage of their market capitalization. The primary takeaway: If credit markets tighten now as they did in 2008, refinancing needs for essential-service companies would be a non-issue.
Meanwhile, "Steady Payouts" shows that now, as prior to the 2008 crash, utility profits cover payouts by a very safe margin. That's at the same time businesses have cut risk to revenue by growing regulated and fee-generating businesses and hedging out commodity price risk.
As I stated before in my Investing Daily article, "High-Quality Income Investors: Don't Panic Like It's 2008," the bottom line is even if current market turmoil turns into something resembling 2008, we can expect essential service companies to weather it in good shape. There will be ups and downs, particularly for stocks where enough investors perceive risk.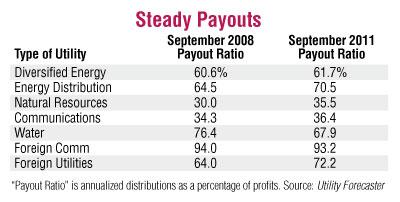 But so long as companies stick to guidance and hold dividends, recovery will follow.
Disclosure: I have no positions in any stocks mentioned, and no plans to initiate any positions within the next 72 hours.