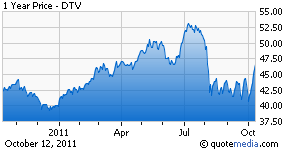 Every now and again you come across a company whose growth is mis-priced and misunderstood by the market. One stock I believe fits into that category is DirecTV (
DTV
).
DirecTV
– "DirecTV provides digital television entertainment in the United States and Latin America. The company provides direct-to-home (DTH) digital television services, as well as multi-channel video programming distribution services in the United States. It offers various channels of digital-quality video entertainment and CD-quality audio programming directly to subscribers' homes or businesses, as well as video-on-demand services, and approximately 160 national high-definition television channels and 4 3D channels." (Business Description from Yahoo Finance)
Eight reasons DirecTV is undervalued at under $46 a share:
1.
It has experienced rapid growth in earnings. It posted EPS of $2.48 in FY2010, should come in at around $3.37 for FY2011 and is projected to earn $4.24 a share in FY2012.
2.
It has grown earnings at a 28% average annual clip over the past five years, despite one of the most challenging economic environments of the past five years.
3. DTV is growing rapidly in faster growth Latin America, where it has 9 million subscribers.
4.
Despite all this growth, it is selling at the very bottom of its five year valuation range based on P/S, P/B and P/CF.
5.
DTV looks like it has established some technical support in the $40 to $44 level (see chart).
Click to enlarge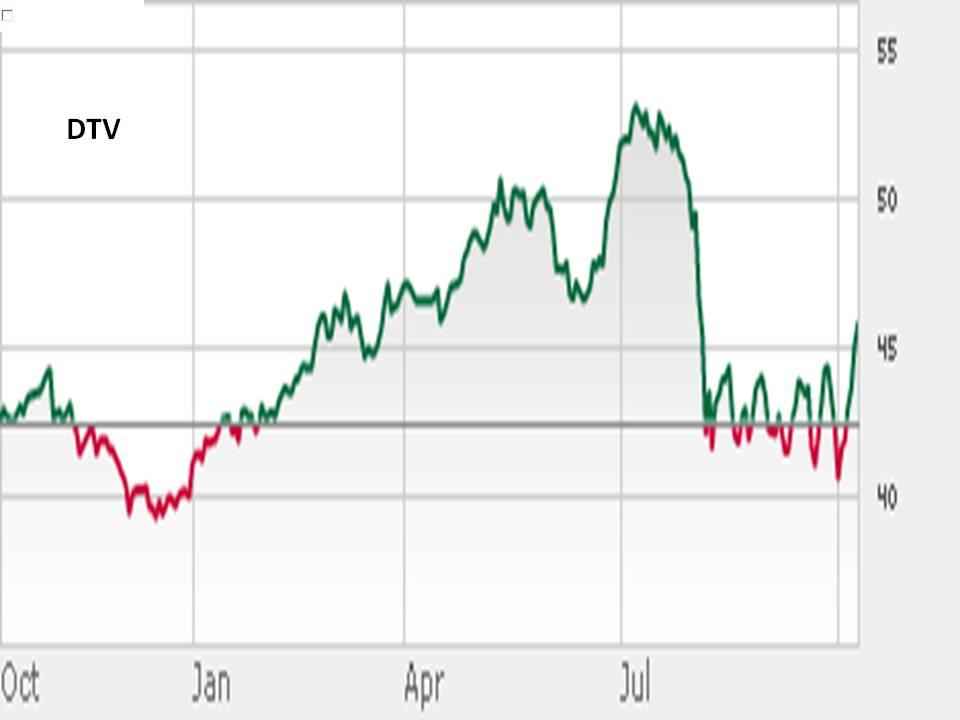 6.
DirecTV has met or beat earnings estimates each of the last six quarters. The average beat over consensus estimates is 12%.
7.
DirecTV is selling at a forward PE of just 10.8 which is a 32% discount to its five-year historical average.
8.
DirecTV is selling under analysts' price targets. Morgan Stanley currently has a $57 price target on DirecTV and the median analyst target on DTV is $55 at Goldman, which just raised its target to this level.
Disclosure: I have no positions in any stocks mentioned, but may initiate a long position in DTV over the next 72 hours.