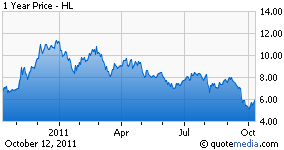 The big news for Hecla Mining (NYSE:HL) is the recent announcement of a $100 million revolving credit agreement. Hecla CEO Phillip Baker Jr. described the credit line in the following context:
"At September 30, 2011, Hecla had cash and cash equivalents of $413 million which, combined with the $100 million available under this facility, should be sufficient to fulfill our settlement obligations (including $168 million due on October 11th), meet all capital, pre-development, and exploration requirements for 2011, and pursue other value generating initiatives for our shareholders. The company has no significant debt outstanding."
Hecla is following in the footsteps of Newmont (NYSE:NEM) in that it is pursuing an aggressive dividend policy, linking its realized price of silver to dividends issued. For each $5 increment above $30/oz that Hecla can realize for its silver, the firm will increase its dividend issued to shareholders.
As I've noted recently in other articles I've written on Seeking Alpha, I've lost interest in silver, as I find its second collapse after a parabolic rise up to be suspicious and unfavorable relative to many other opportunities in the market. But for those interested in silver, Hecla remains an interesting opportunity, as dividends may make silver's volatility more palatable.
For me, though, the dealbreaker is in Hecla's P/E ratio, which is currently in excess of 20. I wouldn't regard this as overvalued, and still room for a mania to blossom, but I prefer to focus on stocks with an even lower P/E that represent similar opportunities - like Newmont, for instance.
Disclosure: I have no positions in any stocks mentioned, and no plans to initiate any positions within the next 72 hours.