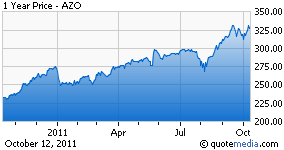 The do-it-yourself car repair industry has been one of the few beneficiaries of a weak economy. Much like dollar stores, auto supply foot traffic has been brisk as chronically under employed consumers take matters into hand.
The real surprise for AutoZone (NYSE:AZO) investors, however, hasn't been direct-to-consumer sales growth. Instead, it has been robust commercial sales. The commercial segment, which remains in the early innings, accounts for 14% of AutoZone's total revenue.
Targeting repair shops is a natural extension of AutoZone's business. The company's dominant U.S. presence gives it the scale to reach independents, offer competitive prices and carry enough inventory to meet mechanics' time sensitive demands.
At the same time, befriending independent mechanics helps eliminate a key barrier to consumer adoption. In the past, mechanics viewed AutoZone as competition rather than partners. Ask an independent mechanic about AutoZone parts and they'll likely try to convince you of their inferior quality. The incentive to undercut AutoZone to consumers shifts markedly, however, as mechanics shift from foes to fans.
As a result, competitors face substantial risk as AutoZone expands its commercial program. Only about 59% of its stores offer it currently and AutoZone commands a paltry 1.9% of the commercial market despite 23.4% segment revenue growth year-over-year last quarter. This was the fifth consecutive quarter of greater than 20% sales growth and the 11th straight quarter of sequential improvement. For the full FY2011, commercial sales rose to $1.76 billion, up from $880 million in FY2010. Those kind of numbers likely have a number of competing parts suppliers on edge.
That's not to say the stores aren't performing well on their own, because they are with same store sales increasing 4.5% last quarter. Auto parts segment sales increased 8% last quarter, despite being weighed down by deferred maintenance spending tied to a tough economy and high gas prices. Maintenance, which accounts for 39% of all AutoZone sales, will likely rebound given gas prices are dropping and maintenance can't be shrugged off forever. Gas prices have also reduced miles driven, which are down about 1% this year. As prices fall, miles stabilize. This offers upside to wear related equipment spending, which accounts for 45% of AutoZone's sales.
Despite spending headwinds related to converting stores into inventory hubs and lower margins from more commercial sales, gross margins still improved to 51.2% last quarter, up from 50.5% the prior year. Sales growth and better margins are boosting cash flow, which in turn supports the company's buyback activity.
On September 28th, AutoZone added $750 million to the $219 million remaining on its buyback authorization. Last quarter, the company spent $433 million buying back shares. And, for the full fiscal year, they bought back 5.6 million shares, spending $1.5 billion, at an average price of $262 per share.
With ongoing expansion of commercial programs, lower gas prices, new stores and deferred maintenance spending likely to rebound, there are many catalysts for AutoZone earnings to go higher. The company has beaten the Street in each of the past four quarters, and analysts have taken FY2012 estimates from $22 30 days ago to $22.53 today. In FY2013, the Street is looking for $25.86 per share, up from $25.03 30 days ago. That gives AutoZone a 12.67 forward multiple at current prices and forecasts a price just shy of $440 if investors continue to value the stock at its current 17 times earnings, good for a 34% return from current prices.
Disclosure:
I have no positions in any stocks mentioned, but may initiate a long position in AZO over the next 72 hours.